Oh the tangled webs we weave.
When first we practice to deceive… our husband into believing that his mother assaulted our unborn child and created a miscarriage that prompted him to signing a restraining order against the grandmother of his two children.
Sons of Anarchy Season 6 is truly picking up momentum now, with events on the latest installment shifting from external forces to the always more interesting internal struggles and dilemmas.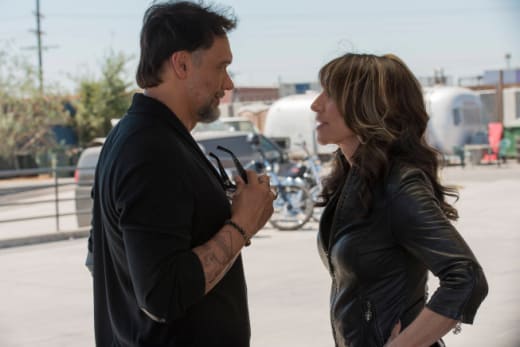 It's taken awhile to get here.
Events from the first half of the season felt recycled from years past: will Jax move the club into more legitimate businesses? Will Clay survive? Will Tara make a move away from Charming?
It had been the same old dance for awhile, bogged down by constant jabbering with the Irish and August Marks and the feeling that whatever corner Jax and SAMCRO were placed in, they'd come up with some last-second scenario that would save the day and nothing really terrible would befall the club in the end.
But that isn't the case now. Not with Tara and Jax and Gemma and the seemingly impossible situation they find themselves in.
This storyline has been slow played perfectly, culminating in terrific work from Maggie Siff after catching Jax and Colette in bed. It seemed like Tara might actually shoot Jax, as if she had reached the end of her rope and her only repercussion was the kind of violence she was trying to leave behind in Charming.
But then she just stopped. And sighed. And wondered: What have I become? Who am I? Where did I go wrong? It was a moving moment, especially considering her answer: Look at what YOU turned me into, she said to Jax. Look at what YOU did to me.
Was Tara shirking responsibility for her own actions here? Only a little. Yes, she made the decision to be an Old Lady a long time ago. But she's also made her reservations clear for years now, while Jax has continually promised her a way out.
I don't place an ounce of blame on Tara for going all Gemma-like and concocting a manipulative scheme to protect her family. She's facing prison time for trying to help the club, she's been loyal to Jax since returning to Charming and she's been faced with one broken promise after another from her husband.
And Jax seems to know it. I legitimately have no idea where this is all going, especially now that Patterson is aware Tara is willing to rat out SAMCRO. But I don't foresee Jax killing Tara, as scary as Gemma's threat (either mommy moved away... or mommy passed away) may have been. There would be no coming back for the character after that.
I say Jax lets Tara and the boys go, with a plan to eventually meet them in Portland once he straightens out all this gun business.
And that business hit another obstacle this week with the addition of the Chinese into the picture.
It led to one of the funnier moments of the season - a handcuffed Happy eating with chopsticks and cracking up over cartoons while captive - but it also appears to be a major roadblock for Jax and company as they try to set up Galen and the Irish, especially now that SAMCRO will actually be involved in Clay's breakout.
Once again, Jax is juggling countless, complicated (heavily armed) balls in the air. Along with one majorly ironic one: the survival of SAMCRO now depends on keeping Clay alive. Who would have seen that coming?!?
Overall, Sons of Anarchy Season 6 Episode 10 was another strong installment, thanks to its focus on Tara and the complete crumbling of a marriage that was once the core of this series. Will she find a way out? Will Jax somehow forgive his wife?
And would you watch a Nero and Unser spinoff? Of course, right?!? The far better question: What should it be titled?
Matt Richenthal is the Editor in Chief of TV Fanatic. Follow him on Twitter and on Google+.