I just watched The Mentalist Season 6 Episode 8, aptly titled "Red John." Sorry... but don't you wish you were me right now?
Seriously, though, I'm still catching my breath. And although I can't reveal Red John's identity or disclose his fate, I can tease you with a few bits of information.
Of course if you truly want to be completely spoiler free, please stop reading now!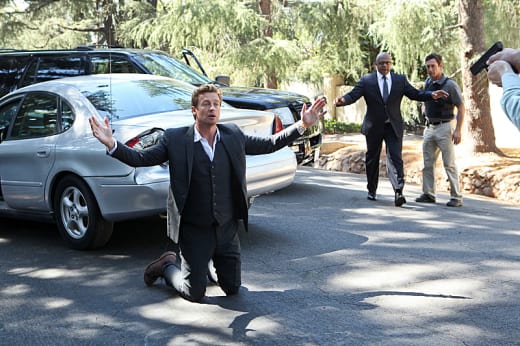 Here's what you can expect to find out this Sunday night...
Red John will be revealed.
Patrick Jane will come face to face with his nemesis.
More than one Red John suspect will die.
More than one member of the (former?) CBI team will end up in cuffs.
Jane's sofa isn't the only thing missing at the CBI offices.
Who lost a foot in the explosion at Jane's home is still a mystery.
Someone utters the line, "Sometimes I think you like being helpless." Who says it and to whom might surprise you.
A member of the team walks away. Will it be for good?
Are you excited for the biggest Mentalist Season 6 episode to date? Heck, the biggest Mentalist episode of all-time?
Visit TV Fanatic as soon as it concludes for my detailed recap and review.
Check back to TV Fanatic the moment after this installment ends to get our full The Menatlist review.
The Mentalist Season 6 airs Sundays at 10/9c on CBS.
C. Orlando is a TV Fanatic Staff Writer. Follow her on Twitter.