Our intrepid crew from Neverland returned to Storybrooke and everyone celebrated Henry's return on Once Upon a Time this week.
Unfortunately, they weren't actually celebrating it with Henry.
Once Upon a Time Season 3 Episode 10 gave us many reunions, but not all were what I expected.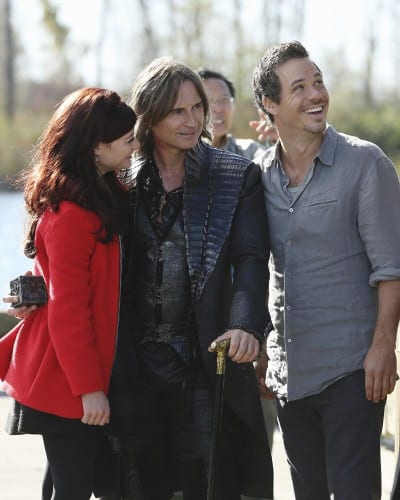 Let's start with the best:
Belle was finally reunited with Mr. Gold and it wasn't an illusion or a dream. It was the real thing, as she told Gold in this Once Upon a Time quote…
Belle: I told you I'd see you again.
Mr. Gold: That's the last time I don't listen to you.
. 
Well, that's a step in the right direction. Hopefully we get to see a lot more of these two together now that they're back in Storybrooke. 
Even Regina had her moment when Mary Margaret made sure the town knew that they couldn't have saved Henry and made it back without her. 
But that's where some of the strangeness began. Emma was quick to pick up on something being off with Henry, especially when he had no reaction to his prized storybook that brought them together.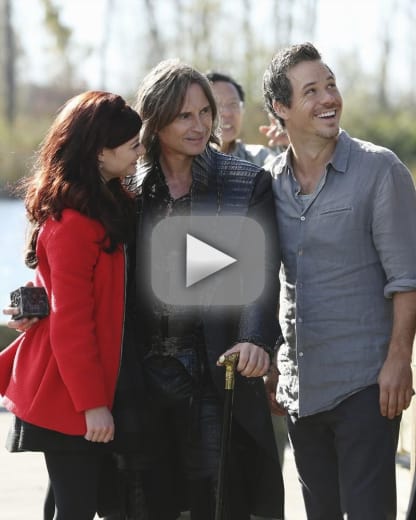 However, it was easy for anyone to write off Henry snubbing his biological mom. He'd been through such a trauma that being with the mother who raised him made perfect sense…and unfortunately Regina needed his love so much that she fell for all of it. 
I was still left with several questions. Why did Pan have the Shadow kill the Blue Fairy? Not that I minded. She was pretty darn cold with Tinkerbell. But was her death simply a way to rile everyone up and get into Regina's vault or was there another reason he targeted her? 
I did like that Regina tried to help Tinkerbell. It appears she really is trying do the right thing. We'll see how long it lasts.
I didn't expect Emma to give Neal the cold shoulder as much as she did, although I don't really blame her. When a guy lets you do prison time for his crimes, that can be hard to get over no matter what the reason. 
And Hook took the high road once again as he decided to step aside and let Henry's parents have a chance at a reconciliation…
For the sake of the boy, I'll let his parents have a fair shot without a devilishly handsome pirate standing in the way.

Hook
Of course, trying to drown his sorrows with a roll in the hay with Tink may have tarnished my esteem a bit, but for a devilishly handsome pirate I suppose it's understandable. And I am happy that he hasn't given up on Emma completely. It sounds more as though he's simply biding his time to make sure she's done with Neal. 
The most disappointing reunion of the night was Ariel and Eric. Not that I had a lot invested in their relationship but it felt as though it was thrown in just to tie up a loose thread in the story and was dropped just as quickly. 
Jumping back to the fairy tale past for just a moment, I don't always like these flashbacks but I enjoyed this one. 
First off, it reminded me just how spunky Snow White can be. I'm afraid we don't always see that side of her in Mary Margaret. 
Charming took their excursion to grab Medusa's head on their honeymoon better than I expected. 
I fell in love with you on a troll bridge after you robbed me and hit me over the head with a rock. I knew what I was getting myself into.

Charming
Thankfully, Snow figured out that she was ruining her own happiness far more than Regina could. I was also grateful to see her defeat Medusa as I've always found her to be one of the scarier monsters in mythology. 
But back to Storybrooke....
I was shocked to find out that Peter Pan was after the original curse. Can he pull it off on his own? And without the caveat of true love thrown in can anyone break it this time?
With the winter finale looming, Once Upon a Time Season 3 has left us with a lot more questions than answers. 
C. Orlando is a TV Fanatic Staff Writer. Follow her on Twitter.