For a while now, Revenge has been a guilty pleasure watch for me.
I've loved it even while rolling my eyes at the implausibility of it all. In the spirit of total honesty, when the previous episode aired, I was ready for the break which just ended. 
That break did this viewer - and this season - good.
It gave Revenge space to breathe a little bit so it could sink in that Emily's revengenda is about to come to fruition. Maybe. As long as Emily, Aiden, and Nolan can continue to control the uncontrollable.
Lydia's return was one focal point of Revenge Season 3 Episode 9, which was, for all intents and purposes, a pretty packed hour.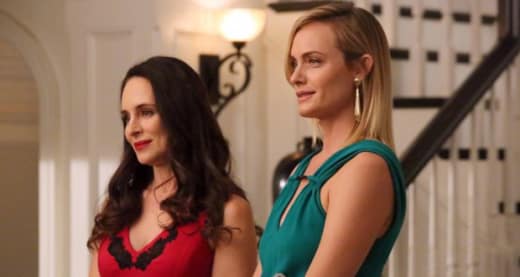 So many pieces of Emily's plan have come together to get her to this point, and yet there are still wild card elements which make it seem like this final takedown will not happen. Lydia and Victoria are two such elements. 
Lydia has it out for Emily, but Emily isn't the reason she returned to the Hamptons. She's just as jealous of Victoria as she's always been and after seeing all the good things which have happened to Victoria, relatively speaking, since their faked deaths, Lydia wanted a piece of that pie. She blamed Conrad for her new and less glamorous life and returned to work with Margaux in order to ruin her former flame. 
But Conrad still has the ability to drive her wild, apparently, and Lydia ate it up. 
After reuniting with Conrad, she found an original copy of the photograph which nearly cost Lydia her life, and on the eve of Emily's wedding, no less.
A wedding which Victoria has tried and failed to stop and one which she is now no longer planning to attend.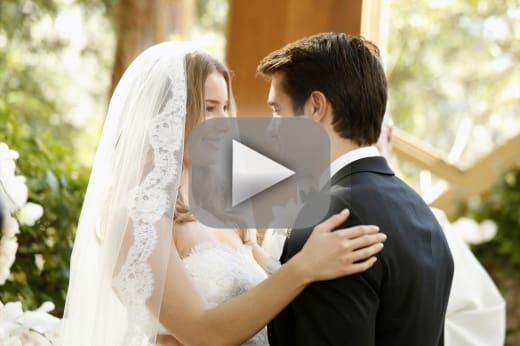 Charlotte's urging that they both stop meddling caused Victoria to take the extreme stance that she just won't attend the wedding if she can't support the marriage. That, of course, would throw Emily's plan into a downward spiral, but the previews have already revealed that Victoria does attend the wedding, so that wasn't much of a cliffhanger or shocker, really.
Victoria's plans to ruin Emily have all failed. Every single time she's tried to come between Emily and Daniel, she's only served to push Daniel further away from herself and closer to Emily. It's sort of amazing how manipulative and calculating Victoria can be in all other aspects of her life and yet that's one thing she's never been able to figure out. 
That's exactly what happened tonight. 
Daniel was on the fence about his feelings for Sara, with Emily's pregnancy news only serving to make him more unsure of himself. Victoria's insistence that Emily was lying about the pregnancy didn't matter to Daniel at all because it came across as just another of his mother's schemes to break them up which just solidified his decision to break things off with Sara. 
(Sidenote: Why do rich people in movies and television throw ridiculously expensive jewels into the ocean? Looking at you, Titanic. And Daniel Grayson.)
While watching the scene with Daniel and Sara, all I could think was "Don't worry, guys! Emily's going to fake die soon and Daniel will be heartbroken and Sara can comfort him! Happy-ish ending!" But then I realized that Emily's plan probably won't go as, well, planned, because this is a television show and there are at least 13 more episodes to go in the season. 
So that means that Aiden and Emily probably won't live happily ever after either, which sort of bums me out after tonight. His proposal was sweet and romantic and it made me believe in the two of them as endgame, but now I'm afraid it will never be because it seemed a little too good to be true.
I was just starting to like Margaux and Jack, too. He seems happy. Finally. She seems not Ashley. Finally. 
And next week things will all fall to pieces. We'll finally figure out who actually pulls the trigger and brace ourselves for the aftermath.
What did you think of Revenge Season 3 Episode 9? Are you happy with Lydia's return? What did you think of Aiden's proposal?
Miranda Wicker was a Staff Writer for TV Fanatic. She retired in 2017. Follow her on Twitter.