The final stop on the American Idol audition circuit this year is Omaha, Nebraska. They're going straight into the heartland of America in their search for a star.
Will the winner come out of the Cornhusker state? Let's find out...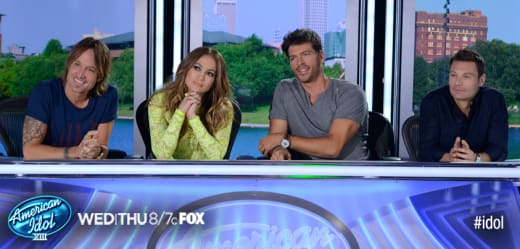 First up Quaid Edwards, a college senior. His mother was country singer Jolie Edwards from Jolie and the Wanted who once upon a time toured with Keith Urban. He sings "A Change Is Gonna Come" and shows that the apple doesn't fall far from the tree. Jennifer notices a few inconsistencies in his voice but likes him. He likes her, too. Keith tells him he has to decide what to keep and what to lose. Harry gives him the same advice. Quaid says "I'm as green as they come" and Harry says "I happen to like that shade of green." He gets a ticket to Hollywood.
Greenwood, Nebraska native Simon Hauck is a student. "What are you studying?" Ryan asks. And Simon says nothing. His performance is a total shtick and he gets the boot.
He kicks off a string of no votes making it seem like there's a drought in the midwest.
Madisen Walker might be the one to change that. She tackles a Carrie Underwood number and aside from a couple of flat spots, she has a decent tone. But Keith calls her performance a karaoke show. He likes that she's young because that means she has room to grow, but she's imitating others right now. Jennifer gives her a yes and so does Keith. She's going to Hollywood. As she's walking out the door, Keith tells her to get a little bit of life experience between now and then. 
Alyssa Siebken wants a victory selfie with Ryan Seacrest if she gets a golden ticket. She sings an acoustic version of a Waka Flocka song and it's a little bit weird. Jennifer compliments her on her ability to keep her breath while she was rapping and gives her a yes. Harry gives her a no because her voice isn't strong enough. Keith gives her a yes. She gets her victory selfie with Ryan.
Hailing from Vermont, Tyler Gurwicz strains to push out Adele's "Set Fire to the Rain." There's a lot of pushing and Keith says he looks angry when he sings which makes him hard to watch. Harry doesn't know where he'll fit in the competition. Jennifer says yes and Keith says no. Harry says no because he's a bit of a one-trick pony and tells him to sing another song. He snarls out another song and keeps looking murderous. Harry changes his mind.
The drought continues until Tyler Marshall walks in and sings Tina Turner. Harry says "we're not going to waste your time" and hands him a ticket.
C.J. Jones walks in and says he's singing "Stand By Me." "No I have to sit here..." Harry says. "No, get over here" C.J. replies. So Harry does. (This is why we love Harry Connick Jr.) C.J. sings and Harry dances then they hand him a golden ticket.
Dajontae Lenear and Dylan Becker head in on day 2 and both get yes votes.
In walks Paula Hunt, who sings for the U.S. Air Force Heartland of America Band. She sings Etta James and they stop her before she gets to the chorus. Jennifer says it's clear that she's been singing for a long time. Harry says she knows when to do the vocal runs and is a natural. She gets a ticket to Hollywood.
Andrina Brogden is from North Dakota. She sings "Halo" by Beyonce. It was clear before she opened her mouth that she'd be able to sing. She just has a presence about her that says she can sing. Jennifer says she has a beautiful voice but seems to be singing from a place of fear. Harry thinks her voice is better than average but not American Idol caliber. Keith agrees with Jennifer. She gets a golden ticket.
Christian Schull is a singer and a square dance caller. He chooses Willie Nelson's "On the Road Again" and sounds remarkably like a young Willie Nelson. The judges are stunned into silence by his unremarkable performance and he goes home.
Casey McQuillen gives an amazing rendition of "Skyscraper." Keith loved her restraint and Harry called her smart. She gets a ticket.
Closing out the night is Tessa Kate. He plays and performs in Branson, MO and sells tickets for scenic cruises, a job eerily similar to Candace Glover's. She chooses "Folsom Prison" by Johnny Cash. There's a Jewel-quality about this girl and the judges don't cut her off. Harry says she has a classic, timeless sound about her. Jennifer called her sweet. Keith thinks maybe she's a little light but also likes that she has her own "lane" for Hollywood. They give her a golden ticket.
Omaha saw 21 more tickets handed out, the lowest number of any city along the audition trail, bringing the overall total of 212 hopefuls descending on Hollywood. We'll head to the West Coast for Hollywood week and the promos promise tension, tears, and GROUP ROUNDS.
The fun is just getting started for American Idol!
What did you think of the Omaha auditions? Was this an underwhelming city on the stop? Are you ready for Hollywood?
Miranda Wicker is a Staff Writer for TV Fanatic. Follow her on Twitter.