Guess who's back? Yes, Arianna Grace's christening had one surprise guest…Nick Fallon! Looking alive, well, and ready to wreak havoc on Salem. 
Our TV Fanatics Nick McHatton and Christine Orlando are joined by MrsM and Dana from MyHourglass, a Days of Our Lives fan forum to see if anyone thought Nick was really dead and debate his plan now that he's back.
Don't forget to join in and add your answers to ours down below! 
------------------------------------------------------ 
Did you think Nick was really dead?
Nick: Nope, not at all. If there's not a body, then you're not dead in Days (even with a corpse you're probably not dead).
MrsM:  I didn't think he really was dead. There were too many loose ends and just from reading tweets from cast members it was left too open. 
Dana:   No, I didn't think Nick was dead. The more people that became involved in the conspiracy the more I realized he must be alive.
Christine:  Oh, this is Salem. Does anyone other than Jack ever really die? But yeah. I figured Nick would be back at some point. I just didn't think it would be this soon.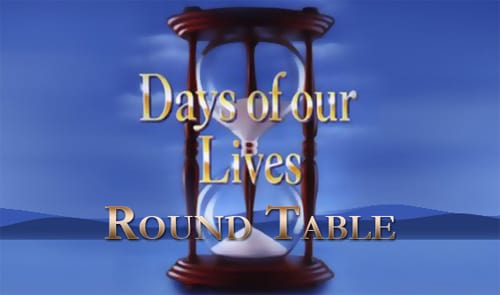 What do you think Nick's plan is now that he's back?
Nick: I think he's going to begin going after all three women individually. I'm beginning to think he's the one who took the photos of EJ and Abby, and he'll use them to get to Sami and EJ; he knows Kate had his phone, and will most likely work some magic with that; and he doesn't have to do much with Gabi she's already a complete train wreck. I am curious if he'll go after Will and Sonny at all since they're rolled up in the cover up but not his "murder."
MrsM:  Nick is going to wreak havoc on everyone involved, specifically Kate and Sami. I think he will still have a soft spot for Gabi even though she spurned his affections.
Dana:  I think Nick will target Kate and Sami first. He may blame them along with Will and Sonny for turning Gabi against him. I think he will make them squirm a bit before he makes his move. The computer virus he gave Kate was child's play for him.
Christine:  I think Nick's going to have one heck of a revengenda against all three women. He's already proven he can be a really scary guy. I just wonder if he remembers everything that happened after his bump on the head. And l agree he's probably the one who was taking pictures of EJ and Abby but I have one question…where did he get the camera?
It's been a few weeks now. How are you feeling about the Will recast?
Nick: I like what Chandler did with Will. He did wonderful work and those two Emmys he got are well deserved, but once the will they/won't they of WilSon was over they never clicked chemistry wise for me. Guy Wilson, nuWill, clicks with Sonny more  and he brings a certain amount of maturity and adulthood that Will is now in with a baby and a family. Overall, he's a fabulous recast, and I hope to see what he can do with some meatier material.
MrsM:  The new Will still hasn't grown on me. I wish he would show an emotion besides wanting to get Sonny naked. He does great with the intimate scenes, which weren't Chandler's strong suit, but the rest is really lacking for me.
Dana:  Let me start out by saying that I'm not a huge Will fan. So I wasn't upset to learn that the part was being recast. I think he's doing a good job. 
Christine:  I wasn't sure at first but today's episode really won me over. I agree that Guy Wilson has more chemistry with Sonny and I hope they have Will grow more of a backbone than he's had in the past, especially since he'll likely have to protect his family from a vengeful Nick. 
Did Teresa score points with Daniel this week or do you think he sees right through her?
Nick: I think he has some doubts about her, but Teresa puts up a good, wholesome front when she needs to. Right now Daniel doesn't seem to care either way since he's so focused on Eric, Nicole, and Brady.
MrsM:  I don't think Daniel sees Theresa at all. I think he is too wrapped up in everything going on with Eric that he doesn't even see Theresa and what she is doing.
Dana:  I think Teresa scored points with Daniel for helping Brady. Under ordinary circumstances I think he would see right through her. Daniel has so much going on right now that he really isn't giving Teresa's motives any thought. I'd like to see JJ tell Daniel what she's really up to.
Christine:  Yes, Fluffysmom. I really wish JJ would just tell Daniel what she's up to. I think Daniel has his doubts but like everyone else has said, he's so distracted I don't think he's really paying her much attention at all. 
What was your favorite scene of the week?
Nick: Besides Nick's awesome, soapy entrance I really enjoyed the smaller moments: WilSon hand holding, Abigail unable to resist EJ's charms, Eric and Nicole.
MrsM:  Favorite scene was probably when Nick made his reappearance. The looks on everyone's faces were priceless!!
Dana:  My favorite scene this week was Daniel taking an ax to the basement door and rushing to check on Nicole. I liked seeing Daniel put all of the pieces together and realizing that Nicole and Eric were in the basement. 
Christine:  I loved the entire christening. From everyone trying to shut Julie up, to Gabi and Will counting their blessings, to Lucas and Sami bonding over their granddaughter. Top it off with Nick's return and every scene was either fun, touching, or shocking. 
Now it's your turn TV Fanatics. Did you believe Nick Fallon was really dead?
C. Orlando is a TV Fanatic Staff Writer. Follow her on Twitter.