Does anyone want to see the world through the eyes of Si Robertson?
That was the main question posed on Duck Dynasty Season 5 Episode 3, as Si saw a video of a guy with a bike helmet camera and decided… hey, I should try that!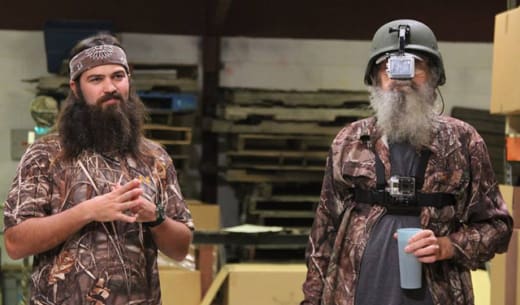 Describing himself as "part Six Million Dollar Man, part Robocop," Si therefore went off into the woods and tried to duplicate what he saw on television.
Yes, the person who news help recording something on his VCR (his VCR!!!) was trying to get all into technology and the results were hilarious.
"You realize that's not hooked up to a satellite, nobody's watchin' that right now?" Jep teased.
Si sort of just wandered around while everyone else went deer hunting, asking the fellas to speak to him like he's Oprah or someone. Later, Si says he wants his video to be titled "For Your Eyes Only," though we can't picture Si drinking a James Bond Martini.
Elsewhere, Willie got tickets to the LSU football game.
But he was far more psyched about it than the kids, whose road work made the entire unit late for the game and caused Willie to find a supposed shortcut.
Naturally, the group misses the game in person and is forced to listen to the fourth quarter on the radio while eating food on the side of the road. But, hey, at least the Tigers won!
Line of the Night: "You don't like the 'Golden Girls,' I don't like you." Amen, Jep. Amen.
Matt Richenthal is the Editor in Chief of TV Fanatic. Follow him on Twitter and on Google+.