How I Met Your Mother Cast Teases Special 200th Episode, Prepares to Say Goodbye
Jim Halterman at .
The end is nearly here for How I Met Your Mother.
And if you think it's been bittersweet to watch as a viewer, imagine how co-creator Carter Bays and Craig Thomas feel.
"It's been a delight writing this year and planning it out," Bays said during an on-set chat at the Television Critics Association Winter Press Tour yesterday. "And it's been a challenge."
Bays admitted that setting the entire final season over the course of one weekend has not been an easy task: "There's been pitfalls in it through the whole season over the weekend, but it's been such an experience you give yourself challenges."
Added Thomas: "We aimed for the idea that a Season 9 episode would feel unlike other seasons, that we would give the audience a feeling that something different is happening, but it's still How I Met Your Mother."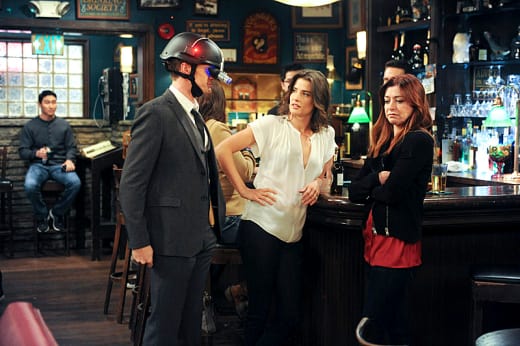 And then there's the cast – Neil Patrick Harris (Barney), Josh Radnor (Ted), Cobie Smulders (Robin), Jason Segel (Marshall) and Alyson Hannigan (Lily) – all of whom stuck with the show from the pilot.
Harris, perhaps the biggest breakout star, summed up the experience by telling reporters "we're saying the word last a lot more than we ever did. For a TV show, you're always hoping that it goes on and on and on and on as long as it possibly can."
The actor added that he and his colleagues "knew that it was going to come to an end" at some point, "but we never really talked about the end, so this season has been filled with a lot of us saying, 'Oh.' We were walking down here just now, 'Oh, this is our last TCA panel,' wistfully."
"We really did have an eight‑year plan from the pilot," Bays said. "We kind of knew how we wanted to end it, which turns out to be nine years, which is great, but we were so naive that it would just keep going.
"The beginning of Season 2, we shot part of what is going to air in the series finale with those kids who are now 53 and 62."
The sitcom about a group of friends dealing with relatable 20 and 30-something topics such as relationships, family and careers wasn't a hit immediately when it premiered in 2005.
"The first two seasons seemed very on the bubble the entire time, which actually I thought was good for us and for the show," Harris said, explaining:
"It gave us the opportunity to come up with our own sense of humor and sometimes when a show is thrust into success right away, there's high expectations for them to come up with terrific stuff super fast, and we got to develop a great vocabulary and weird little inside jokes so that by the time fans ‑‑ Netflix style and syndication style -- started watching it, it had found its own voice, so I liked the slow-burn elements to our show."
Segel added that he was always ready for the ax to drop on the series.
"I had been part of a couple shows that I loved and they got cancelled within the first season. So I really felt like there was no way you could equate quality with whether or not it lasted... I was always ready for the show to be canceled, and then the fact that we got along so well made it almost a sure thing to be canceled. It's just the best gift ever that it stuck around for so long. We lucked out. It's been like a dream experience."
What audition memories stand out?
Smulders, who is Canadian like her character, wouldn't get into specifics, but did admit: "I was just trying to get a work visa and I was willing to do anything. Anything." 
We finally met the Mother (played by Cristin Milioti) on the How I Met Your Mother Season 8 finale, of course, and Cristin Milioti told us that coming on board at first was "very scary." But...
"I could not have been more warmly welcomed here by everyone. I don't know why I almost started crying right now, because I feel like I have no right to cry."
She added that the job "has made this a dream come true for me. It's definitely like my own specific thing and I haven't been here for that long. It's been fantastic and very warm and lovely."
Because we've missed out on a big chunk of the Mother's life - since she's always been right outside the periphery of our main cast - there is a plan for viewers to be filled in during this final season.
"We're going to get more glimpses of their relationship for sure and some big moments in it," Thomas teased. "And there's also this wonderful episode, our 200th episode, that fills in the eight years in the life of the mother that we're really excited about and proud about that airs in a couple weeks -- and not to embarrass her for one second, Cristin is amazing in it and there's a lot of fun intersections between her life and our gang. 
"So our gang is in that episode, but really it's her episode, and I feel that kicks off the end game of the season and the series where you're going to see more of her and Ted and learn more about them, and that episode kicks that off beautifully."
But how will How I Met Your Mother actually wrap up?
"I cornered Carter and Craig at our Christmas party," Harris said. "And after, like, five drinks, I got them in the corner, and said, 'Now it's time. I want you to tell me everything. Spill the beans. Tell me how it all ends,' and they did. They stood there and they told me they would tell me all of it and it's more complicated than you would assume….and for all of our fans, they will be far from disappointed."
Moving forward, How I Met Your Dad is on tap, meaning Bays and Thomas had to answer an important question: whether HIMYM cast member will pop up on the new series.
"I feel like if success of that show is good and goes like Season 3 when we're out of ideas, that would be a fun thing to do," Bays said. "Bring back one of these guys and pay them a bunch of money for the week."
("I'm in," Harris quickly said.)
Concluded Thomas:
"Whatever How I Met Your Dad would ever be, if it goes, it has to prove itself on its own, and the show deserves the best possible ending that it could get, and the fans who stuck with us deserve that, and that's what we intend to give that." 
How I Met Your Mother Season 9 airs Mondays at 8 p.m on CBS. 
Jim Halterman is the West Coast Editor of TV Fanatic and the owner of JimHalterman.com. Follow him on Twitter.