FX may have only just premiered Justified Season 5 last night, but network President Nick Grad is already looking ahead to Season 6 of the outstanding drama.
And to saying farewell to Raylan, Boyd and company.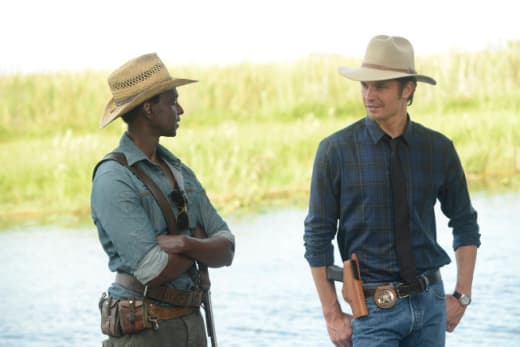 Grad tells Variety that "the plan right now" is to wrap Justified up following its sixth season, saying that would follow the network's pattern of ending popular dramas after six or seven years.
"We like having shows that rate really well, and there's an instinct that you want it to go on forever. But it doesn't," Grad says. "Another metric that's important to us is, 'What shows are going to be talked about in the next 20 years?' If you're making a great, 80-hour movie, it has to have a beginning, middle and end.
"Going out at the right time is going to make your show last forever. We want to make shows that stand the test of time."
The Shield aired for seven seasons and, barring a change, Sons of Anarchy will also conclude after its seventh season.
Justified, meanwhile, has built a steady, loyal stream of viewers over the years.
It averaged 3.4 million viewers during its initial run and 4.1 million for Season 4.
UPDATE: FX has now confirmed Justified will end after six seasons.
Matt Richenthal is the Editor in Chief of TV Fanatic. Follow him on Twitter and on Google+.