#RichKids of Beverly Hills Recap: Craziness in Cabo
Matt Richenthal at . Updated at .
The #RichKids of Beverly Hills took a trip to Cabo this week and the vacation was nice and relaxing, with the cast of this E! reality series just lounging calmly around the beach and ordering a few drinks.
JUST KIDDING!
The trip was in honor of Morgan Stewart and Brendan Fitzpatrick celebrating their one-year anniversary (they've been together for "365 blissful days") and we'll let Morgan explain why their friends were invited along:
"I feel like Cabo is a party city where you go with a group of people, get drunk for four days and you never want to go back or have guacamole again."
Before departing, Morgan must convince "poor" Roxy to join the fun, despite her parents recently cutting off her cash flow, and she must vow to avoid all conflict with Dorothy. No more "cheap billionaire" type lines like on their last trip basically.
From there, it's all aboard a private jet down south, with some serious food and a lot of liquor awaiting the group.
Tanning, drinking and booty shaking follows, along with Brendan finding the perfect the perfect gift for his girlfriend: a green Givenchy bag.
But the festive atmosphere doesn't last long, not when Dorothy, her friend Cooper and EJ Johnson arrive an hour late for dinner. The nerve!
Dorothy and Roxy then continually text throughout the meal, forcing Brendan to act like Daddy and bar phones from the table.
"I understand that it's their anniversary but it's 2013 and we're all very popular," EJ says in response.
Quick, someone order tequila shots! Okay... phew.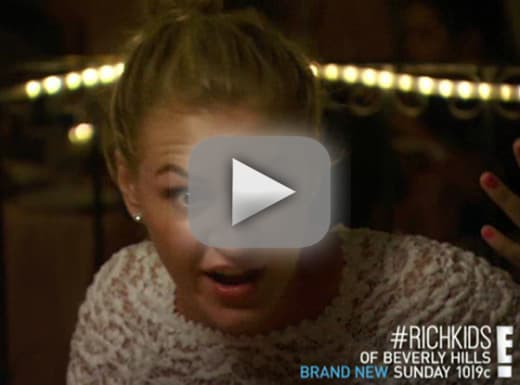 Later on, there are some apologize for the text messages and the screaming and the late arrives and many other poor decisions made by the group. But that doesn't mean everything is peachy keen.
"There's not enough tequila in Mexico to make everybody get along," Morgan concludes.
That's likely true. But there's gotta be enough to make everybody forget why they were fighting in the first place.
Matt Richenthal is the Editor in Chief of TV Fanatic. Follow him on Twitter and on Google+.