I've got a feeling the New Year's resolutions for Person of Interest are going to include way more than getting a toned beach body.
Person of Interest Season 3 Episode 12 kicked off 2014 with a couple shootouts, drug-fueled interrogations and a continued persistent pursuit of the Machine by a variety of interested parties.
Just imagine what these people would do for a new iPhone.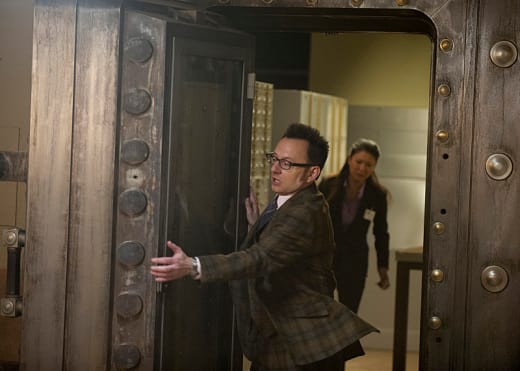 The flashbacks of Finch as a young teen trying to deal with his father's memory loss really do reveal the innocent origin story for the spectacled hero, but also the Machine itself.
Except now, the Machine has taken on a far greater life of its own, a more sentient being than piece of generic hardware. And as much as the countless groups fighting for it's control are scary, the Machine in control is a far more frightening concept. It's evolved to a point that isn't just doling out social security numbers. It's got its own agenda.
Which makes it tough for a character like Finch to watch his "baby" grow up from the small idea into the behemoth intelligence, all while losing those around him.
It's done so much good, but maybe that blind faith needs to be rechecked. Perhaps, Finch really needs to worry about the Machine. And if he had to, if it was necessary, could Finch destroy it?
Yet Root's faith in the Machine has never wavered. I have a feeling that's going to end up hurting her in the end. For now, it allows her to tote around two guns for twice the kick-ass firepower, and of course rescue Finch and Shaw.
Sure, she was stuck having a bunch of syringes shoved in her by Control. Heck, she even had one ear cut. But she didn't count out the Machine.
It was super creepy listening to the Machine speak through Root. The computer hacker herself has always been on the crazy side, but it went to another level.

Trust in me. I am always watching.
Remember things like Skynet, Hal 9000? Yeah, I'm going to pass on trust with this one.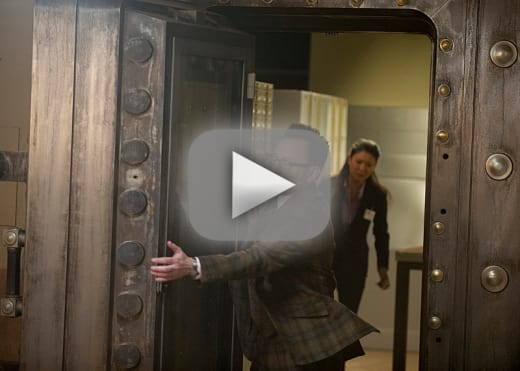 And I do love the concept of another in Samaritan. It was good to see Finch wary and convince Arthur to destroy the drives, but if Vigilance or the government couldn't get to them, anyone recall the shadowy organization known as Decima? What a cool twist at the end to bring back another antagonist.
It is rather fun watching the many groups try their hand at facing off against the POI team, especially in a bank vault. Plus, when you've got Shaw to handle things like MC Hammer, you know you're in for a treat.
She continues to prove herself less as a paid hand and more as a member of the group.
I was missing Reese action, so it was a great moment to see Reese and Fusco, fresh off their fist fight from Person of Interest Season 3 Episode 11, saving the day.
Which made it positive for the hour that everyone managed to escape, but Reese choosing to leave? Decima with the Samaritan drives? The Machine getting more powerful?
The 2014 road ahead is looking to be a tough one, and hopefully, Finch can find a way to pull his team back together and prevent major consequences from the likes of Decima, and certainly the Machine.
Should Finch be like Root and trust the Machine or be like Reese and not follow blindly?
Sean McKenna was a TV Fanatic Staff Writer. He retired in May of 2017. Follow him on Twitter.