The Bachelor Premiere: Hello, Juan Pablo!
Miranda Wicker at . Updated at .
The moment we've been waiting for since Desiree Hartsock sent a hot Venuzuelan soccer player packing on The Bachelorette.
Juan Pablo Galavis is looking for love on The Bachelor Season 18. We're just looking for gratuitous shirtless Juan Pablo Galavis. (Thank god this is a show always happy to oblige that request, amiright?)
If you're dying to know who'll go all the way and who'll go home, check out The Bachelor spoilers over at The Hollywood Gossip. We won't stop you! Tonight Juan Pablo will meet the 27 ladies hoping to steal his heart, and we'll be here to recap their antics with our +/- system.
Got your wine ready? Let's do this...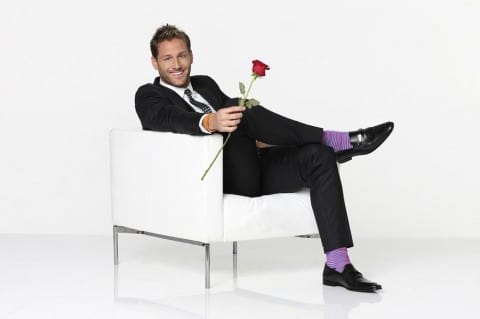 Shirtless Juan Pablo less than 30 seconds in! Plus 25!
Dancing Juan Pablo gets another Plus 10. More shirtles sJuan Pablo on the beach in Miami playing volleyball. Insert joke about a man who knows how to handle his balls here. Plus 5.
Geeeeeez! Plus 30 for Juan Pablo and his daughter, Camila Valentina. Just when we thought he couldn't get any hotter, he goes and shows how much he loves his little girl.
Yes, yes you do speak the language of love, Juan Pablo. It's written on your abs!
Shirtless Juan Pablo wants to have two more kids. Definitely. Who doesn't want to give him two more kids? 
Former Bachelor Sean Lowe stops by to chat with Juan Pablo and give his expert advice. Sean found love with Catherine Guidici on Season 17.
Juan Pablo's biggest concern? Keeping the ladies' names straight. Sean says "just tell them you're bad with names." Honesty IS the best policy! Plus 3.
Sean says he doesn't regret kissing a lot of girls but advises Juan Pablo not to let the other girls see him kissing girls who aren't them. Also solid advice. Plus 2.
This actually seems like a legit conversation between two dudes. And Sean makes me tear up a little bit talking about Catherine. Awww.
Damn! Juan Pablo IN THE SHOWER! Plus 57. Not sure I'm going to be able to pay attention to anything else for the rest of the evening because Juan Pablo soaping up his abs in the shower.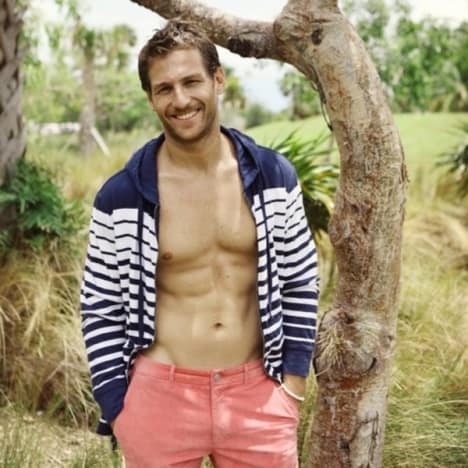 Hey, hey, Chris Harrison! Let's meet the ladies!
Chelsie from Ohio is 24. She's a teacher, and she's learning Spanish to impress the Bachelor. 
Renee is from Florida and she likes to wear bikinis. She's also a mom, so she and Juan Pablo have a bit of common ground there with the single parent thing.
Andi is a gang prosecutor from Georgia. She's pretty and likes to use her looks to her advantage. People just don't see her coming. She's not exactly thrilled to share Juan Pablo.
Amy's a massage therapist from California. She considers herself "an artist" when it comes to the human body and this gets a Minus 12 for being the most awkward bachelorette introduction I've ever seen in my life. 
Nikki is a pediatric nurse. She's good with kids! Plus 3.
Lauren is 25. She's nursing a broken heart. She was engaged and 6 weeks later her fiance broke it off. That experience, she says, is something "you just don't get over." Well, honey, here's hoping you're over it since you're here, you know, looking for love.
Valerie is from Sutter, CA and she hopes the other girls look like baby goats. She gets a big ol' Minus 22 for saying "ugly people need love, too." 
Lacey is another California girl. She's from a family of 13, 9 of whom are special needs. At 20 years old she decided to take care of the elderly and opened her first elderly care facility. This girl has a big heart. BIG HEART.
Claire is yet another California girl. She's part Mexican and the youngest of 6 girls. Her Spanish is better than Chelsie's and she sort of looks like Kristen Bell. That's a plus 3. Her dad passed away and before he did, he made a DVD for her future husband to watch. No one has ever seen it. (Raise your hand if you actually believe she's never watched it...)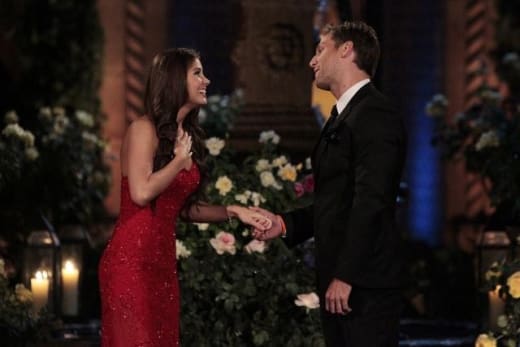 Juan Pablo doesn't like hurting people. That's the part he's not looking forward to. He's hot and sweet. 
A limo full of women arrives and the squeals can be heard outside. Amy from Orlando is the first out of the limo. Their introduction is a little lackluster. 
Cassandra's isn't much better. It's so awkward, in fact, that the producers play crickets. Minus 12. Christy wears a white dress and looks remarkably bridal.
Christine chooses an emerald ball gown and brings a gift for Camila. Bonus points for her! Nikki's the last one out of this limo and lets Juan Pablo listen to her heart to tell how nervous and excited she is to meet him. Seems like a ploy to get his hand close to her boobs. Minus 4
Limo #2 arrives and Kat is the first one out. She tells him the one dance she doesn't know is the salsa. Of COURSE Juan Pablo knows how to salsa. OF COURSE HE DOES. Plus 3.
Chantel tries to wow with a Spanish accent. Victoria is from Brazil and they agree to help each other with their romance languages. 
Lucy is a "free spirit." No, really, that's her job description. She's...bizarre. And barefoot. Minus 13.
Danielle is in a gorgeous dress and has a present for Juan Pablo inside. Excellent plot to get some one on one time with him. Plus 3.
Lauren S. rolls up a piano and plays Juan Pablo a song, but she hits a few sour notes toward the end. And then she talks a mile a minute and doesn't even give her name before running inside the house. Juan Pablo chases after her to get it.
Chelsie shows up with her safety goggles and a science experiment, but then she tosses the test tubes and says "instead of doing chemistry, why don't we just have chemistry." Lame. Minus 6.
Valerie wears her boots with her fancy dress. The dress isn't always her, but the boots are. Not her biggest fan. 
Elise also forgets to give Juan Pablo her name. Their introduction is sort of boring. She's a first grade teacher. So is Ashley who uses her first grade teacher status to her advantage and gives Juan Pablo a gold star. 
Claire decides that since Juan Pablo has a daughter and wants more children, she'll show up pretending to be pregnant. Claire decides to use that to freak out the other girls. Plus 4 for ingenuity.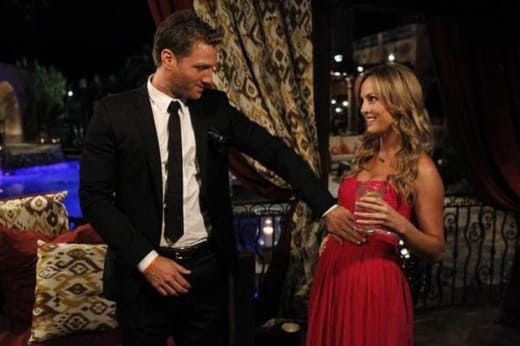 Alli gets it right and shows up wearing soccer shoes. She's "looking for a teammate." She's also a nanny. Another one who's good with kids! Plus 4.
Massage therapist Amy J. climbs out of the limo and speaks Spanish and she's awkward. Renee drops the single mom bombshell immediately in her introduction, but she didn't pull a Ben and bring her kid.
Lauren H. has the most ridiculous scrunchy face. Maggie from South Carolina is positively dripping with Southern charm. She brings Juan Pablo a fishing hook and says she hopes he's going to be the catch she's been waiting for. Minus 4.
Kelly from Atlanta brings her puppy, Molly, along for the visit. Molly doesn't seem to like Juan Pablo very much. Or she's just looking for kibble.
Lacy brings him a "prescription" from "Cupid's Pharmacy." Red hots. It's pretty cute. Alexis is from Tampa. That's about the only thing she says in their meeting.
Kylie says she's been dying to hug him, hugs him, and then walks away immediately. Sharleen is an opera singer who flew in from Germany to meet him. 
Andi​ from Atlanta is the last girl to meet Juan Pablo. She seems to get the most "wows" from him, so that might bode well for her. We'll see.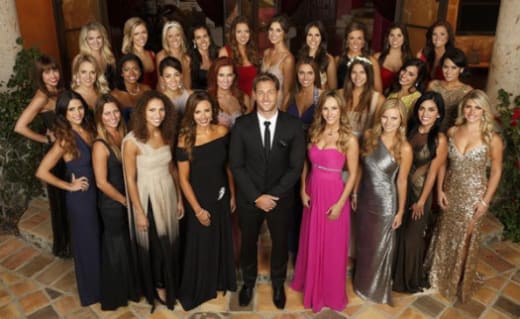 Chris Harrison tells Juan Pablo to give the First Impression Rose to the one girl he definitely wants to keep around. 
Shouts of "here he comes, here he comes!" resound from within the house as Juan Pablo makes his way inside. "He's so hooooooottttttt!!!!!" is a common chorus. 
"It feels like you're meat and they wanna eat you. Right there."--Juan Pablo Galavis. Plus 15.
To break the ice, he busts out a speaker and starts a dance party. He also brought in a photo booth and invited the girls to loosen up and have a little fun. And suddenly he becomes even more awesome.
Nikki gets the first one-on-one time with him and says she's not just a nurse. She's a pediatric nurse and invites him home to Kansas City. 
Renee's up next. Juan Pablo remembers her son's name and then calls Camila "the best goal of his life." Soccer metaphors, FTW! Plus 10.
Bizarro Lucy snags him next and makes Juan Pablo nervous by getting too close to him. Then she throws her feet across his lap and calls herself a "real hippie." Minus 18.
Amy J. set up a massage table and Juan Pablo jumps right on it. She just wants to rip his clothes off and pour her oils all over him. Yes, she said that. This is so uncomfortably odd. Minus 22.
Chris Harrison comes in with the First Impression Rose and the room gets uncomfortable. Every woman wants that rose. Only one will be victorious. My money's on Andi. Lauren H. thinks she deserves the rose just because her life is good but her love life sucks. Not sure that's how it works there, Lauren.
Chelsie​ gets Juan Pablo in the photo booth and Juan Pablo takes a lot of photos of himself. But Chelsie says she wants "all of the kids." 
Elise gets some time with him next. Her mom passed away but she's sure her mom is guiding this meeting with Juan Pablo.
It's already settling in with the girls that it's hard to watch the others talk to Juan Pablo while they're sitting around drinking wine. Lauren H has the most sour, duckface look and she just can't seem to get it together to go talk to him. And then she's in tears. One of the other girls takes her aside to talk to her about how she's feeling. Or to size up her competition. you know, whichever.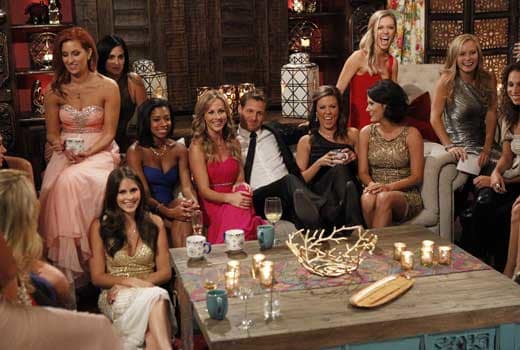 Lauren H. is still sulking and says she thinks she's breaking. On night ONE. Juan Pablo comes to her for one on one time. Someone must've tipped him off. She spills her history and details of her recent breakup and then just...stops talking. She stops talking and they stare at each other. Minus 3.
After being given teddy bears and puzzles, Juan Pablo sits down with Andi​. Frontrunner Andi. (Full confession: I don't read spoilers if I can help it. So yes, I think Andi is a front runner.) I like her.
He has his eyes on opera singer Sharleen who is disappointed because she didn't feel the instant chemistry. Juan Pablo did, though, because he went after the First Impression Rose. He calls her "elegant" and wants her to stick around for a while. She hesitantly accepts it and then calls him "sir." It's really sort of odd.
Time for the first Rose Ceremony!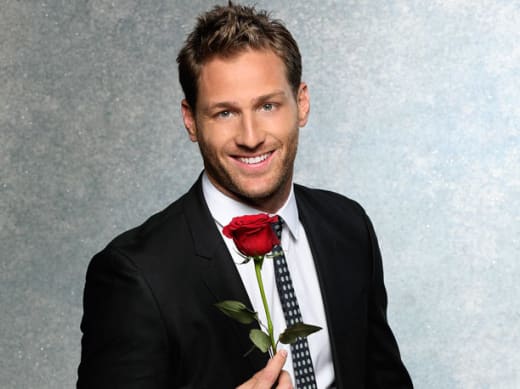 Who are the lucky ladies joining Sharleen in safety? 
Claire
Nikki
Renee
Andi
Alli
Chantel
Lauren S.
Kelly (and Molly, her dog)
Cassandra
Danielle
Chelsie
Kat
Victoria
Christy
Lucy
Elise
Amy L.
Kylie, who had an incredibly cringe-worthy moment where she stepped forward when Juan Pablo called Kat, isn't sticking around. Neither are massage therapist Amy J., Maggie, Alexis, Lacy, Ashley, Valerie​ with the boots, Christine, or Lauren H., who can't believe she's going home the first night. 
And that, ladies and gentlemen, is The Bachelor season 18 premiere! What can we expect from the rest of the season? Drama, drama, drama, a LOT of kissing, hopefully love, and definitely more shirtless Juan Pablo. 
Count me in!
EPISODE TOTAL: 61 SEASON TOTAL: 61
Is Juan Pablo the hottest bachelor ever or does someone else wear that crown? Answer the poll and leave your thoughts in the comments!
Miranda Wicker was a Staff Writer for TV Fanatic. She retired in 2017. Follow her on Twitter.