When Klaus Mikaelson makes an enemy, he makes an enemy for life. And death. And the Other Side. And any other realms which may exist which The Originals writers have not yet revealed. 
He just knows how to make people angry. But of course then he flashes that devilish grin and suddenly we're swooning a little. Ah, Klaus. So many layers.
The Originals Season 1 Episode 12 gave viewers a flashback to 1919, before the Original siblings fled New Orleans, in order to introduce Papa Tunde, one seriously bad dude.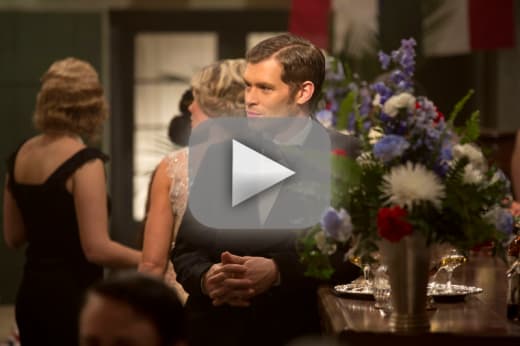 Papa Tunde's stint as a scorned-and-seeking-vengeance witch was short lived. Once he had amassed enough power, he transferred it to Celeste by offering himself up as a sacrifice so that she can wreak whatever havoc she's planning on the Original family.
But that doesn't mean he didn't cause a little chaos himself in the time he did have.
First, Tunde stirred up trouble for Klaus and his vampires by sacrificing a few of them and leaving their bodies for Klaus to find. Then he did the same to Rebekah, but because she can't die he became a conduit for her power.
Which meant he couldn't die.
While Marcel was out of commission, Klaus held Tunde off long enough for Hayley and Elijah to give us one throat-tightening, edge-of-our-seats encounter. (Seriously, JPlec. These two...you're making us work for it.)
Let's back up and talk about the plot just a little bit, shall we?
Now that everyone is living under the same roof, Elijah avoids spending time with Hayley because he sees how it upsets Klaus. While Klaus is finding something sort of like happiness in regaining New Orleans, Elijah is being careful not to upset that. Family above all, you know?
Hayley, however, doesn't like it. She calls Elijah out on his avoidance, leaving him somewhat speechless.
So Klaus is a dick and you want to be a good big brother so we can't hang out. Does that sum it up? I get it, Elijah, it just seems like a really crappy deal.

Hayley
When Rebekah goes missing, Elijah and Hayley use Thierry to find her and the two head off together. They see that Rebekah is locked inside a magical trap preventing them from getting inside to rescue her. Enter Sophie Devereaux with the information that the blood of a witch will break the spell keeping them out.
As it happens, Hayley's baby is one quarter witch, and because Rebekah is not only the baby's aunt but also Hayley's friend, Hayley is completely willing to offer up her blood to help.
Which brings us to that scene. 
Vampire lore from TVD tells us that for some vampires, blood and the bite is about more than just food. Sometimes it's way more than that. 
It was definitely way more than just a means to break a spell for Hayley and Elijah.
For Hayley it was the ultimate act of trust. It was completely putting her life in Elijah's hands. Again. It was being afraid in that moment but knowing that he would never willingly hurt her. 
For Elijah, whose vampire eyes and teeth we have never seen--whom we have never actually seen feed on anyone--biting Hayley, even to draw forth just a few drops, was a sensual sharing of himself with someone else. Sharing a part of himself that not even the audience has seen. 
For both, it was a moment of vulnerability. And it was hotter than any almost-kiss we've seen yet between the pair.
But the song and dance of Hayley and Elijah will continue for only Julie Plec knows how long. I understand not rushing it. Good things and waiting and all. Truthfully, not flinging them together all willy-nilly is in keeping with both characters. 
Hayley is cautious and guarded. So is Elijah. He's also one to weigh everyone else's feelings before his own a great portion of the time.
Elijah would see everyone else sacrifice their own happiness for Klaus', including his own, and later goes so far as to tell Rebekah that very thing. Sacrifices must be made and she better fall in line with that. 
Except Rebekah doesn't want to fall in line with that. She's never wanted to fall in line with that despite the fact that Klaus has spent their entire lives stealing away her happiness before she even really gets to enjoy it. (Check out what Rebekah had to say to her big brother on The Originals quotes page!)
I'm Team Rebekah when it comes to this. Give her a chance at happiness, guys! 
Sure, she's made some dumb decisions when it comes to men. (Looking at you, Alexander the Hunter.) But that doesn't change the fact that she does deserve happiness and Klaus cannot keep controlling his sister's love life. In fact, his obsession with killing or chasing off the men she falls for is borderline incestuous. 
He hasn't killed Matt, though. He seems oddly okay with the mortal Quarterback. Should I start a change.org petition to bring Matt to New Orleans? And maybe Caroline, too?
Marcel's one-liner about how Klaus needs to return to Mystic Falls more often was absolute perfection. Klaus and Caroline's hot hookup (which was pretty random, all things considered) definitely made him a happier vampire. Caroline will do that to a person, though.
Like anything, though, his post-sex bliss couldn't last forever. All it takes to rile Klaus up is for someone to start sacrificing his soldiers.
Speaking of soldiers, Marcel returning from World War 1 and the two speeches to the vampires about how what Klaus needs is an Army was a nice motif carried throughout the episode. We got to see Marcel in uniform and that was almost as sexy as seeing him in that leather jacket-hoodie combination while he drowned his sorrows with Cami.
As always, Klaus, Elijah, and Rebekah looked amazing in 1919. Claire Holt could wear a potato sack and still be glamorous.
We also learned that Marcel brought Tunde to New Orleans hoping the witch would run Klaus out of town so that he could be with Rebekah. That secret Marcel and Rebekah share?
He's the reason Mikael came to town to kill his children.
All it took for Rebekah to forgive Marcel for leaving her daggered for half a century was his promise of allegiance and love to her over their family. When Marcel is in, he's all in. Rebekah, ever the fool for love, helped concoct the plan to lure her father there knowing that Klaus would leave. She just didn't see herself going with her brothers instead of staying behind with Marcel. 
(Okay, okay, so yes, Rebekah's not the greatest at relationships and love...)
Despite a century or more of history between Rebekah and Marcel, there was definitely some chemistry between Cami and Marcel tonight. I could be on board with that. I could definitely be on board with that. Partly because I really like Cami and also because I really love Marcel, both the character and the actor who plays him.
The two of them bonded over Davina and because it's sort of what Cami does, she helped Marcel deal with some of his grief. Sophie helped him realize that there's hope to bring Davina back.
To do that, they need to find the witches who came back in the teenagers' places. Can they do it before Celeste takes all of their power? What happens if they don't?
That's something we'll have to wait and find out.
What did you think of The Originals Season 1 Episode 12? Was that scene between Hayley and Elijah epic or what? Will Rebekah ever find love? Are you hoping for a Cami-Marcel pairing?
Miranda Wicker is a Staff Writer for TV Fanatic. Follow her on Twitter.