I'm doing my best to see the bright side of Cara being voted as the new leader of the paranormals in The Tomorrow People Season 1 Episode 10, but so far it's just not coming to me.
I know that she didn't ask for the job and I'm not blaming her for the vote; I'm blaming the people who made the vote. Sometimes a democracy sucks and, in my opinion, this was one of those times.
Yes, John was once an agent for Ultra and yes, he killed Roger. All of that sounds awful until you realize that he was under orders from Jedikiah at the time and had no choice.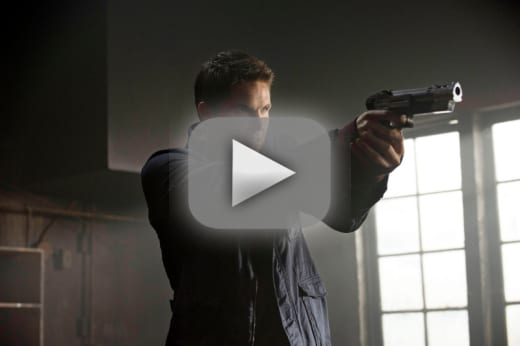 The paranormals knew that John had a past with Ultra, but they also knew what he'd been like as a leader.
Did they think that suddenly he was going to pull out a gun and start killing all of them? Did they think he'd been doing a crappy job as leader?
Even if Stephen has forgiven you, it doesn't mean your sins have been erased.

Cara
Because it seemed to me that John had been doing a pretty great job at keeping them all alive and away from Ultra, while still rescuing other paranormals they found along the way.
Playing devil's advocate, I could probably see how things have been kind of rough for them recently, what with Jedikiah ending up in the tunnels and Stephen's attempts at being a double agent backfiring a few times and getting people hurt. But none of that was John's fault and he worked hard to keep them all safe, never taking bigger risks with his people than he had to.
It's a pipe dream, but it's my pipe dream.

Stephen
Unlike John, the first thing Cara did as leader was to put the whole group in danger by not taking John's advice and thinking before just heading straight to the Citadel. Perhaps if she hadn't acted so foolishly they might have gone in a little more prepared and not lost Errol in the process.
I do see what Cara was coming from and I know her heart is in the right place, but I can't help but to hope that the leadership goes back to John soon. What is he supposed to do now, sit around and follow orders from Cara? He's the one who actually has training as a soldier, whereas she knows nothing about tactics.
Look at her, Cara. If you can't see that she is one of us then you are lost to us as a leader and we are lost as a people.

John
On the plus side, though, I did enjoy where John and Stephen's relationship went in this episode. I know John is probably doing it out of a sense of needing redemption, but it's great to see him and Stephen on the same side about Roger.
It puts an interesting twist on the dynamic between John, Cara and Stephen to have Stephen and John on one side of an issue, while Cara is firmly on the other.
My favorite bits:
John believing Stephen, even when Cara didn't.
The mental patient revealing his stump.
Finding out that the group used candles to vote.
Russell voting for John.
Stephen's mom busting out a Ghostbusters reference, and Pete doing the same.
Jedikiah's smile when he found out that Stephen took a bullet for Ultra.
The standoff between Jedikiah and Cara, especially when Jedikiah told Cara he and Morgan had already said their goodbyes.
John giving Stephen hope once again that his father could be saved from Limbo.
Do you think Roger's body was cremated?