Glee Review: The Best of Friends, The Worst of Friends
Suzanne Davis at .
Glee is back! Let's pretend that horror known as the Christmas special didn't happen and jump back into story lines I can get behind.
As proven again on Glee Season 5 Episode 9, Santana is definitely my favorite character, if only because she shows so much dedication to being a horrible person. Plus, her hair is amazing. I almost hope she doesn't cheer up because her bitch face is the best.
Back at McKinley (tiny yawn) Artie and Tina are happy they're still friends. How nice for them. Tina is sad she didn't get into Brown and might have to go to Ohio State instead (O-H!) which seems like maybe not the end of the world? It's not Lima Community College.
If Artie really wanted to cheer up Tina, he should pick a better song than Kenny Loggins "Whenever I Call You Friend." True fact, I've never heard this song before.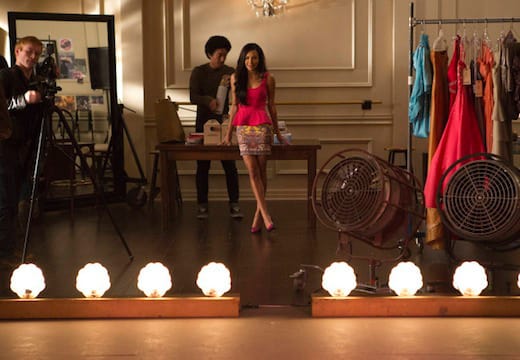 In New York, I was assuming something really terrible was going to happen at the photo shoot, although Rachel's outfit might be enough to qualify. I know it's a Funny Girl reference but wasn't the hair enough?? At least the "Brave" cover was pretty amazing.

McKinley. Tina and Artie fight. He calls her shallow and desperate which is totally accurate.

In the least shocking turn of events ever, Rachel is turning into a diva. "It's really HARD being a star," she moans as she puts on her glasses and waltzes out the door. Okay, maybe NOW something horrible will happen to her.

Pushing over a guy in a wheelchair is LOW Tina, even for you. I'm torn on the En Vogue cover: the a cappella part had me dancing in my seat, but I like my Glee music either super-current or old-musical style. This fight over valedictorian could only happen at a fake high school run by a crazy cheerleading coach.

I don't believe for a second that there are no other actresses who can sing auditioning for Rachel's understudy. What about all the other people she was up against for the lead? Santana's audition was 90% leg and 10% voice. She would not make a great lead in Funny Face unless they remixed it with Sweet Charity.

Song of the night: "I Believe In A Thing Called Love". ADAM LAMBERT 4EVA. Kurt should be worried, he could never carry a group like Starchild can.

Most uncomfortable moment of the night: That fight between Santana and Rachel. Yikes. Rachel is lucky she didn't get slapped back, I'm pretty sure Fanny Brice doesn't look like she's been in a brawl.

The insane humble-off during the valedictorian speech is hilarious. The fact that only Sue seems to realize it was all a bunch of crap is even more hilarious. The rest of the judges must spend a lot of time in Upworthy.

More fighting in NYC! This is way less uncomfortable and more full of awesome insults. I'm totally on board with Rachel and Santana ripping hair extensions and pushing each other down the stairs.

PLUS a truly crazy stalkery version of "Every Breath You Take?" The best. I have officially forgiven Glee for that Episode-Which-Shall-Not-Be-Mentioned.

Kurt and Elliot make up and take a kissy selfie and whaddayaknow, Blaine finds out practically seconds later. Did Kurt somehow graduate high school without understanding how the internet works? I am sure we will revisit this drama in a future episode.

I think the lesson of the episode is in high school, it's really easy to make up with your friends. Who gets to be valedictorian can easily be solved with a solo at Nationals. In New York, you have real problems that will ruin your life.

I feel like I should have been able to totally predict that "Breakaway" was coming but I still squeed a little. Best Kelly Clarkson song of all time? I think so. Also, that's two Idols on one episode. Fox wants to make sure you haven't forgotten that OTHER singing show.
Where will Rachel live? Will Santana help her to actually break a leg? Will Tina have to go to the shameful state school? Are Kurt and Blaine doomed? This and more to come!