Hart of Dixie Review: Nothing Left to Say
Kate Brooks at . Updated at .
This installment of Hart of Dixie broke my heart. Big time.
On Hart of Dixie Season 3 Episode 12, Lavon destroyed not only Annabeth's heart but the whole fandom's as well. Indeed, wha seemed to be a endgame relationship, proved to only be a waste of AB's precious time.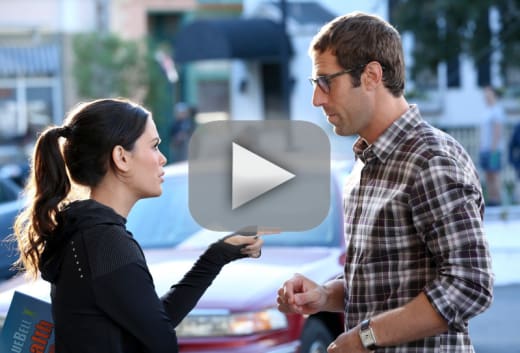 Throughout this episode, Joel followed Wade around for inspiration, learning that he is actually quite the manly man. Especially when Wade takes his shirt off, right ladies? While Joel was shadowing Wade, he learned what we've all know: this guy is quite the sweet talker.
Is it just me or is Wade just consistently surrounded beautiful women? This is too funny. What a player!
Elsewhere, just as Zoe thinks she has a real shot at being partner again, Brick plays her. Raise your hand if you're surprised... I didn't think so. However, Brick and Zoe are one of my favorite pairings (as friends) on the show. The jokes and pranks are out of love.
Another episode passes, more reasons are revealed as to why I love Joel. He may not be macho but he has a way with words and has courage knowing that at any moment, he could die of allergic reaction. To top things off, he PUNCHED a guy! Swoon! Am I right or am I right?
In another turn of events, there wasn't a blow out between Lavon and George as I had expected there would be. Instead, there was a simple understanding that Lynly was indeed crazy. At least naive Lavon can see it now.
In the most dramatic moment in all of Hart of Dixie Season 3, Lavon broke Annabeth's heart when he confessed she wasn't the love of his life. This hurt deep. Annabeth always knew that Lavon was the one but Lavon does not feel that same. Does anyone else need a tissue or a hug?
Now that I think about it, Lavon has done nothing but made me mad all year long. He's incredibly ignorant, he gave up on his fight to stop the merger and now he's letting a great woman like AB go!
Lavon, where is your head?
Also, where the heck is Lemon! Every episode she is gone, the more the show needs her. I have been seeing on Twitter and Facebook how people are commenting on the gap that Lemon has left. I agree. Lemon is a key piece in Hart of Dixie and it's struggling with out her.
Overall, this episode was okay. I didn't find it as funny as I normally do, nor was the plot all that intriguing. The drama was solid, but it didn't outweigh what was missing.
Here's to hoping Lemon returns soon so Bluebell will be all good again. As Annabeth said, theres nothing left to say.
What was your least favorite moment from the episode?