For the most part, Justified Season 5 Episode 6 worked as an hour to move the puzzle pieces around and get everything where it needs to be for the next stage of the season.
After last week's death-laden installment, the quiet momentum-gainer was welcomed.
As much as I've loved Michael Rapaport as Daryl Crowe Jr. early on, the entire clan of Florida Crowes hasn't seemed to fit into this world quite right.  That is, until Boyd decided to put them to work.
Having Daryl's fist do a number on the white power guy was a nice start, but using the Crowes to kill Johnny Crowder? That seems to be a very interesting way to keep this family involved.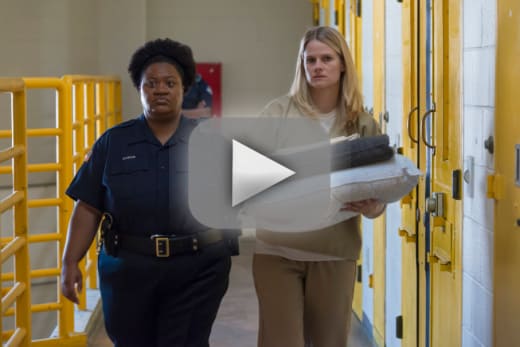 One of the arcs of Justified Season 5 that has felt flat so far has been Ava rotting away in jail. Boyd continuing to visit her and promise to get her out was getting old.
Now that she's made the move to state prison, they've begun to turn this into something interesting, something that may have some substance other than a way for Boyd to do terrible things.
Yeah, he'll still do awful things in an attempt to keep her safe on the inside, but Ava is now going to be faced with a whole separate set of challenges. On the heels of the success Orange is the New Black, Ava and the Inmates could be a nice companion piece...or it could fall flat if it doesn't live up to Piper, Crazy Eyes and the Orange crew.
Meanwhile, there was that little situation at the end of Justified Season 5 Episode 5 where Raylan admitted to Art that he was there when Nicky Augustine was killed. How did Art react?
Well, his response in the opening scene of the episode was terrific. No words were necessary apparently - just one strong hook to the face of his deputy Marshal.
Not only is that relationship now strained, which makes things interesting for our protagonist, but his shiner brought on inquiries from Tim, Rachel and even Allison, who had a black eye of her own after Danny Crowe ran her off the road.
I still love Allison and Raylan's chemistry and some of that might be because of how much she seems to understand him. She was perfect in telling him that she knew he would run into a burning building without blinking an eye, but following it with "I think you're the one setting the fire."
Again, Justified Season 5 Episode 6 wasn't the best episode of the season on its own, but it sure continues a strong early run, and I wouldn't be surprised if this wasn't the perfect setup hour for the next stage of the game.
What did you all think? What were some of your favorite moments? What didn't you like? How long do you think Boyd and the Crowes can work together? And who do you think Ava's best friend would be in Orange is the New Black?
Dan Forcella is a TV Fanatic Staff Writer. Follow him on Twitter.