Will the Sister Wives commitment ceremony actually go smoothly? 
That was the main question asked this week on the TLC hit.
With the family back from Wyoming, there was still a lot to plan for the big event, specifically the all-important, unfinished Mission Statement.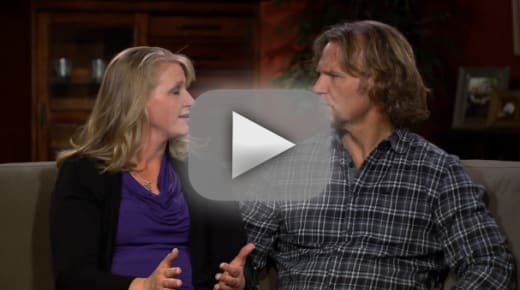 Moreover, there was the issue of those custom dresses the women want to war, as the seamstress (the daughter of a friend going this for free) is getting an earful from Meri, who wants an edgy look.
The picky wife isn't making anything easy, while Janelle is focused on showing off her figure throughout Sister Wives Season 4 Episode 18.
Another complication arises when attention is turned to the Mission Statement. Will they need more copies? Will Kody ever want to add another wife? He says no, claiming the family is complete as is.
On to the (disastrous) dress rehearsal… the children aren't taking any aspect of it seriously at all!
They didn't really understand the concept. It was really hot out. They couldn't stand still - and they definitely didn't get the whole Mission Statement thing.
Could they maybe just not sign it, Kody suggests? Such an offer dos NOT go over well with his wives. Nor does his threat to the kids about kicking them out of the family if they don't behave.
Will the ceremony even take place at this point? We end with more stress over those dresses (Sam, the helpful fashion student, admits defeat when it comes to Meri's gown, for instance) and that major question looking.
Matt Richenthal is the Editor in Chief of TV Fanatic. Follow him on Twitter and on Google+.