Castle and Beckett took on ninja's when a Japanese ballet dancer showed up dead after having a knife thrown at her chest in Castle Season 6 Episode 18.
Esposito, Ryan, and Castle go undercover at a geisha-like hostess bar where Jade worked. Ryan has to sing Karaoke while Castle gets cozy with a geisha but he does uncover information about their victim.
Turns out Jade was searching for the Green Dragon, who murdered her family when she was a child. Only she and her sister escaped. But Jade got too close to the truth. She thought she was dating the son of an associate of the dragon. Unfortunately, her boyfriend's father actually was the Green Dragon and killed her to protect his secret. 
Later, Kate tells Rick she's worried they may become boring once they're married. He assures her that they'll write it into their vows to keep the romance alive.
Remember that you can always watch Castle online here at TV Fanatic.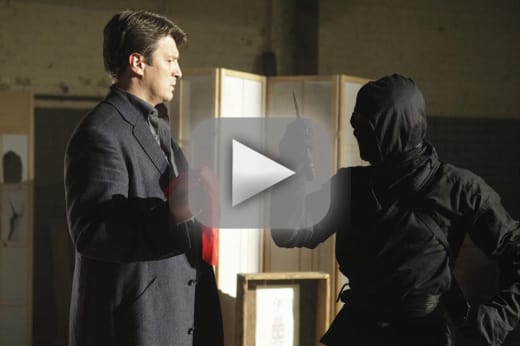 C. Orlando is a TV Fanatic Staff Writer. Follow her on Twitter.