After five seasons of Jane hiding her identity from Grayson, he finally found out at the end of Drop Dead Diva season 5. 
When we kicked off Drop Dead Diva Season 6 Episode 1, Jane was chasing Grayson to try and talk to him but he was reluctant to see her.
Owen even informed Jane that a pale, disheveled Grayson asked for time off.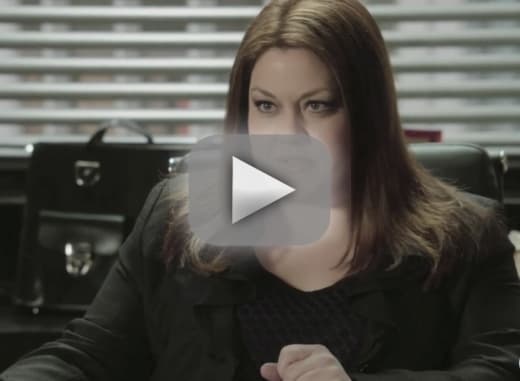 Feeling stressed, Jane threw herself into a pro bono case with a lunch lady who is fighting a superintendent's ruling. As it turns out, Jane's client had a false identity. She was running from the feds for 10 years after she stole a bunch of bullets from the military.
Her reason? Her son died in Iraq and she didn't want more people to die in the war. The bullets she stole could only be used in military weapons so she couldn't resell them to a secondary party. She merely stole the bullets as a statement and thus got a reduced sentence.
In between all of the drama at the firm, the lawyers have all shown that they are still able to support each other. Despite the fact that Grayson is still struggling to talk to Jane in Drop Dead Diva Season 6 Episode 2, he was able to help her with her new murder case.
The problem with this case? Owen was the judge who ruled on it eight years prior. He and Jane went head to head but with Grayson's helpful tip, Jane presented new evidence and Owen backed her up.
I know you and the intensity of your belief made me think twice.

Owen
Things in Owen's world are a bit complicated with Staci having his baby. She turned him down for a romantic relationship, but I think a part of her does want to pursue things. However, in the first episode she accepted a date from handsome guest star Colin Egglefield. Little did she know that Colin was playing Owen's trouble brother!
Staci making out with her new baby's uncle? Too close for comfort! Staci and Paul later teamed up to find Owen a potential love interested and landed on Belinda, the firm's new lawyer. Staci and Paul always provide great comedic relief on Drop Dead Diva and they are even better when they act as a team.
So now onto the stuff that everyone really wants to know about: Jane and Grayson. After spending the first episode avoiding Jane to clear his head, Grayson finally confronted her about never telling him the truth. It was made worse with the fact that she trusted Staci enough to tell her.
Jane said it was against the rules. Remember in the early days when if Jane told Grayson the truth something bad would happen to him? What happened with that? Is it different if Grayson finds out on his own? They had a poignant heart to heart in his office where they both laid it all on the table.
Grayson: You really thought I was so shallow that I wouldn't love you in another body? I would've walked through fire to get you back, in any shape or form because I loved you so damn much. Did you really not know that?
Jane: I never thought of it that way.
Grayson: I think it was easier for you to see me in pain than risk rejection. You underestimated me. You underestimated us.

In the end, Grayson said that he loved both girls, Deb and Jane. He feels like he buried Deb already but he wants to go on a date with Jane and get to know her, the real her. And with that... a collective sigh is heard from longtime fans of the show.
Are you happy Grayson and Jane are finally going out on a date?