Grey's Anatomy Review: The Panty Police

Christina Tran at . Updated at .
Can you imagine Grey's Anatomy without the romance? Well, I could never either.
Grey's Anatomy Season 10 Episode 14 explored just that... well, almost anyway.
After the anonymous complaint on Grey's Anatomy Season 10 Episode 13, Owen enacted a non-fraternization policy that essentially banned romance between our favorite docs.
While all relationships between superiors and subordinates were strictly prohibited and also all relationships with coworkers discouraged, the board had the right idea in mind. They wanted a safe work environment with focus solely on the patients and believed that could only be achieved without all of the relationship drama.
So, how did the couples take it?
Jolex, my favorite couple lately, totally pulled off an over-the-top fight scene right in the middle of the hospital. I had a hunch it was a bit rehearsed, but Jo's tears nearly had me fooled. I seriously love these two together and thought their fake fight was kind of brilliant.
In the end, they were exposed and the board (also known as "the panty police") expressed that they wanted Jolex to keep their relationship strictly professional at the hospital.
I could definitely understand why Alex stormed off and was utterly pissed. I'm crossing my fingers, though, that this only makes Jolex even stronger. 
As for Japril, they tried their best to keep their marriage a secret. However, they eventually had to spill the beans when they were caught getting busy in the supply contest. Technically, they weren't breaking any rules since they are married now. 
Meanwhile, I didn't really care for the Owen and Emma (plus Cristina) storyline. So, Owen talked about moving in with Emma in the beginning of the installment... only to end up breaking up with her by the end of the hour all because of a night with Cristina. Call me crazy, but I like Crowen better apart than together. To me, their story was finished. 
As for Calzona, I still think that a new house and now a new ring are doing no good for their severely troublesome marriage. Something tells me that this pair's marriage woes are far from over.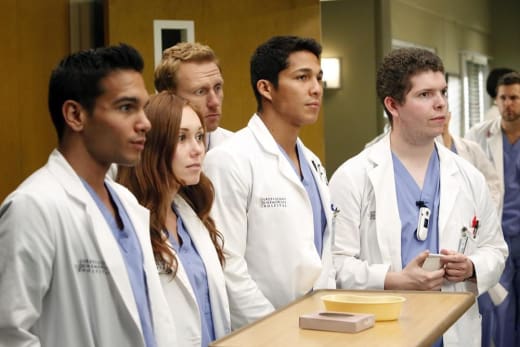 Lastly, I really liked that Richard was basically in charge of the residents as they all worked together on a cancer case. He's always been an amazing mentor. I was shocked when the residents' ideas and realizations didn't come together quickly enough so that an attempt could be made to try to save the young patient's life.
It was heartbreaking.  
Other Thoughts:
Major props to those who totally called it last week and knew that it was Leah who filed the anonymous complaint.
I said it before and I'll say it again: I really like that Ben is back and am glad that he's getting in with the other residents. He's a great addition!
How many of you loved that Meredith and Cristina are back and better than ever? Finally!
I've always loved MerDer and thought it was entirely realistic how frustrated Meredith was in regards to Derek's involvement with the POTUS. It should be interesting to see how his position on the advisory board affects their marriage and family life.
Overall, "You've Got to Hide Your Love Away" was a solid installment and has me excited to see what's in store for the remainder of this season. 
Here's a look at Grey's Anatomy Season 10 Episode 15:
Should Crowen get back together?