After a long hiatus, Hart of Dixie is back... and on a new night!
In related news, Lemon Breeland FINALLY returned after her extended break as well. Even Magnolia Breeeland made a brief return.
On Hart of Dixie Season 3 Episode 14, Zoe tries to impress her mom while Lemon juggled two overly attractive men.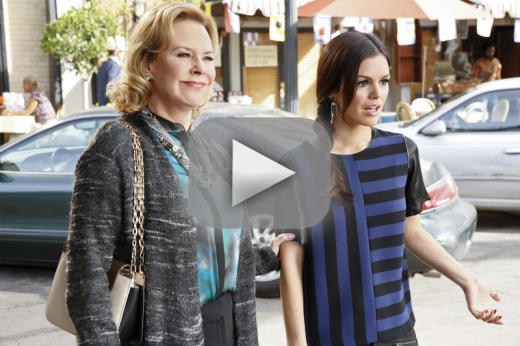 We can all rejoice now that Lemon has returned from her very noticeable absence. Just as it should have been, she made quite the dramatic entrance, not missing a beat. Her appearance here was perfect and incredibly enjoyable.
While Lemon was gone, she not only endured what I took to be torture taking care of her grandma, but  she also hooked two hotties! Carter (AKA Captain Awesome on Chuck), and sexy Latin poet Enrique. Since Lemon is now evolved, as she states, she had managed to keep two lovers without the other finding out.
As Hart of Dixie tradition goes, her lies were exposed. Luckily for Lemon, it didn't come out publicly, thanks to Lavon for pulling the fire alarm. Unfortunately, Grandma Breeland, acting so disgusting entitled, won't help Lemon reach her dreams.
Does anyone else feel the complete disdain towards grandma Betty that I do? She's terrible.
Regardless, Lemon is finally back. That's what matters. Bluebell can now function as normal. THANK YOU, WRITERS! (Sidenote: Congratulations again to Jaime King on the birth of her new son)
Elsewhere, Zoe was working really hard to keep her mom in her life and impress her. As it continued, I seemed to care less and less. Zoe Hart is becoming the most uninteresting character in Bluebell. She's not only predictable, she is almost too much to handle.
The writers need to give Zoe something new to deal with; not Wade, her family or the practice. It's all "been there, done that" at this point.
The most predictable part was when she let her mom take control and bring in reporters to get Zoe her practice back. We all knew that she wouldn't go through with it; Zoe loves Brick and vise versa. Trying to put Zoe against him is an unwelcome throw back from Hart of Dixie Season 1.
Overall, this episode was a pretty decent hour. It was funny and heartfelt. I think I am really bias, though, because Lemon is now back and in full force. The show was missing a key component without her.
As most of you may know, Hart of Dixie is in the brink of being canceled after three wonderful seasons on The CW.
As a former Chuck, fan I know what it's like to be a fan of a show that's facing cancelling so trust me when I say... there's always hope. The best advice I can give it to watch Hart of Dixie Season 3 live. Also: live tweet, re-tweet, blog on Tumblr, post on Facebook. Anything helps.
Spread the word of Hart of Dixie, the residents of Bluebell need us to watch live to keep them around. We have to fight for our show that has made us laugh, cry and - above all - feel happy. Dixie is worth saving, so do your part as a fan and a viewer.
Who do you think Lemon should pick?