Melissa Fumero Teases Twisty Brooklyn Nine-Nine Finale, Labels Andre Braugher a "Total Dork"
Matt Richenthal at . Comments
Before Melissa Fumero even starting filming any Brooklyn Nine-Nine episodes, the actress had one reaction to her new gig:
"This is nuts," Fumero told me over the phone last week, speaking on the chemistry between costars after just a few days of rehearsal. "Everybody just really got along. It blew all of our minds that it could happen so quickly."
It helped, the funny woman behind Amy Santiago said, that her, Andy Samberg, Andrew Braugher and company spent time together with former LAPD detectives prior to shooting, learning how to hold the gun, clear corners and act like actual policemen.
"Without losing the funny," of course, she added.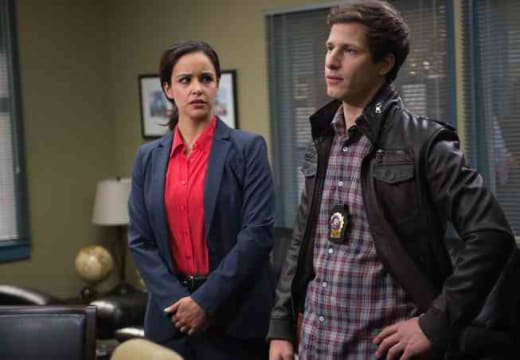 And the funny certainly has not been lost.
Brooklyn Nine-Nine earned a coveted post-Super Bowl slot in February and earned a 2014 Golden Globe nomination for Best Comedy, with Samberg winning for Best Actor in a Comedy or Musical.
In excerpts from my exclusive chat with Fumero, she touches on the episode that brought the show together, what we can expect from the Brooklyn Nine-Nine Season 1 finale and why Braugher is a "total dork."
ON SAMBERG: "He's a creative tornado. He's very collaborative with the cast and the directors. He's constantly coming up with new jokes, playing around, experimenting. You never know what he's gonna say in the next take… I give myself a little pep talk before episodes where we share a lot of scenes because I need to be ready for whatever he does next."
ON BRAUGHER: "It wasn't really acting in the beginning when I was playing a character intimated by her boss. Everyone was a little nervous at first around Andre. He has so much gravitas and then there's that voice…
"But Andre Braugher is a total dork. He's lovely and warm and wonderful. You'll walk by his dressing room and hear him telling his dog, "Let's go pee all over that moutha.'"
ON HER FAVORITE EPISODE: "The writing was so tight on 'The Vulture' and the story was so great. It was a really ensemble-y episode and everyone was really understanding their characters by that point. We all had the feeling that we were on a roll a little bit."
ON THE FINALE: "It's fantastic. Everyone is involved. Jake has been investigating this case that the commissioner wants him to drop. He's facing suspension… there's a hearing… the squad must testify. Amy, Jake and Holt go on the down low to investigate.
There's a twist at the end that you don't see coming. And those into the Jake and Amy story will be happy… but maybe not satisfied."
Brooklyn Nine-Nine airs at 9:30/8:30c on FOX.
Matt Richenthal is the Editor in Chief of TV Fanatic. Follow him on Twitter and on Google+.