With procedural shows like Perception, there's always a tendency to play everything by the numbers. But it's a nice change of pace when something personal enters the mix and makes everything that much more meaningful.
Such was the case on Perception Season 2 Episode 12, as Max Lewicki reunited with his brother, Kenny, only to have to later fight to prove his innocence.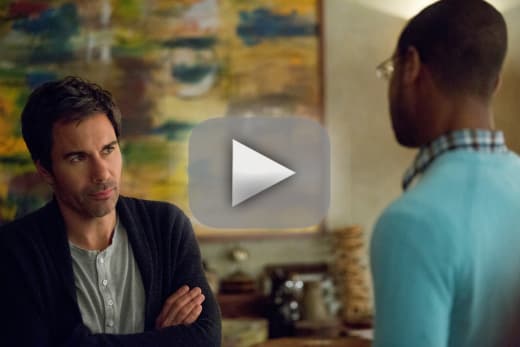 Getting backstory on the core characters is always a plus, and it was interesting to see the differences between the brothers. Hearing about growing up in foster homes, and Lewicki losing touch was a nice addition.
And it was great to see that even when all signs pointed to Kenny as the murderer, Lewicki still wanted to fight for his brother.
Which made it a nice departure that the case at hand really had nothing to do with a neurological disorder or a disassociation combined with a hallucination. The scene with Daniel trying to explain his theory while the lawyer and Lewicki looked at him in disbelief over the sheer improbability of the story was exactly how I felt. I kept wondering how the heck they could possibly prove that in court.
At the same time, the concept of preconceived notions and the statements about race were an intriguing part to the story. There is a certain relevance to people immediately assuming things about others and I liked getting some real personality and character from Lewicki as he talked about dressing a certain way because of that. There was a passion and frustration that made sense.
Having a racist cop as Daniel's hallucination was an interesting choice, but it took stereotypes and then spun them a different way: Things such as "going swimming" as the location for where Lewicki and Kenny went as kids or the possible idea that cross racial bias was the reason for the ID in the lineup rather than just simply the way the shoelaces were tied.
But it all came down to Kenny simply lying for a friend who helped saved him from getting shot. Was it a nice neat wrap-up for the brother who wasn't really a bad guy? Yes, but it was a great character moment for Kenny as it was in being something beyond just a wild scientific theory from Daniel.
But has anyone thought that a lot of the guilty parties aren't guilty in the menacing or villainous sense? I always feel like a majority of them did it with good intentions or on accident. Maybe that serves the tone of the show, but I do wonder if a real "bad guy" for Daniel to face off with would be an intriguing twist. Imagine if someone like Hannibal showed up?
This was a departure from the goofy antics in Perception Season 2 Episode 11, and while there seemed to be a neat bow on the end of the hour, this was a very positive step in giving those characters involved something more than helping move the story along. The story did have me guessing, but sometimes it feels all to easy in the way the hour gets to its conclusion.
That said, providing more for Lewicki to do was a great step for the character, and I'm glad that he wants to stick around to continue helping Daniel. And who knows, maybe Kenny will make a return in the future.
Should Lewicki have taken the fellowship?
Sean McKenna was a TV Fanatic Staff Writer. He retired in May of 2017. Follow him on Twitter.