Before we get to any of the many, many, many, many, many things that went on in Reign Season 1 Episode 13, I feel like I must note:
Yup, public consummations by royals were a real thing back then.
I assume that they would have included less sexy tongue-kissing (on account of your parents being there and all), but on a technical level, Mary and Francis's night of passion was historically accurate.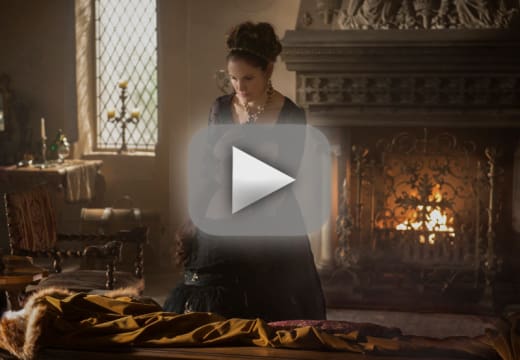 Of course, I, like all of you, am now even more curious about what was left out. The CW said that content was cut from the scene by censors and is releasing a more sexually explicit version of this episode online, which is a first.
I was initially into the whole idea - I mean, we all like sexier sex, right? - but knowing that this "too hot for TV" sex scene takes place in front of a full castle staff and all of Mary's friends awkwardly trying to avert their eyes made it a little less, uh, enticing for me.
Moving on: so, would it be easier to say what DIDN'T happen in this episode? Clarissa is still alive, to the shock of no one; Marie de Guise is actually a worse mother and meaner person than Catherine, which I wasn't sure was possible (but god, she has a way with Reign quotes!); and suicide attempts continue to abound.
So many suicide attempts! They're becoming the new ubiquitous danger on Reign, like a carriage ride through the forest, they are!
Mary's happiness with Francis, while adorable, will obviously not be long-lasting. Nostradamus visions aside, there are just too many people out there who wish them harm for things to end in teen marital bliss. But who will be the one to actually wreck it?
While Clarissa is obviously going to get up to something, I think she is a red herring. I actually think we're on the verge of seeing Bash turn into a villain.
Reign Season 1 hasn't had a sustained villain - there have been single-episode threats, and then there have been people like Clarissa, who pose threats more out of fear and confusion than malice.
But the show is ready for a real baddie, and Bash - driven by his own bitterness and feelings of betrayal - is going to be it. He's always had an edge to him, a feeling of unease that set him apart from the other carefree young people at court, which kept him from ever quite fitting in.
I think we're finally going to see that unease blossom into something way worse, something truly threatening to the court. And I think it is going to be awesome!
Of course, Bash could always team up with Clarissa, a la Catwoman and the Penguin in Batman Forever, to try and take down French court together. Which would make Mary...Batman? Which would make Francis...Vicky Vale? Which would make Queen Catherine...Jim Gordon?
Quick, someone make a video about this! Get in on the bottom floor of this theory!
Official Reign FashionWatch: 10/10, of course! This was the wedding episode! Obviously you're going to totally, utterly bring it on the wedding episode. I don't even want to get married, but I want to get married 100,000 times in Mary's wedding dress.
And don't even get me started on those outfits Catherine was trying on for her beheading. What a painfully glamorous beheading that would have been! Truly, the Academy Awards of removing human heads from bodies.
People say that marriage is supposed to be forever - of course, those same people probably also say you shouldn't date your ex-boyfriend's brother. So with that in mind:
Will Mary really stay with Francis?