The Originals Round Table: "Long Way Back from Hell"
Miranda Wicker at . Updated at .
After seasons and seasons, The Originals finally gave us something we've all been waiting for. No, it wasn't more flashbacks, though those are always treats.
SHIRTLESS ELIJAH​.
What did the TV Fanatic Round Table panel think of shirtless Elijah (and shirtless Klaus)? And what about that ultra creepy sanitarium?
Join Matt Richenthal, Leigh Raines, Miranda Wicker, and Heather Vee from Vampire-Diaries.net as we break down "Long Way Back From Hell."
------------------------------------------------------
What was your favorite quote or scene from The Originals Season 1 Episode 14?
Matt: Ummm... every scene? But I'll go with Rebekah just freaking out and losing it to Genevieve over her secret being spilled. PLEASE! I'LL DO ANYTHING! Claire Holt wears desperation (and everything else) very well.
Heather: I loved the weary back and forth between Klaus and Rebekah in the basement, just before Marcel and Elijah arrived. Some stellar work from Claire Holt and Joseph Morgan in that moment.
Leigh: I really did not see it coming that Elijah would use the blade on Klaus. Elijah's got the power now! Klaus is so psycho, like oh Rebekah went after you once. You've daggered and hurt her how many times??? Team Beks. 
Miranda: I really sort of loved Hayley whacking Celeste in the head with whatever that was. Hayley's strength keeps getting underestimated so it's nice to see her take charge.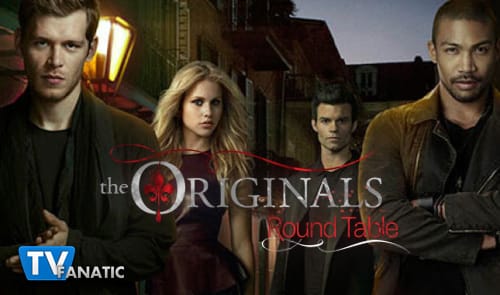 Describe the shirtless Elijah scene in five words or fewer:
Matt: Memento meets Prison Break. 
Heather: Luckiest makeup artist EVER.
Leigh: Hayley is a lucky bitch. 
Miranda: BRB. Too busy fainting.
Better shirtless brother: Elijah or Klaus?
Matt: What, no love for Kol?!? Klaus wins here only because we all know Elijah looks best in a suit.
Heather: Yes, I agree, it's better when they are both shirtless.
Leigh: Too hard. Like Heather I will double the pleasure double the fun. 
Miranda: Heather's answer made me snort! I feel like these brothers need to channel their inner Salvatore and be shirtless more often.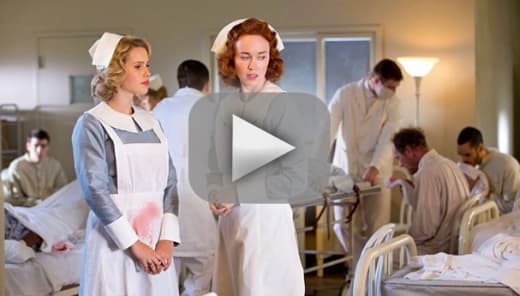 Will Celeste help Hayley or add her to the revenge list?
Matt: The witch bitch? She's long past helping anyone at this point. We might as well call her Emily Thorne.
Heather: I think Celeste will do what is in her best interests, so that will determine if she "helps" Hayley. 
Leigh: Celeste is vengeful. I don't trust her. That was dangerous of Hayley. 
Miranda: I definitely think Celeste will help Hayley. She has no beef with Hayley and probably only cursed the werewolves for Marcel to keep up the ruse that she was Sabine. Or whomever she was at the time.
Rate the creepy factor of "Long Way Back From Hell" on a scale from 1 to 10.
Matt: 9.99999. It doesn't get a 10 only because I didn't actually soil myself. But the way it was filmed, the way it played with history, the setting of the sanitorium. Creepy. Fascinating. Awesome. My favorite episode of The Originals Season 1.
Heather: I'd put it at a 4 or 5, I think. Admittedly, I didn't find it all that creepy. Gorgeous shot and edited, but not really creepy.
Leigh: Agree it was beautifully shot but was still totally creeped. Going with a 7/8. 
Miranda: Any show or movie set in an abandoned sanitarium immediately ups the creep factor for me. That, coupled with those shots of the woman in the bath tub and the kids. Gah! Easily giving that an 8.
Miranda Wicker was a Staff Writer for TV Fanatic. She retired in 2017. Follow her on Twitter.