American Idol Review: At Your Request
Miranda Wicker at . Updated at .
American Idol is giving us "America's Request" tonight, with mentoring by Jason Mraz. He's Alex Preston's idol, so this is basically perfect for Mr. No Socks.
The Top 5 will get a list of songs submitted on Twitter and Facebook and from that list, they'll each choose two songs. Some are sure to be hits and others? Well, it's just no fun if there are no misses, right?
Let's get started!
Alex Preston kicks off the night with "Sweater Weather." Jason Mraz and Randy Jackson gave him tips about his feet during his performances, because there's nothing to say about his vocals. Some of the lyrics could have tripped him up, but once again Alex proved he's a pro! His acoustic-y version of the song wasn't as good as the original, but it was definitely great for Alex and a great way to start the night.
Keith jammed out the entire time and loves Alex's stylistic approach to music. Jennifer felt like it was obvious that Alex was excited to be there. Harry called him "one of the big boys" and gave him an A+. 4/5
For his first performance of the night, Caleb Johnson chose "I Don't Want To Miss a Thing." Here's where I tell you all about my love of Aerosmith and have vivid flashbacks to the time Danny Gokey BUTCHERED an Aerosmith number live on American Idol. So. (Why didn't America give him a Meatloaf song?) This is sleepy and boring and nowhere near as good as Steven Tyler.
Keith thought it was a great song choice. (Keith is wrong.) Jennifer thought it was challenging and said that he took it more to a ballad. (Hey, J.Lo, it IS a ballad.) Harry loves Caleb's powerful voice and wants him to preach to the people in the room. 2.5/5
Jessica Meuse is singing Christina Perri's "Human," and says she's really been living this song while on Idol. Jason gives her some great feedback in terms of not only singing but also performing the song. There are lots of long camera shots which leaves just her voice to make the performance stand, and that works well for her. It's when she has to get intimate with the camera that things get weird. Overall, that was a strong vocal from Jessica.
Harry gives her credit for really wanting to get better and listening to the commentary and taking it in. Keith's favorite part was when her voice broke because that part was actually human. Jennifer thinks that tapping into the emotion of the song is the difficult part but Jessica did well with that tonight. 4/5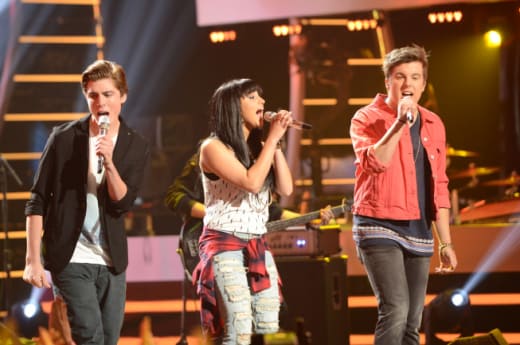 Ariana Grande surprised Sam Woolf with a visit before his performance and he hugged her and turned as red as the stage behind him. How is the kid supposed to perform "Sing" after that? Well, he can't. This is not Sam's best performance. It's a high school talent show performance at best and feels completely void of anything Sam. I dislike it immensely.
Keith thought he did as good a job as he could have. Jennifer likes seeing him relaxed and thought he looked comfortable on the stage. Harry liked that he did something totally different but doesn't think Harry has much rhythm. 2/5
Jena Irene is singing "My Body" by Young the Giant. She's worried about where to stand and what to do and Jason and Randy want her to focus on the diction and singing. The song starts a little too low for her but she recovers in the chorus. She does a great job of commanding an audience when she performs while still having fun. She gets a standing ovation from Keith.
Jennifer likes that Jena's signatures are coming together to make her an artist. Harry thinks those little things she does are helping her greatly in the long run. Keith loves that she's a "lean in" performer who goes with the flow of a performance. 5/5
Jessica and Caleb sing a duet for our halfway point in the show. She seems to have a personality in this little ditty. Good for her. Why does she always have to look like she hates life when she sings her solos?
For Round Two, Alex Preston is singing "Say Something" by Great Big World. He decides to sit down for this one and gets one of the best backup singers this show has ever had. Maybe that's Alison Iraheta back there in the shadows. She's fantastic. This rendition has enough of Alex in it to sound like an original while still maintaining the melody and integrity of the radio version. He gets a standing ovation from Keith.
Harry kicks off the commentary by telling Alex that he loved seeing Alex struggle with the emotion of the song and not give into it. That was Harry's performance of the night. Keith called it absolutely beautiful. Jennifer dittos the guys and then says he looks amazing. 5/5
Jena Irene's back up with "Valerie" by Amy Winehouse. She looks amazing in this black and white dress, first of all. But I only sort of like this song for her. She's got a little too much...something...going on vocally for this performance and it doesn't come together for me. It's still solid, but not my favorite.
Keith loves that song and thought her vocals were killer. Jennifer didn't think that was Jena's best performance because the tempo and arrangement weren't her style. (Solidarity, Jennifer!!) Harry thought it was right in the middle and asks what she wants to be known as when she's an artist on the radio. 2.5/5
A teenager from Illinois chose "How To Save a Life" for Sam Woolf. This kid is going to need Botox for his brow furrow by the time this experience is over. He makes just a few changes to the phrasing and inflection on the lyrics but otherwise keeps the melody the same, which is smart since this song is so well known.
Jennifer thought he got off to a rough start but pulled it together in the middle. Harry thought the song choice was perfect but the execution was lacking. Keith agrees with Harry that Sam needs to work on dynamics. 3/5
Jessica Meuse drops the guitar for "Summertime Sadness." She looks amazing! I'm sort of shocked that America didn't choose a country song for Jessica, but the wheat field imagery behind her helps country this up, I guess? That was another pretty great performance for Jessica vocally, and she doesn't look like she hates life quite as much as usual.
Harry thought the song was perfect for her. Keith loves the depth in her range, but still wants her to emotionally and dramatically lean in to her songs. Jennifer dittos Keith. The performance left her a "tiny bit cold." 4/5
To close the night, Caleb Johnson is singing "Still of the Night" by White Snake. It's a perfect 80s hair metal rock song for him and there are half dozen guitarists on stage with him. Keith and Jennifer are both on their feet dancing to his entire performance which is him screaming into the microphone a great deal of the time. He has a blast and definitely has the vocal chops for that style, but how relevant is it right now in mainstream music?
Keith tries and fails to make his comments but the crowd keeps shouting. Jennifer loved that he brought down the house. Harry said it doesn't get any better than that. 4/5
Tonight's completely unscientific totals:
Alex Preston--9/10
Jena Irene--7.5/10
Sam Woolf--5/10
Jessica Meuse--8/10
Caleb Johnson--6.5/10
I don't for one second think that Caleb Johnson is at any risk of going home tomorrow night even if his "Don't Wanna Miss A Thing" was one of his worst performances since he forgot the lyrics in Las Vegas in American Idol Season 11 and had to go home. 
Sam Woolf, however, might find himself in trouble. Cute is only going to take him so far if he doesn't start to connect. The same can be said for Jessica Meuse even though I liked her songs tonight. 
Alex Preston won the night, unsurprisingly, if you ask me, and I'm hoping it's enough to keep him around for another week.
What did you think of the Top 5? Who had the best performances tonight?
Miranda Wicker was a Staff Writer for TV Fanatic. She retired in 2017. Follow her on Twitter.