Caterina Scorsone Talks Grey's Anatomy Return: Could It Be Full Time?
Jim Halterman at . Updated at .
Welcome back, Amelia Shepherd!
While it's only been a little over a year since Private Practice went off the air, having this doctor back on Grey's Anatomy Season 10 Episode 21 was a welcome sight.
And while last night's installment had her contending with the Shepherd children, don't worry: Amelia is headed back to the OR next Thursday.
Indeed, Caterina Scorsone - who has been busy with real-life motherhood in the time away from Shondaland - has returned. And the actress talked to me earlier this week about how it's been stepping back into Amelia's shoes, as well as what we can expect on next week's nail-biting episode involving conjoined twins with her on-screen brother, played by Patrick Dempsey.
Of course, I also had to ask if series Shonda Rhimes has asked her to return as a regular and whether she'd be up for it if so...
TV Fanatic: First of all, how's motherhood?
Caterina Scorsone: It's been wonderful. It's been so, so much more miraculous than I even could have imagined! Everyone tells you that it's the best thing ever and then you have this child and it's so much better than you could ever have possibly even conceived of before. For me, anyway. Everyone has their own experience.
TVF: How does that life change alter your career choices whether it's going to do a movie for awhile or going back to Grey's for a few episodes. I'm assuming it does but…?
CS: Absolutely. I think there are so many more considerations in terms of your schedule and making sure you have time to be with your child and you definitely don't dawdle as much as you might have before and you want to get home to them as soon as you can. At the same time, even more the role of storytelling becomes significant because you think of a child and how they love stories and how they want to be taken to the ends of the world in a story. It gives more significance to the work that we do as artists. So it's both. The works seems very, very valuable from a human perspective and also you want to get home and be with your baby. [laughs]
TVF: It was great having Amelia back in the Grey's world and you worked with kids again last night; you can't escape them!
CS: Yeah, exactly! It's all around me! I get to hang out with the Shepherd babies. In [this week's] episode I hung out with Zola and Bailey and then next week you're going to see me and Derek back in the OR together working on a neurology case together.
TVF: How was it stepping into Amelia's shoes again after some time away? She wasn't always the most easy to play, I'd imagine.
CS: She was a really satisfying character to play but not easy. She's a really complicated woman! Getting back into her shoes has been a process because I've been home with my lovely little girl and in a very different headspace so it's nice that Shonda tends to ease you back in when you start so I'm in a couple scenes in the first episode and then more in the subsequent episode.
But Amelia is in a pretty good place in her life. After rehab and kicking her addiction and losing Ryan and losing her baby she met James and they've been in a relationship this whole time so she's been in a very different place from where she was when we saw her in the thick of it on Private Practice.
TVF: Why do you think it's important that she come back at this time?
CS: I think for many people when they start thinking about having a family, the family origin becomes a big source of strength and ultimately you start to think about it more and want to revisit it more. These are the people who were there for the big tragedy that informs so much of her personality…and so [Derek] knows her in a way that nobody else does so I think when she's at a time when she's figuring out what to do with her life, she wants to be near him and see what he's doing.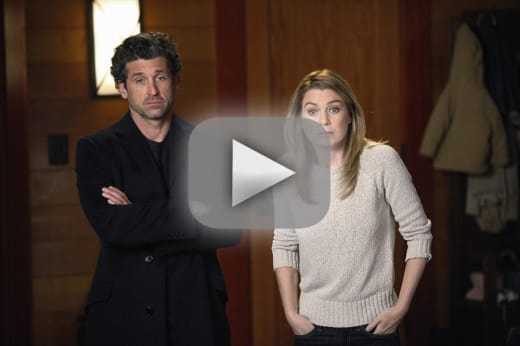 TVF: Tell me about the case next week and how fitting that you get to work with Derek.
CS: Naturally! They're both brilliant neurosurgeons! [laughs] They're going to be working on this neurology case involving conjoined twins, which at Grey Sloane Memorial they've worked on a number of them so they're going to do a very complicated case.  
TVF: Is it safe to say that you're working mostly with Patrick or did you also work with Ellen and others in the cast?
CS: I'm working mostly with this Patrick but there's a little bit with Ellen but as these episodes continue, Meredith and Amelia do start to forge a bit of a relationship, which they never really had before. Amelia was the sister in law and Meredith was the girlfriend so they didn't really have an opportunity to get close until now so I think they're starting to forge a relationship. And it turns out that Derek has pretty good taste in women!
TVF: If playing Amelia became a full-time gig again is that something you'd be interested in?
CS: I think that I would do anything for Shonda! I think she's such a remarkable woman and show runner and creative genius and I think if she wanted me to do one episode, I would do one episode and if she wanted me to do 500 episodes, I'd do 500 episodes. We'll see what she has planned for you and then we'll go from there!
TVF: Are you watching Scandal?
CS: Absolutely! Totally addicted and Paul [Adelstein, Cooper on Private Practice], is now on Scandal and he's doing such a fantastic job. But I'm watching like everyone else on the planet now!
TVF: And you were shooting a movie recently. Tell me about it and your role.
CS: It's awesome, actually! It's called The November Man and it stars Pierce Brosnan and it's going to be released by Relativity Media in August. I play a CIA agent and we shot it over in Serbia, which was a really great adventure! I took the baby with me and we flew to Serbia and had a little adventure over there. It's a bit of a change from playing Amelia and there were explosions and mystery and it was a nice change of pace and a good first job to do in between Private Practice and Grey's.
Grey's Anatomy Season 10 airs Thursdays at 9/8c on ABC.
Jim Halterman is the West Coast Editor of TV Fanatic and the owner of JimHalterman.com. Follow him on Twitter.