Drop Dead Diva Review: Scent of a Woman
Leigh Raines at . Updated at .
Well, nobody said that Grayson and Jane were going to have it easy once he found out the truth.
Drop Dead Diva Season 6 Episode 4 brought Grayson and Jane together on a case that hit a little too close to home.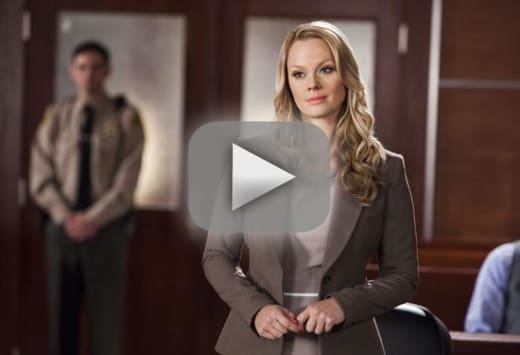 Grayson represented his friend Seth who wanted to honor his late wife's wishes to be buried in their backyard. The parents wanted her buried in a family plot. Jane was assigned to the case and it probably wasn't the best idea.
In light of the latest revelations, Jane and Grayson forget that they still have to navigate through all of that time Grayson spent thinking he'd lost his soul mate. Jane reminds Grayson that sometimes a body is just a body, not the essence of a person.
After all, that essence may just have taken residence in the body of your new coworker! Grayson argued that when he thought Deb was really gone, having some of her physical stuff still in the house is what helped him through some rough times.
Sometimes it takes good ol' Stacy to help Jane see the light.
Still, I don't think Grayson should have forbidden her from speaking to the client. If he felt that strongly, maybe he should've suggested they not pair up on the case. Then again, this was a topic that was particularly sensitive to Grayson and he may have too biased. But maybe his passion helped them win the case.
In the end, Seth got his wish. Jane and Grayson realized they needed to make these moments count, while they are alive and together. And, alas, a sweet kiss was had on the balcony!
I think as long as those two realize that they are navigating totally new waters and keep that in mind, they will be able to make it work. Just Stacy pointed out to Jane when she was torn between Deb's perfume and Jane's perfume, this new Jane is a combination of both. She's something brand new.
It was great to see Kim back this week and in her element.
Of course I'm fine. I may be lactating, but I still know how to play a judge.

Kim
Her case was a total tearjerker, with an ending I didn't see coming. I like when I'm not able to predict the outcome of a case because sometimes with television that can be common. 
I think Kim's new position as a mother is giving her new perspective on her cases. I'm so glad there was a happy ending for all.
So are you glad to have Kim back? Vote below and sound off in the comments!