Justified Review: Going For the Jugular

Carla Day at . Updated at .
Darryl isn't a dummy! That's a bit of a surprise.
I've underestimated his smarts since he arrived in Kentucky.  On Justified Season 5 Episode 12, Darryl Crowe proved that he's the smartest of the bunch, while Dewey continued to get himself in trouble with his poor decisions. The future of the Crowe family appears to be in Darryl's hands.
Boyd and Ava's journeys took tr​oubling turns. Their lives are at greater risk than ever before and there's not much they can do to protect themselves. Could Raylan be their best hope for a happy future?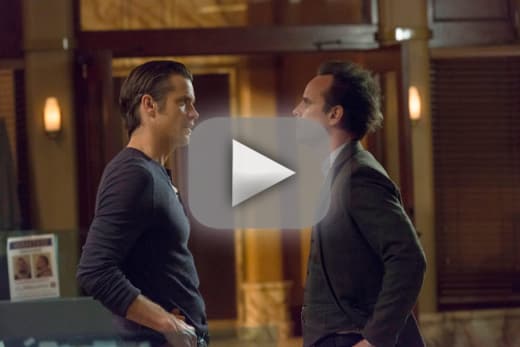 "Starvation" was an excellent penultimate episode. Justified Season 5 has been building to several confrontations and they were all brought to the brink. It's unlikely everyone will make it out unscathed. After the botched drug deal in Mexico, Judith's death and Art's shooting, the Crowders and the Crowes have plenty to be worried about.
The Mexico drug deal wreaked havoc all around. Everyone wants to get their hands on the drugs and the Mexicans want payback for the killings. Wynn Duffy's lie about Boyd would have worked, if only Boyd stayed out of sight until the Mexicans left town. That was a big mistake. 
In the aftermath of Art's shooting and Kendal's confession, Darryl became a target. Raylan believes he's responsible for the shooting and compromised with his team to get the Crowe for drugs. It was a decent plan until Wendy showed up at the barn instead of Darryl.
I never expected Darryl to use Wendy to get the drugs. He's keeping his hands clean and using his family to take the fall for him. She's desperate to protect her son and only gave in because she thought it was the best way to help Kendal. I was glad to see she wised up and didn't go through with it. She shouldn't have to pay for her brother's crimes.
The plan failed, but Raylan had a back up. Boyd had to be a snitch and wear a wire. He wouldn't have agreed, except that the Mexicans spotted him. Snitch or be dead ... Boyd decided to live. Surprise surprise Darryl was saved again only this time by Dewey. 
It will be a sad day when Dewey is locked up again, since he provides some needed comedy relief on the show. Darryl's not as grating to watch as Danny was, but it's annoying to see him succeed at the expense of others. Boyd's also a criminal, but he has a unique charm that makes his conquests endearing, whereas Darryl is just a mean-spirited thug. 
Going into the finale, Boyd is free, but he's walking into a trap at the bar where Jimmy is being held by the Mexicans. It's going to be tough to see how he'll get out of this one without being skinned. There's got to be a way, because the show can't go on without Boyd, right?
I fear for Jimmy. He's been there for Boyd and even killed for his boss. I'm afraid he may end up sacrificing his life, while Boyd escapes and lives. No matter what, I expect Jimmy to be loyal to the end. Perhaps Raylan will come to the rescue, since he's played his last card with Darryl.
Did Raylan and the Marshals make the right call by charging Kendal as an adult for shooting Art? That's a tough one to decide and it will depend on what Wendy and Darryl do next. Since it was a law enforcement officer that was shot, it makes sense. Though, if the plan doesn't work, Kendal will be paying the price.
Those are the two storylines I'm most intrigued by and looking forward to seeing play out in the finale. Ava's time in prison continues to be disappointing. Honestly, I hope she either gets out or is killed. I have no interest in seeing another season of her in jail. Ideally, she'll find her way back to Boyd. I've missed them.
Did Raylan make the right call regarding Kendal's charges?
Carla Day is a staff writer for TV Fanatic. Follow her on Twitter and on Google+.