After the death of Knox, Roman spent a little time debating whether or not he could trust his Uncle Castor.
On Star-Crossed Season 1 Episode 9, it became clear that his initial instincts were spot on: Castor is not a good guy.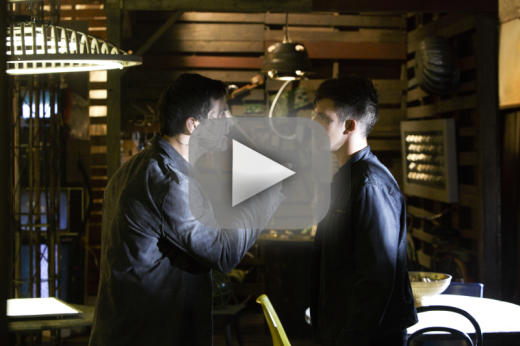 Admittedly, we've all known that there must have been something else going on behind Castor's well intended exterior. He was almost trying a little too hard. 
Castor also always had secretive plans or shady side dealings. He wanted Roman and Emery apart for another reason than the Trags. He had a hidden stash of bombs that would help get rid of Black Cyper. Then there's always the reminder that Castor was once a Trag himself.
Though we don't always see a ton of Vega, it's clear she doesn't just "release" people from the Trags. So what makes Castor powerful enough to have gotten released? Or, rather, what did he promise to deliver? Or sacrifice?
Thanks to Drake's mom and the flight simulator she left for Knox on Star-Crossed Season 1 Episode 8, Roman had firsthand proof that Castor was involved in shooting a pilot. When it came time to decide if he believed Saroya or Castor, he defaulted to his uncle. After all, Castor has shown him good intentions and Saroya was just in prison for eight years.
Emery wasn't so sure, but Roman stood his ground. When he went to confront Saroya, to double check and get her side of the story, she made an excellent point. Why would she leave the flight simulator for Knox if she was guilty of taking down the ship?
We all know Roman has a penchant for taking care of everything himself, but even this was too big of a deal. Time to call in the elders. It's too bad that Castor and his deviant mind know how Roman thinks by now. The one thing Castor didn't bet on was that Roman's girlfriend is similar to him in that need to always be the savior. 
Emery saves the day! Well, at least she led the charge. Drake, Saroya, and Terri all got involved. Vega and the Trags traded the simulator for the release of the hostages. Vega didn't demand payback yet, but Saroya went ahead and offered it in exchange for protection of her and Drake.
Drake is screwed from two angles now. He's got his mom building the ultimate weapon for the Trags and he has Grayson knowing he killed Zoe. While Grayson remembers a lot from that night, he definitely doesn't remember the bad parts about Zoe.
So... why didn't Drake just out her as the undercover Atrian who had tried to hurt Grayson?
Is it because Drake knows he's not all that innocent himself and that he ultimately did kill Zoe? Either way, Drake knows he hasn't always done the best things. But he certainly wants to change that now...
Taylor: I have to know, you are a good guy, right?
Drake: No I'm not, but you make me wanna be one.
After that scene in the locker room can you blame him? So who do you think the hotter couple is on Star-Crossed these days? Draylor or Romery?
I'd say things are getting pretty complicated for both of them! Not only does Drake now have Grayson on his scent, but Romery was just outed to everyone in the sector. That's Uncle Castor for ya!
Vote for your favored couple below and then sound off in the comments!