The Following Review: Face Off

Sean McKenna at . Updated at .
There is a certain ridiculousness to The Following, but put Kevin Bacon and James Purefoy in the same room for an actual face to face, not just a fleeting smirk-off, and a real captivating sense of scene and tension appears.
It's just too bad we don't get more of these interactions between the show's stars.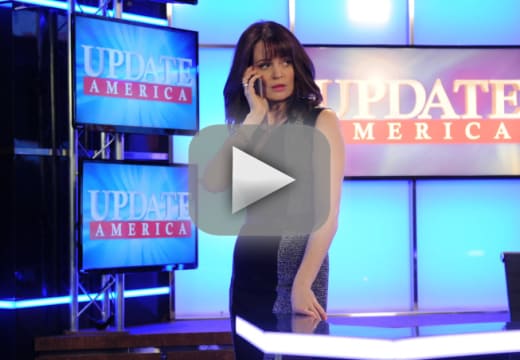 Both Ryan Hardy and Joe Carroll seem to find some weird enjoyment about their cat and mouse with each other. Their entire conversation once again felt very reminiscent of The Dark Knight, of Joker's recognition that he won't kill Batman because he enjoys the game with him.
Joe refuses to kill Ryan, it's just not an option, but it's much more reflective of his narcissism and wanting Ryan to see his attempt at serial killer infamy rather than just pure enjoyment with toying with him.
It's always funny when the bad guy has the good guy captured and yet refuses to kill him (even his followers keep telling Joe to just do it), but at least it makes sense here. Ryan is much more to Joe than that.
I loved that Ryan called Joe out on no real plan and using religion as another mask to his true goal of simply wanting to be in the "psychos' hall of fame." We also got to see Ryan pull out a few sarcastic jokes, which are always welcome to keep him from just being an overly brooding hero.
And all the while, with both characters going back and forth exposing each other for who they really are, you get sucked in, questioning how their relationship will end or what might happen to break their conversation. No killing, no chases, no shock value... just a great dramatic scene.
Of course, The Following Season 2 Episode 13 dives right back into its bloody kill-fest with the televangilist's son killing the girl to save himself. I'm still not really sold on the whole religious war and I kept hoping that Preston might use the knife to try and attack Joe who was mere inches away.
Really, the fact that the hour felt like everything was at least converging and headed towards something final was a positive, especially after the last few episodes.
But, not surprisingly, the red coats all got what we saw coming as Lily's team descended on Joe's camp to capture him. Ryan was there to stop them (super easily, I might add) and the FBI was obviously the last team to arrive.
But Mike's stand-off with Lily was an interesting way to close out his revenge arc and potentially Lily herself (she is dead, right?). I wasn't quite sure which direction he would choose, and some great emotion from Shawn Ashmore helped with that.
I wanted him not to kill her, to stay that good guy and leave the more no-care revenge tactics to Ryan. And I'm glad Ryan pleaded. I even hoped Max would be the one to sway him.
Instead of a surprise moment, it was more of a "Wow. OK. So that's where the show is going." As soon as he said he knew it wouldn't change anything, I knew Lily was done.
I wonder what that is going to do for Mike's journey from here.
As for Claire's badgering that she can help rattle Joe? It was kind of annoying at the start of the hour (at least the journalist initially said no) but it obviously did do something to Joe. But is that enough to stop him from completing his big killing spree?
Either way, this has to be the end of the line for Joe. As much as I wish we had more scenes with him and Ryan, I feel like his time as the focal point of the series and Ryan has come to a close. Let's just hope that his real final chapter (not the fake one from The Following Season 1 Episode 15) is a satisfying one and not simply a shock value twist with an eye-rolling outrageous moment that overshadows it all.
Ryan will see Joe one last time. Let's just hope it's a good one.
Should Joe's story end this season?
Sean McKenna was a TV Fanatic Staff Writer. He retired in May of 2017. Follow him on Twitter.