The Real Housewives of Atlanta Review: Diva Alert!

Christine Orlando at . Updated at .
There was more than one diva on display on The Real Housewives of Atlanta Season 6 Episode 21, as Kandi's play wasn't the only "Mess Rehearsal" going on.
We recap the crying and lying in our +/- review...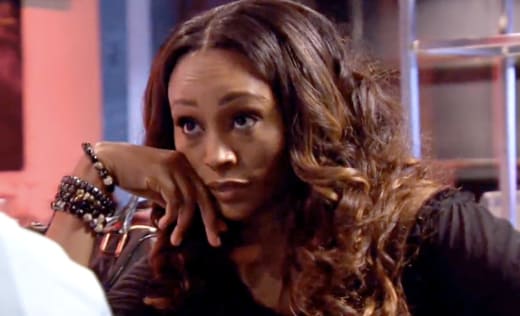 Where to even begin? Let's start with Porsha pulling a no-show for rehearsals on Kandi's play and then complaining that she didn't get November's schedule. Like she couldn't pick up a phone and ask. Minus 27. I guess it's easier to just not care.
Porsha needs every minute of rehearsal she can get and that stage manager knows it. That woman wasn't putting up with one minute of Porsha's crap. Plus 15.
I can't even imagine what Mama Joyce will think when she finally sees this entire play. It appears to be Kandi's way of working on her issues in the most public and passive-aggressive way possible. Minus 21.
Plus 40 to Todd who just keeps trying to get through to Mama Joyce who gives him that line of bull about liking him but not respecting him. I couldn't believe it when Todd told her, "I would love for you to love me one day."  I wouldn't hold your breath on that one but Kandi's lucky to have Todd. Any other guy would have made a run for it by now. 
Cynthia's got her own issues at home. Peter might lose Bar One. Apparently he just leases the location and the owners stopped paying their mortgage. 
I almost wanted to give Peter a pass if this weren't a pattern with him. Worse yet, he's been hiding the information from Cynthia for over a month! 
Minus 30. Cynthia keeps saying they're a team but I think she's only trying to convince herself. I hope she's got a secret savings account before she turns around and all of her money is gone.
Still, Cynthia gets a plus 10 for one of my favorite lines of the night, "What doesn't kill you makes you stronger but how strong does a girl need to be?"
I can't believe I actually shed tears for Kenya Moore but I did. Poor little Velvet didn't deserve to go that way. Some days life can be cruel. Minus 20.
And then there's NeNe…
Her manager is getting her scripts, which she passes on without reading. He suggests getting into regular acting classes but she's afraid it will take away her "natural ability to act." 
Minus 43. Talk about a diva alert! She makes Porsha's diva moment look like amateur hour. NeNe says she passes on projects because that's not the direction she wants for her career. But since she's still here in reality TV land, it appears it's not going anywhere. 
As for her clothing line on HSN, some of the pieces didn't look bad but if the "Wow" piece is a giant piece of blue fabric with holes in it then I just don't even know what to say.  
Until next week….
Episode total = -76! Season total = -1271!
Your turn, TV Fanatics. Should Cynthia trust Peter with the finances?
C. Orlando is a TV Fanatic Staff Writer. Follow her on Twitter.