After learning that her sister was alive and in an artifact-induced coma, it wasn't hard to figure out that Claudia would be hard at work trying to rescue her sibling as soon as possible.  
And with only a few hours left in the series, Warehouse 13 Season 5 Episode 3 dropped us right in the thick of it.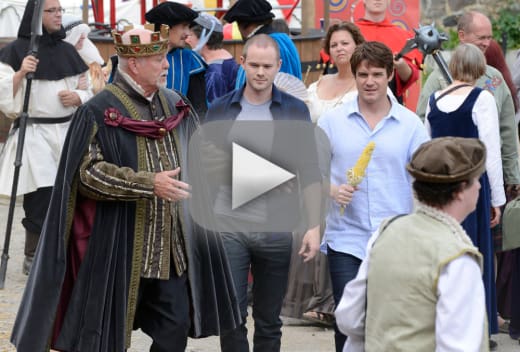 Of course, as things go in the warehouse, her plan went sideways when the energy from the music box that was in her sister ended up in Myka instead of the artifact it was meant for.  
While I'm not a fan of a rage-filled Myka flinging deadly artifacts around with her mind, she made a good point: There was a lot of fine print in the deal to become a warehouse agent. 
Having no idea that Myka had been affected, Claudia and Claire began the process of catching up. It was nice seeing Claudia get to bond with her sister again. Not only do I now want to listen to Garbage's Version 2.0 album, it also made me miss my own siblings. 
However, during their catch up, there were a couple of oddities that stood out to me. 
First, Claudia talked about her parents to Claire, but didn't mention their brother to her at all. I saw my brother for two hours recently as he passed through on a trip, and it seems like we talked about how our sisters were doing right off the bat. Maybe it's just me. 
Second, as a self-confessed-video-game-geek, I have to point out that in 1999 the Sony Playstation (one) had been out for over FIVE years. Claire comparing the Xbox controller on the chair to Donkey Kong felt totally out of place, especially since she made a crack about the Internet just moments before.  
In the end, Claire offered to go back into the coma so that Myka could get back to normal, and Artie pointed out that they would do everything together from now on, like a family. 
It was touching to hear him vocalize it... finally. Given that over the last few years we've seen Myka, Pete, Claudia, Steve, and Artie becoming close knit. My own reviews during Warehouse 13 Season 4 talked about how Artie and Claudia had a father/daughter relationship going; tonight just confirmed it that much more. 
As for Pete and Steve, the artifact chase they were on felt very "throw away." As if someone had some ideas for jokes around a ren-faire and need a way to work them into the show. Like the King only being able to speak to them normally when he took off his crown.  
I really hope we get more episodes about the team and less of the junk in the next three episodes. 
In closing, I love my Warehouse 13 family more with every episode and I'm sad that we will be saying goodbye forever in just a few short weeks.
This show - like other SyFy shows such as Eureka - has been a big part of my life over the last five years and I will miss Myka, Pete, Claudia and Artie when the final crate is closed at the warehouse.  
Jim G. is a TV Fanatic Staff Writer. Follow him on Twitter.