Well... another season's come and gone faster than you can say Mona Lisa. 
Da Vinci's Demons Season 2 has been quite an adventure, hasn't it? I'd go so far as to call it one of the most unique and fantastical stories on television this year.
Da Vinci's Demons Season 2 Episode 10 picks up where we left off, with Verrocchio's studio going up in flames. Leonardo is pulled to safety by Dragonetti, and, before we know it, he's on a horse in full pursuit of Carlo the traitor. You didn't think a little flesh wound was going to stop our hero, did you?
The flashbacks of a young da Vinci being offered a place in Verrocchio's studio were heartbreaking. It was like pouring salt in our damn wound, and yes I confess I teared up a bit. I'll miss the Maestro next season.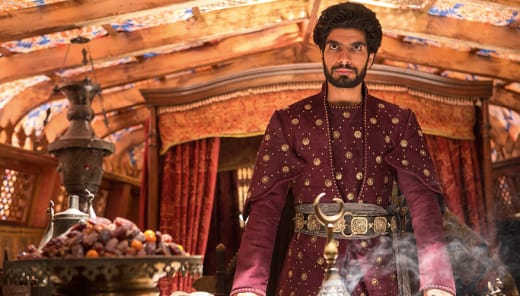 Clarice is told by Vanessa that Carlo is behind Verrocchio's murder, a fact Dragonetti confirms. Poor Clarice, she's made some bad decisions this season, but being seduced by Cosimo's bastard is at the top of the list. Vanessa fears going back to the palace and Nico steps in to defend her.
Correct me if I'm mistaken, but isn't this the first time we hear his full name Niccolò Machiavelli? The kid's certainly grown a pair this season. Was anyone else surprised that Vanessa's water broke right in the middle of this discussion? Either way, the Medici's now have their heir.
The Turk reappears and before we, as an audience, have the chance to question it Leo asks the man if he's really there. At times we've been led to believe The Turk is a figment of Leo's imagination. Then, Leo sees him in The Vault of Heaven. I thought for sure The Turk was a ghost. However, he also appeared to Lucrezia on her way to Constantinople. As I've mentioned before, the mystery probably has something to do with time travel.
Leo accuses The Turk of misleading him but as it turns out Leo's mother has mislead them all. There was no book in The Vault of Heaven but the brazen head's message pointed toward Leo's home, Vinci. So he thought, but the Turk questions if Caterina da Vinci perhaps meant her home, Constantinople. Of course, that makes perfect sense now right?
Leonardo: I owe Verrocchio everything I am. So unless you are willing to help me find the man who killed him, I suggest you get out of my way.
The Turk: This death, it has already changed you.
Leonardo: Your quest has changed me.
Riario's torture scenes at the hands of The Enemies of Man were brutal and a bit confusing. I kept wondering what they meant by "how many of us occupy this chamber?" I can only assume it was some form of brainwashing, as at the end instead of counting four men, Riario replies "one." I wondered if Leo and Riario would work together next season after all they had been through. Guess this answers that question.
While a massive fleet lead by Bayezid approaches the Italian coastline, Lorenzo and Alfonso manage to put their differences aside to fight their common enemy. Even Sixtus strikes a deal to once again accept Florence if they all unite against the Ottoman Empire. Of course, when push comes to shove the imposter bails on them leaving the others to their own devices. Luckily Leo and Zo arrive just in time.
Though Leo frowned upon the role of "war engineer," his genius and ingenuity were never needed more.
Before mounting an offensive, Bayezid wants to talk and sends a recognizable face as emissary. Lucrezia makes her grand entrance and lays out the Ottoman's three conditions...
Otranto, Italy's main port to the East becomes part of the Ottoman Empire.
They will convert from Christianity.
The Pope will kiss the Sultan's feet.
Obviously, Bayezid had no real intention of negotiating with the Italians. Lucrezia was there simply to unleash her story of the twin Pope's and her father, the real Pope, being imprisoned. I was surprised Leo didn't back up her story, after all he met "the prisoner." Still, it is true he had no knowledge that man was the one true Pope. No one seemed to take the accusations seriously, and instead Lucrezia is thrown in a cell.
Sixtus makes his exit threatening to expose Alfonso of killing his father, the King, should he attempt any funny business. Once again, the big bad gets away. A round of applause for James Faulkner please. What a brilliant actor!
Meanwhile, back in Florence, Vanessa is refusing to sign documents confirming her son is a Medici. Nico is so convinced this is a mistake, he forges her signature making they baby officially heir to the Medici fortune. Good thing too because when Clarice disappears, Vanessa becomes Regent Head of the House of Medici. Where did Clarice run off to anyway? Will we learn she's gone after Carlo next season? I don't doubt it.
We were rewarded with one last "Da Vinci Vision" this season, as Leo devises a plan to collapse the entranceway to the port blocking the Ottoman ships from advancing. The effect wasn't as fancy as some of the others this season, but as I've said before "Da Vinci Vision" is always a treat for me.
Lorenzo visits Lucrezia in the dungeons and she confesses she never loved him. Ouch, that was harsh but once Leo arrives on the scene it's clear her feelings are much stronger when it comes to him. She shares the story of her sister, Amelia, telling Leo this is all about her. Everything she's done is so that her little sister's death meant something. Well, that and to bring her evil uncle to justice I'm sure. Leo frees her and they kiss.
I realized how much I missed Leo and Lorenzo sharing a scene when the two discussed Leo's adventure in South America.
Lorenzo: So what does the other side of the world look like?
Leonardo: Different.
Lorenzo: You ever consider staying? Leaving all this behind?
Leonardo: And miss all the fun?
As far as the final moments of the season, good thing Da Vinci's Demons was renewed for a third season or there would be tons of pretty pissed off fans bitchin' on Twitter. As the Ottoman fleet approaches, Leonardo calls for his cannons (with custom cannonballs naturally) to be fired. I can tell you without a doubt, I never expected Piero da Vinci to tell Leo his mother was aboard an enemy ship.
Were you as surprised as I was to learn the woman in chains that interrogated Lucrezia in Da Vinci's Demons Season 2 Episode 9 is Leonardo's mother?
I didn't see that one coming at all, and suddenly I felt like going back to watch the mysterious woman's scenes again, this time armed with this new knowledge. What an ending right folks?
Well another wonderful season has come to an end and now the wait for Season 3 begins. I'm just thrilled we get a third season, I was worried there for a while. I want to thank everyone that took the time to comment here at TV Fanatic and I hope more people jump aboard next year.
As many of you know, filming resumes now in June. I will be following the cast closely via Twitter and sharing their tweets from the set over the summer. If you're not following our twitter account yet, do so now: Follow @DaVincisTVF
Which season of Da Vinci's Demons is your favorite?