We found out right away on Devious Maids Season 2 Episode 3 that Alejandro is really dead. RIP, man!
Concerned about their future once they'd be kicked out of Alejandro's home, Carmen and Odessa were left scrambling helping with Alejandro's funeral arrangements.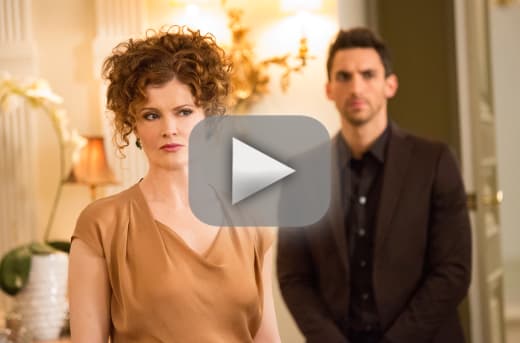 Actually, Carmen was more so worried about her career and managed to score what was basically an audition at the memorial service. 
Knowing that several big names from the recording industry would be there, Carmen wasn't remorseful in the least bit and was entirely focused on how to become a star.
I hated that she acted this way but also predicted that she'd come around and give the tribute that Alejandro deserved. It was a sad moment when she broke down in front of everyone at the church.
Meanwhile, Adrian was still traumatized by the recent break-ins and tried to convince the neighbors that it was time to organize a neighborhood watch. Of course, the neighbors found the suggestion completely crazy and preposterous.
As for me, I thought Adrian was finally right in his mind. It's a shame the neighbors and Evelyn didn't see the rhyme in his reason. 
He had hardly slept in days and nearly shot Valentina. I love the Powells because they say the most ridiculous things, but I actually felt for him as he opened up about his son's death to Valentina. In fact, it was really sweet how he was going out of his mind just trying to protect his wife. 
Unfortunately, he ended up shooting Evelyn! And, of course, her response while lying on the ground helpless was: "You idiot!"
It's a good thing the bullet just grazed her. However, it appears that Evelyn's affair with Tony has just begun and I can't help but think Adrian is going to even go crazier with his trust issues. 
Elsewhere, Marisol's mystery still wasn't entirely interesting. All we learned was that Dahlia was best friend's with Evelyn and that there was once gossip about Nick having an affair with Opal. Furthermore, Ethan didn't know who his father was, which begged the question if Nick was actually Ethan's dad.  
As for Rosie, she was trying her best to help Kenneth and caught his wife kissing the doctor. I can't say I'm intrigued by Rosie's storyline either. And is it just me, or Rosie's voice more irritating than usual?
Lastly, one of the teen's from the break-in at Alejandro's house overdosed in front of Alejandro's memorial with a note that read "I'm sorry." It's only a matter of time until the next break-in occurs and I'm starting to wonder if there's someone helping the thieves (and now murderers) from the inside. 
Other Thoughts:
Tanya sure was in plenty of scenes tonight and had so many lines. Will we see more of her?
Poor Remi! You'd think the doctors in the Congo would let his emergency contacts know what's going on with him. 
I love how great of a friend Genevieve is to Zoila, but do not think she should have told Tanya about Zoila's marital issues. 
Don't forget to check out our Devious Maids quotes section to rehash some of the funniest moments of this installment.
Overall, I thought "Dangerous Liaisons" was fair. I have a lot of questions right now and I suppose that's a good thing because I'm ready to see more and find out what's up with the break-ins. 
Is Remi going to survive?