Grey's Anatomy Review: Where Does the Good Go?

Christina Tran at . Updated at .
Well, that's a wrap for Grey's Anatomy Season 10. 
It's hard to believe that an entire decade of Grey's Anatomy has come and gone just like that. More unbelievable is the fact that we just said goodbye to Cristina Yang. Seriously?! Seriously.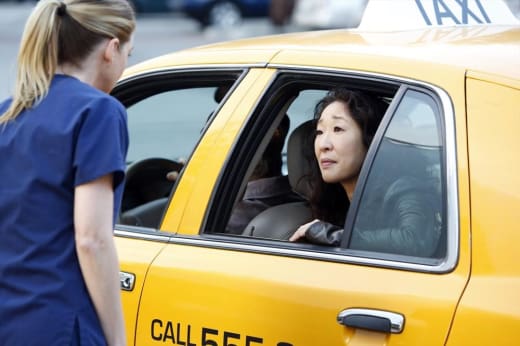 So, what went down on Grey's Anatomy Season 10 Episode 24? A whole lot. Let's discuss!
An explosion at a local mall made things a bit crazy for our favorite doctors at GSMH. I was honestly really glad that there wasn't an actual terrorist attack because I think that would have taken away from Cristina's farewell. 
As she prepared to say her goodbyes and leave for Zurich, there was just so much that I loved about Cristina's scenes. Please don't ask me which one was my favorite. From her heartfelt moments with Meredith to dancing it out one last time, I couldn't help but miss my best friend.
Then, there was Cristina trying to tell Alex not to become Dr. Junior Butthole. Yes, Alex, listen to her. 
As Yang stood in the gallery and waved goodbye to Owen, you could feel how heartbroken they both were. How will Owen move on without her? Even her quick farewell and hug with Derek felt so raw and real. Moreover, I loved how Webber told Cristina that he was proud of her and especially Yang's last words with Bailey. 
It was evident that these actors were going to miss Sandra Oh just as much as we are going to miss Cristina Yang. By the way, I absolutely loved that Meredith and Cristina's last dance was to Tegan and Sara's "Where Does the Good Go?"
(Fun fact: This song appeared in the background of one of the very first episodes.)
It felt right that Shane wanted to leave Seattle and follow Cristina to Zurich. He's always looked up to her and there's no doubt that she's one heck of a mentor.
I was so thankful that Cristina reminded Meredith that she was a gifted surgeon with an extraordinary mind. More importantly, she should let herself shine, too. This girl talk brought on a huge fight between Derek and Meredith, but it needed to happen.
As Meredith decided that she wasn't signing the papers for the townhouse in D.C. and had no intentions of leaving her home, she didn't want to just follow Derek around and let his career overshadow hers. Derek felt as though she was asking him to choose between a once-in-a-lifetime job opportunity and his family.
Elsewhere, Bailey could hardly contain herself when she found out that Webber recommended her to fill Cristina's seat on the board. However, there's just one problem: Yang left her shares of the hospital with Alex, which means Bailey probably shouldn't get her hopes up.
Other Thoughts:
There were so many instances where I couldn't help but to shed a tear or two. You can rehash some of those moments by checking out our Grey's Anatomy quotes section. 
I was never a fan of Leah, but I really liked that she returned one last time and wanted to just help out as best as she could. That's how I am choosing to remember her.
Cristina's new replacement is possibly Webber and Ellis Grey's daughter. Say what?! If it's true, that would mean she's also Meredith's half-sister.
I don't always like it when Catherine Avery shows up, but she was the perfect mother-in-law to April and calmed her down just when she needed it. I much prefer the less frazzled April. 
Calzona is going to use a surrogate to give Sofia a little sister or brother. 
Don't forget to return next week and chime in on our Grey's Anatomy Round Table.
Overall, "Fear (of the Unknown)" was a moving, stressful and emotional rollercoaster that illustrated Cristina's happy ending in such a seamless way. It was really the best way to say goodbye to Yang, and I'm sad she's gone but am now excited and curious to see how the show will go on without her. 
See you in the fall, TV Fanatics. 
Grade the Grey's Anatomy Season 10 finale now!