Grimm Review: Goodbye Sweet Grimm
Nick McHatton at . Updated at .
Monroe and Rosalee's wedding went about as well as we all expected on Grimm Season 3 Episode 22. 
In other words, it mostly all went to hell in a hand basket.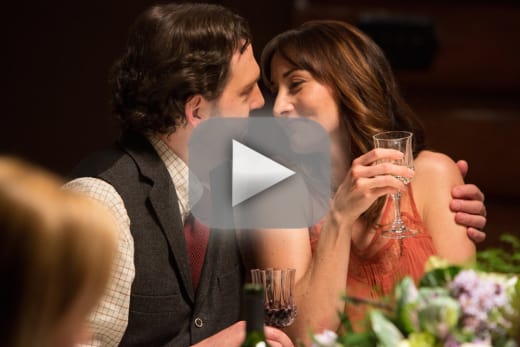 Surprisingly, not all of Nick's drama is the cause of the wedding's problems. Rosalee's sister, after a little too much wine, is more than happy to completely trash and stain the wedding dress.
It's a major wedding foul, but at least Monroe and Rosalee are content in knowing now they can pick the gown they really like instead of one they were never really crazy about anyway. 
Adalind, too, is a big arbiter of the drama, as she actually gets away with sleeping with Nick. Adalind's plan is actually pretty genius, with her goal not about finding information, but getting revenge on Nick's powers and doing what the Royals want.
In fact, her motives are not necessarily for revenge as at all.
As Grimm Season 3 comes to a close, Adalind is on a plane heading to Europe and dreams of reuniting with her baby. In a way, Adalind's motives are pure: she misses her baby and is being a fierce, protective mother in trying to get her back. She's not stopping for anyone.
While her actions are deplorable in terms of what they have done to Nick and the collateral damage around him, Adalind does not deserve all of the hate. 
The finale is a game-changer for Nick now that he's lost his power. He mentions that being a Grimm has caused extra drama in his life, but Nick really does not know how to live his life without being a Grimm anymore.
It's an innate feature of him and his personality - and without it he's not a whole person. Nick's now gone from augmenting his Grimm powers with super hearing and zombification toward normal humanity. He's gone from guiding Trubel in this new world to potentially needing her to guide him.
Nick's de-Grimming brings Nick and Juliette towards a crossroad.
Juliette's been pretty good about the entire situation, but the Wesen world takes one step too close when Adalind sleeps with Nick as her. At this point, she's most likely ready for Nick to just give it all up completely for the sake of their relationship and safety.
On the other side, there's the entire team of people Nick has assembled that probably want him to continue being a Grimm so he can continue to help them and others. This is all assuming that Nick actually gets his powers back. 
Monroe and Rosalee - although their wedding does fall apart at the end - actually do get to say their vows and exchange rings before Trubel breaks up the party... yet, even on their own wedding day, they're still worried about Nick's de-Grimming.
Those two could not be better friends to Nick and I really, really hope that Nick will figure out a way to repay them so it's not so continually one-sided. 
Finally, perhaps the biggest shock of all (aside from Nick losing his powers) is the annoying FBI agent shooting Renard. I don't think the beloved Captain is going to die, but watching him take some bullets to the chest is quite the reminder that he does have the opportunity to die.
(Right, Grimm? There will be no killing of Renard please).
What did you think of Nick's De-Grimming?