To be the Food Network Star, one must be able to not only cook delicious food, but also captivate an audience by teaching them how to prepare delicious food. 
And that was the challenge our crop of culitestants faced this week on Food Network Star Season 10 Episode 5.
At Knot's Berry Farm Theme Park, the culitestants were tasked by the judges to bring their specific culinary POVs to classic American food pairings fit for the Fourth of July and then give a three-minute food demonstration to 400 people on the dish they created.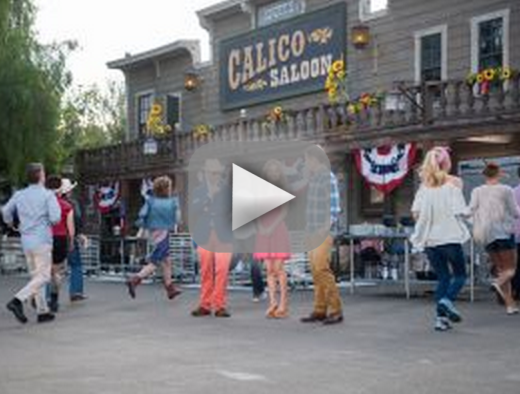 In this live demo, the chefs wouldn't be able to hide behind the taste or quality of their food, because only the judges would be eating their food. All the audience would receive is a tutorial on how to make the food; therefore, it became very important for the chefs to connect to the dish and the audience, making sure to bridge the gap between the two through their POVs. 
Some succeeded at doing both, while others excelled at one, but failed in the other. 
Emma used her relaxed enthusiasm to connect with audience during her demo. Talking about how crab cakes reminded her of her husband and how the two of them fell in love, Emma successfully taught the audience how to turn the classic American pairing of crab cakes and coleslaw into a more "farm fresh" seared crab cake and coconut coleslaw. She nailed the demo, but her food was less than stellar in the eyes (or should I say mouths?) of the judges. 
Chris decided for a comedic approach to the demo, and his risk paid off. Impersonating Obama, Chris immediately got the audience's attention. It's just too bad his vision of "elevating" the classic American pairing of grilled chicken and mac and cheese up to the more "modern" grilled chicken lollipop and whole grain mustard mac and cheese failed to impress in its flavor. 
Christopher, on the other hand, far surpassed everyone in the cooking portion of tonight's challenge. His "New Orleans" themed spicy shrimp boil was well received by the judges, but it took him 1 minute and 45 seconds to actually start demoing his dish, and once he started, all he did was teach the audience how to plate it. Bad move, Christopher.
Lenny turned the "classic" American pairing of fish tacos with chips and guac (is this really a classic American pairing??) into cumen crusted grouper tacos with mango coleslaw. The tacos were excellent, but because he used all his grouper to make the judges' plates, he was only able to demo how to make his pretty traditional guacamole, which most people already know how to do. However, he delivered his demo with such natural ease and entertainment value that he almost made up for his mistake. 
Nicole was tasked with the American pair of BBQ pork and onion rings. Worried about the time it takes to cook BBQ pork, Nicole was able to use her "quick and easy coastal" POV to her advantage by turning it into a spicy pork and pineapple kebab from the coast of Mexico. Sadly, in spite of dropping her chronic "bitch face" (her words, not mine!) and putting together a well received, clear, concise, and energetic demo, she failed to mention her dish's connection to the coast of Mexico, leaving many to wonder how her dish was connected to the Jersey Shore, which she did mention. 
Sarah, who has failed to hit her "date night" POV out of the park, made the wise decision to change her POV to "Texas roots." As a born and bred Texan, I was weary she wouldn't do the state justice, and rightfully so, because her Texas twist on hamburgers and pasta salad - (dry) green chile cheeseburgers and (under- seasoned "deli") pasta salad - left the judges disappointed. 
Loreal, a proud butcher, lucked out with steak and potato salad as her classic American pairing. Identifying herself as "butcher babe" (best nickname ever!) and her rib-eye as her "best friend" in her demo, Loreal immediately charmed the audience and the judges, and while her potato salad was good, her Hoosier rib-eye was not seasoned correctly. 
And finally...Reuben, who has been asked for weeks to slow down when speaking, was able to do just that this week, impressing the judges with his pace and annunciation. Alas, he lost me and the judges with his weird jokes about using hospital gloves to cook with and apologizing for speaking Spanish. Hey Reuben, speaking another language is impressive. Own it. Oh yeah, and his food sucked. 
Sooo....can you guess who made it to the top of heap this week? And who was left struggling at the bottom?
SPOILER ALERT!
The top two were Lenny and Loreal, while the bottom two were Christopher and Reuben. Christopher is the better cook, but can't seem to cut it in front of an audience or on camera. Reuben isn't the best cook, but improved this week and actually did a demo, whereas Christopher didn't.
The decision wasn't unanimous, but it was probably the right one. You can't be a star unless you have star quality, and Christopher just didn't have that, as he was sent packing this week.
Do you think Christopher will be the one to win Star Salvation and return to the competition? If not, who would you want to see make a comeback? Hit the comments with your thoughts!