In today's world, where the TV landscape is littered with a multitude of channels and shows to choose from, it has become vitally important for new shows and personalities to take advantage of social media and viral videos to connect with audiences and boost viewership.
Looking to emphasize the importance of these marketing tools, Bobby Flay tasked the Food Network Star competitors NOT to cook up food this week, but rather video-selfies (#videoselfies) and viral-worthy YouTube videos.
So, who sizzled and who fizzled in the tech-saavy challenges of  Food Network Star Season 10 Episode 4?
Let's find out...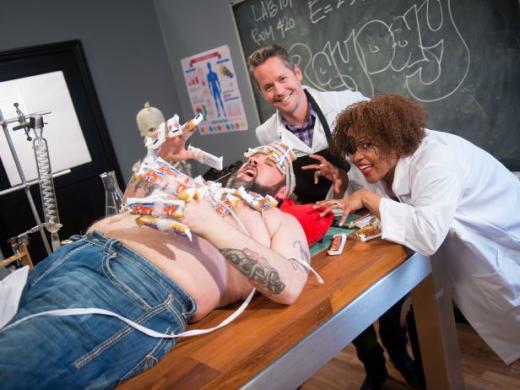 First up, the 60-second video selfies. Bobby asked the competitors to utilize handheld cameras to create personal videos. The only requirement? Each video must include a helpful cooking tip. 
Nicole wanted to be "real," but came off reherased. Reuben ran out of time, even with his fast speaking style, while Chris finished way too early. Lenny couldn't provide a clear tip. Aryen, who should've already been eliminated, was a stuttering mess, while Christopher was calm and relaxed, but unable to really shine on camera. 
The three standouts were Sarah, Loreal, and Emma. Sarah used her cute, bubbly personality to give a behinds the scene look at the set, but she failed to pull off a useful tip. Loreal used her fun and frenetic personality to create a very real video (she used a pot  as a mirror to put her lipstick on...ha!), but she forgot to mention she was a butcher, missing a great opportunity to really connect with fans. 
The only person who really thought out of the box  with her video selfie was Emma, who somehow shed her rather dull personality for one quite more festive this week. She successfully used her cooky humor to create a lasting impression by getting one of the cameramen to act like a cow. #winnerofthechallenge #MOO
For winning the mini-challenge, Emma got the chance to pick the teams for the bigger, mega (elimination) challenge this week - to create buzzworthy YouTube marketing videos focused on a specific candy product. 
Emma hand selected Nicole and Reuben to be on her team. She then put Aryen, Lenny, and Christopher into one team and Loreal, Sarah, and Chris were left to form the other team. 
Luck must have been on Emma's side this week, as her team was also given Reese's as their candy product, which is obviously the best candy ever. Aryen, Lenny, and Christopher were tasked with PayDay, and Loreal, Sarah, and Chris got Almond Joy/Mounds. 
To help our challengers in creating viral-worthy videos, ShayCarl, talent and co-founder of Maker Studios, served as mentor/director in the production of the videos. 
Team Reese's idea was solid. Reuben played a Spanish teacher, who came down hard on Nicole for not being able to roll her "r's" correctly. But after eating a Reese's, the peanut butter and chocolately goodness was able to do wonders for Nicole's pronunciation, because she was able to roll her r's perrrrrfectly! 
Team PayDay concocted a mad scientist idea, with Christopher playing the mad scientist, Aryen the assitant, and Lenny the PayDayStein, who comes to life after eating a PayDay. Not the best idea, but Shay seems to like it, only urging Aryen to make sure she hits the last line - "PayDay unleashes monster flavor." Right? Is that what she said? I'm still unsure on this one. Aryen wasn't quite able to get the line out coherently. 
Team Almond Joy/Mounds had the toughest time coming up with an idea, but somehow managed to put together a decent one with the help of Shay. After throwing out Chris' "sick grandma" (thank god!) and Sarah's "angel/devil on the shoulder" (boring!) ideas, they finally went with Loreal's "dating candy bars" concept (meh...it'll do).
After the selection committee, consisting of Alton, Bobby, and Giada (yay! she's back!) plus two execs from YouTube, viewed the videos it was pretty clear who the best and worst of the week was. 
Based on their performance, integration of the product, and viral potential, the most successful group, deservedly so, was...Team Reese's! #peanutbutterforthewin
The unfortunate bottom team was Team PayDay. For his dedication, PayDayStein Lenny was safe, but Christopher and Aryen were not.
Giada elected to send Christopher home. Alton, Aryen. Bobby was the deciding judge. 
At this point, all I could do was scream "SEND ARYEN HOME!" considering she has yet to create a good dish the entire competition. She might have done better this week, but in order to be the next FOOD network star, I'm pretty sure knowing how to cook delicious food is an important factor. 
Thankfully, Bobby answered my prayers and sent Aryen home, basing his decision off of the video selfies from the earlier, where Christopher did a better job. 
Do you think Bobby made the right call? Hit the comments with your thoughts!