Girl Meets World Review: World, Meet Girl

Christina Tran at . Updated at .
Like most kids of the '80s and '90s, I gave into nostalgia and checked out the much-anticipated Girl Meets World premiere.
On the pilot, we met Riley Matthews, the daughter of Cory and Topanga from the unforgettable Boy Meets World.
That's right - Cory and Topanga have a daughter and son now. It's been 14 years since we've seen them last and things are VERY different now. Even Aladdin would say it's definitely a whole new world. (I'm kind of a Disney fan.)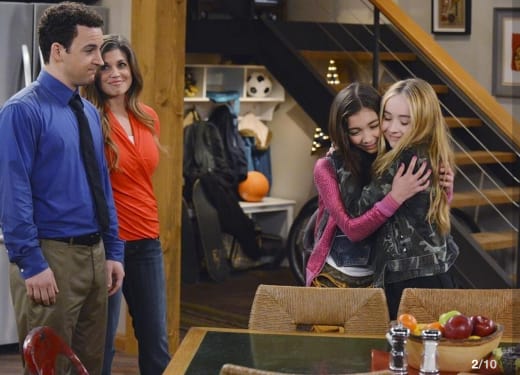 I honestly tuned in hoping to see what married life would be like for the couple we once all fell in love with, but I quickly realized this was no longer Cory's world. It was, and is, in fact, Riley's world. The premise was cute: Riley was trying to prove that she was mature enough to get a subway pass. 
Riley, played by Rowan Blanchard, is absolutely adorable and charming - like father, like daughter. She's finding her own "world" and has best friend, Maya, along for the ride. There's also Farkle, who readily screams Minkus. Like its predecessor, GMW will undoubtedly teach lessons in the classroom while also focusing on life lessons learned by Riley and Maya, also known as Cory and Shawn 2.0.
In Girl Meets World Season 1 Episode 1, Riley joined a homework rebellion in an attempt to be more like Maya, which caused a rift between father and daughter.
Eventually, Riley learned that she can just be herself and doesn't need to be like Maya. By doing so, she can help Maya become a better person. We also met Lucas, who was hinted as a possible love interest for Riley. Lots of cookie-cutter stuff going on, folks.
Overall, the first installment of GMW felt very Disney. Will kids fall in love with it? Most likely, as they should. As for grownups such as myself, it was interesting seeing Cory's now a teacher and is living happily ever after with Topanga.
Ultimately, though, GMW is a Disney show. It's probably best watched with a tween to truly appreciate and remember the jokes we once laughed at, lessons learned and shenanigans of growing up.
Take it from my 11-year-old cousin, Caitlin, who gives the new show a thumbs up. "Girl Meets World was funny and I can't wait to watch it again next week," she said. "I love Farkle because he's really weird, Riley's clothes and how Maya is unique and not afraid to be who she wants to be."
Sure, it's no surprise that the show's target demographic is aimed toward tweens like Caitlin, but I couldn't help but long to pull out my BMW DVDs and rehash the days when I was growing up.
The pilot left me kind of sad and basically wanting to relive the past but realizing that things just will never be the same again. I used to say growing up is for trees, but I'm slowly starting to retract that statement and think otherwise.
Other Thoughts:
With only half an hour, it was understandable that the first installment of GMW would be Topanga-lite. Nevertheless, I was really hoping we'd see just a bit more of her. The same goes for Mr. Feeny.
The funny thing is I could see so much of Feeny in Cory as a teacher. However, I'm not sure would he have let Maya's stunts fly.
I'm stoked old and familiar faces such as Shawn, Minkus and Cory's parents will all show up later this season.
Initially, I was apprehensively thinking that Riley and company could potentially bring back TGIF nights for me. However, the premiere just left me simply feeling old. Although my 20s are officially behind me, I still can't help but want to hang around and see what else is in store as girl will indefinitely meet world (or actually at least until she meets her grandparents and parents' old pals).
GMW is a show for today's generation, and maybe it's time to fall in love with the Matthews all over again.
What did you think of the Girl Meets World pilot? Did it make you nostalgic? Will you be back next Friday night? Grade the Girl Meets World pilot and let's talk about this new series in the comments!