And, we're off…
If you saw Graceland Season 2 Episode 1 last week, you know that it didn't take long for Mike to return to the Southern California haven for undercover FBI agents, but things aren't going to go smoothly for everyone this summer.
Are Briggs and Charlie going to make it as a couple in this tense world? Will Mike be kissing Charlie now that he's back? Will the road be smooth for Jakes and Johnny? And who wants Mike dead?
On a recent visit to the Ft. Lauderdale set for the show, TV Fanatic grabbed time with the cast to find out what we can expect with Graceland Season 2, including which real life issue has worked its way into one cast member's storyline and just how much darker can things get as we move forward...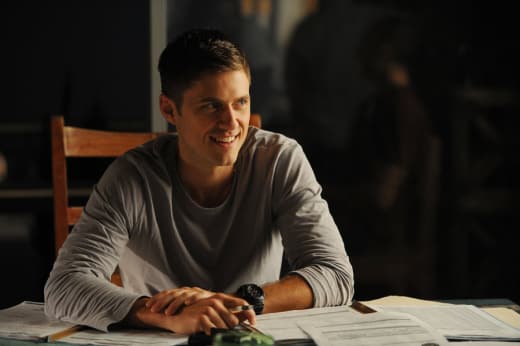 A Different Mike: Aaron Tveit (Mike) agreed that a lot has changed for his character since we first saw him the Graceland pilot.
"Last year, I think there was earnestness or a wide-eyed inexperience that I had dealt with…this person who is really smart but had no experience, no field experience. But now, this year, definitely it's been pushing about."
He added we'll see Mike act in ways we wouldn't have expected during the drama's first season.
"I think Mike has found out how to push the envelope a little bit and maybe put some people in danger if he can justify the final goal. This season is a big switch for Mike." But will we see Mike and Paige back together? "It definitely evolves,."
Sorry, Charlie! While Charlie may start the season in a better place after escaping death on the season finale, don't believe it will last - and she may find new reasons not to trust her lover, Briggs. It's Graceland after all, right?
"This is different, this season," said Vanessa Ferlito, who plays the hard-edged character. "A lot comes to light. It's a little quiet, like I'm just saying that I'm not shooting heroin and stuff like that. It's sort of nice. You think everything's alright…and then the worst shit that you could ever think of happens to Charlie. Not in a physical way, I feel like in a more mental and emotional way. So I'm really screwed up."
However, while she starts the season a little skittish about diving back into work, she'll be in the mix with the rest of the gang.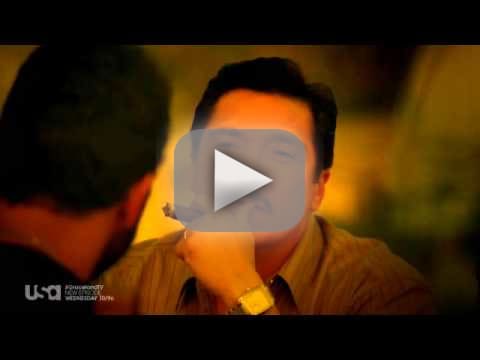 Power Struggles To Come: Daniel Sunjata (Briggs) said one of the things we'll see in the new season is a bit of posturing between the Graceland residents as to who is the alpha.
"There is somewhat of a power struggle in season two," the actor said. "There's something about [Briggs] that is foundational to the household, however, and even if somebody else might be running point, I think really, with the loss of any of the characters, it definitely wouldn't quite be the same and that thing that Briggs brings to the table, I think everybody respects." Sunjata added, "There are just times when he doesn't necessarily get to quarterback every play, and he doesn't like that, you know what I mean? Who would?"
Serious issues: One of Serinda Swan's personal causes is drug and sex trafficking, so it won't be a surprise that we'll see a storyline about it this season featuring her character, Paige.
"The first thing for me is drug trafficking…and sex trafficking is number two, which is insane, it's like a 9 to 30 billion, which is pretty big gap there, dollar business per year. It's ridiculous…I sat down with [creator Jeff Eastin], I was like 'one of the main things is that girls get smuggled using drugs and then sometimes they get sold or whatever it is and there are many, many different stories of them coming into the US because there are over 100 thousand of them right now in the US…if there is some way we can find out a storyline or even just a mention and somehow bring this to light and use the show as a platform for something we can let people know about' and they said yes!" 
And Then There's Johnny: One thing that hasn't changed so much is Manny Montana's Johnny, who you can always count on to bring a little bit of fun and lightness to the often serious setting.
"He keeps the same heart," the upbeat actor said from the Graceland living room. "He's still the same guy he is in the house but he wants to take charge and he wants to be looked at the same way people look at Briggs and the same way people look at Mike. He wants to be taken seriously." The one thing that Montana said he asked of Eastin? "I told him just make me as uncomfortable as possible as an actor and as this character. And he definitely did that, and you'll see as the season progresses!"
Girl Power: Swan loves the scenes she shares with Tveit's Mike, but she'd like to team up with the other lady in the house, Charlie.
"Paige and Mike work together the most of anybody in the house," she said. "But we need more Charlie and Paige! We need strong girl stuff! I think it's time to get those bad ass women together!" Ferlito was also on board when asked about a pairing of the women in a case. "There's too much testosterone, they have to throw a little bit of woman in there. I would love that, of course."
Paige's Achilles Heel: Oh, Paige. As tough as you might want to be, maybe you're just a big softie. Swan explained the character's biggest weakness is a vital organ.
"Her heart, at the end of the day it is her heart. She just cares and I think that is what it is, she is tough but she cares. That is what I love about the character, it's another level. She cares about Graceland and the people there. She cares about the cases [and] it's nice to have that to work through."
Love for Jakes? One of the biggest shockers of last week's season premiere? The usual grumpy, self-isolating Jakes was smiling. And he wasn't putting post-its on his food anymore. What the heck??!?
"He actually starts out in a really great place," said actor Brandon Jay McLaren. "And I think that's mainly attributed to the fact that he's made a decision about how he wants to live his life and what's important to him."
But can we expect this upbeat exterior to hold up in this tough world in which the Graceland folks are living?
"When you make plans, things rarely go your way and then he's taking down quite hard and fast. It's a tough season for Jakes. He's not doing well." The actor did also tease that Jakes may have a love interest. "maybe two."
Remember the tape?? Even though we didn't hear anything about the tape that implicates Briggs in a big way, that's going to change very soon. (@GracelandTV tweeted about it yesterday saying "Thought you saw the end of the #PawnShopTape? Think again.")
Sunjata teased of its presence in the second season, "sometimes you'll have it in the back of your mind, and it definitely resurfaces. The issues surrounding that come back…the thing you fear most is that that thing is going to be revealed and how that's going to change the perception of the people who are closest to you, whose opinions about you matter to you? So, for Briggs, he's not just afraid about going to jail, he's afraid about, 'What would Charlie think? What would Mike think if he found out this and that?'
Season Stories: Tveit also previewed that the show has moved away from the case-of-the-week stories they delved into a bit in the first season: "We spend the first five or six episodes following each individual character's arc from their own perspective, and then right where we are now [in filming], we're starting to see what each person is dealing with [and] we see that it's all intertwined and ultimately overlaps, so it's been a very different and interesting way to tell the story...
"It is a completely serialized season."
Graceland airs Wednesdays at 10/9c on USA.
Jim Halterman is the West Coast Editor of TV Fanatic and the owner of JimHalterman.com. Follow him on Twitter.