The Bachelorette Review: I Wanna Grow Old With You
Miranda Wicker at . Updated at .
Tonight begins part one of our two-part The Bachelorette special.
Andi Dorfman and her remaining 16 men will head to Santa Barbera where they'll join forces with Boyz II Men for a concert.
The Bachelorette Season 10 Episode 3 may be the end of the road for some of these gentlemen, while others will continue their journey to get down on bended knee to propose to Andi during the finale. (The Bachelorette spoilers will tell you that answer...)
Let's find out how it's all going down now!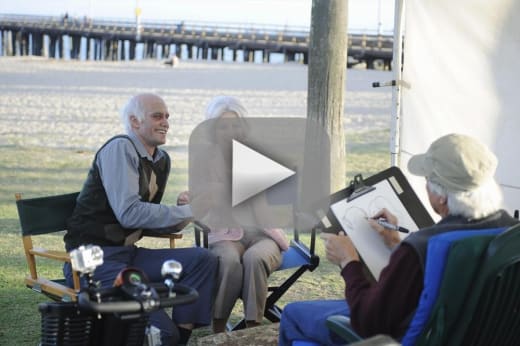 Andi Dorfman is excited to be taking the men to Santa Barbara to the Bacara Resort and Spa. Plus 3 for product placement. Except SHE's the only one staying in Santa Barbara. The guys all get to stay in L.A. at the bachelor pad.
Nick V. gets a one-on-one date with Andi and heads off to Santa Barbara to meet her. He got the First Impression rose on the very first night so this is a big deal. 
They're going on a bike ride to get away from the "extravagant" dates. (YOU GUYS FLEW TO SANTA BARBARA. OR TOOK A LIMO. #Fancy Minus 4.)
Back at the house, the guys sit around--shirtless--talking about Nick's chances of coming home with a rose. "It's a 50/50 chance..." Um. Yeah. Because he comes home with a rose or he doesn't come home with a rose. Are you a statistician?? 
Apparently Nick V. is a skeptic who doesn't completely believe in this process. At least around the other guys. 
This date is sort of awkward. There's a lot of space between them as they talk about this process and he says he has trouble not knowing where he stands. She tells him to lay it all out there and he says he has a crush.
Awwww! Plus 7. That's cute.
They are hiking with glasses of wine in their hands. That is my kind of hike! Plus 4.
Oh look! A hug!
To cap off their date, Andi and Nick V. go to the...courthouse. Nick V. is the only one of his closest group of friends who isn't married and Andi wants to know why. "How are you single," she asks.
He dated a girl for 7.5 years then got engaged to his rebound girl when he was 27. Andi likes that he'll talk about past relationships. If he's most guys, he does not want to be talking about his past relationships. But maybe he's not most guys? I dunno.
He thinks that the notion of one person for everyone is "unromantic" and as he explains it, it's actually pretty sweet. If there's only one person for every other person, then people are together because they're supposed to be and not because they want to be together.
Plus 10 for Nick V.
Andi holds the roses so awkwardly! Nick V. gets a date rose and then gives Andi a kiss. She vows to make a believer out of him.
It's time for a group date! After getting a letter from Andi that read "let's start things off on the right note" the guys are convinced they're singing karaoke. Bradley performs vocal acrobatics in the limo on the ride to Santa Barbara and the Music Academy of the West.
They all flip out to find out they'll be singing with Boyz II Men. They'll be singing "I'll Make Love to You" which will not be awkward at all. Bradley thinks he's totally in his element and has actually won a vocal competition at that school. This is his thing and he wants to win!!
None of the other guys can sing at all. And Bradley sounds RIDIC with his opera intonation in this song. Tasos sounds pretty okay though. 
They do way better learning their choreography. Andi can't carry a tune either, so they're all in good company. Plus 5.
Boyz II Men are giving the crowd as Paseo Nuevo a concert as Andi and the guys pull up in their limos and make their way to the front row to watch the rest of the concert. 
Cody leans over and says "hey, whatever happens, this is an awesome experience" and it feels really genuine. Plus 3.
And now it's time for the guys to hit the stage in front of this screaming crowd of people ABC has invited to see their concert. 
Bradley REALLY wants the rose and grabs the microphone first to opera it up. It's actually kind of terrible, but Eric does a decent job. No one else does though, so the guys just run with it. If it's going to be bad, they're going all the way with it. They definitely get credit for making the little girls in the audience cover their ears and wish they could run away forever and ever.
"If this is any indication of who she gonna choose, you may not have one on this show. She may just leave by herself."-- Boyz II Men.
Cody gets the first one on one time with Andi and she's planning to screw with his brain a little. She tells him that she heard that he has a girlfriend at home. He says he's been single for three and a half years and then she breaks. Cody feels like that means something.
Eric worries that things are weird between the two of them because they had a great first date and now they have to date in front of the other people. It almost feels like he's pulling a Clare Crawley. Almost.
Marcus is turning green with envy and it doesn't look good on him. Minus 12. He goes in for a kiss during his one on one time with her and thinks he's going to get the group date rose just because they had a good kiss.
But he has Josh to compete with and Josh Murray is Andi's type. They have a hot little chat by the fire pit without the chat.
And Josh gets the group date rose. 
Marcus is convinced that what Andi and Josh have is NOT like what he and Andi have and she's just made a big mistake in giving Josh the rose. Minus 14.
For her second one on one date of the week, Andi's taking J.J. the "pantsapreneur" out for the day. They're getting dressed up like old people to spend their day. 
Their makeup looks amazing and they head out into the city to see if they can fool people into thinking they're actually that old. I'm pretty sure they haven't fooled anyone.
J.J. WAS the perfect guy to choose for this date. Andi's right about that. 
Back at the house, Ron makes a phone call and waves the cameras away while he's talking. It doesn't seem good for him, whatever it's about.
Andi and J.J. have abandoned most of the pretense that they're an old couple and have decided to turn heads by playing football and doing push-ups in the park while dressed as old people. People in the park are so very confused, and so is the kid whose swing they steal on the playground.
This date has seriously been so fun to watch, even if it was a tiny bit ridiculous. Plus 8
Ron's packing his bags because whatever's happening at home is a big deal. He's going to leave without even saying goodbye to Andi. A good friend of his passed away and he needs to be home. 
J.J. and Andi are cleaned up and ready for dinner. He's quirky and thankful that she chose him for the date. He feels like he'll end up alone because of his quirkiness, that he won't find a woman who accepts all of him. But he feels a level of comfort around Andi that he's happy to have found.
Then he says that she makes him be a better person and they've known each other for 3 weeks and had half a dozen conversations. 
Dylan really wants to get some time with Andi to tell her about his history and losing family members, but because he hasn't gotten the chance to tell her yet, he's telling Chris the Farmer from Iowa. Weird.
Back on the one on one date, Andi's giving J.J. the date rose. Plus 8.
Going into the third cocktail party, Marquel says he feels like all of the guys are worthy of roses which makes things even more nerve wracking. Nick V. is worried about what their chemistry will be like when they see each other again.
Andi's heart aches for Ron and she breaks down and starts crying as she thanks them all for being there and taking time out of their lives to be there. 
While Andi's hanging out with Eric, she gets a delivery. Flowers from Nick V. BEST!!! Plus 47.
He just wanted to make this unnatural experience natural, so he did something he would've done if they'd met in the real world. Move over, Josh Murray! Andi's got another type!
J.J. and Josh talk about how during dinner the week before, Andrew got the hostess' number at the restaurant and then bragged about it. "It mocks the entire process," J.J. says. (Newsflash, J.J. This whole thing mocks the process.) 
Josh and J.J. are ready to confront Andrew about his douchiness. Josh apparently wasn't even in the limo when Andrew bragged about getting the hostess' number, but he's in this "for all the right reasons" and wants to make sure Andrew is, too.
Andrew decides he's not going to engage in this and walks away. It's impossible to decide if I'm Team Andrew for walking away and not engaging in the drama or Team J Names for busting him.
The guys chase Andrew up the stairs saying that he's displaying a great test of character for storming up to his room instead of talking to them about it. 
Marcus, meanwhile, is downstairs telling Andi that he believes in love at first sight and feels it with Andi. He's so smarmy. He gives her a note to read later and tells her that the other night was really meaningful to him. He's thinking of her when he's not with her and feels himself moving in the direction of love. Minus 8.
Andrew says J.J. and Josh attacked him because they see him as a threat. Andrew says the waitress handed him her number, unsolicited, and that he didn't brag about it. J.J. says he did. Andrew says he didn't. 
Andrew thought they were all in this together and now realizes that it's a competition. This...isn't a boy's club, Andrew. Minus 18.
Andi's really happy right now and she owes that to the guys, but she doesn't know about Andrew's number-grab. She probably won't be too happy after that.
J.J., Josh, and Nick V. have roses. Who'll be joining them for another round of dating?
Marcus
Brian
Marquel
Tasos
Cody
Patrick
Chris
Eric
Dylan
Andrew
She's sending Bradley and Brett home. Andrew will be hanging around to stir up some more drama with Team J Names. Bradley says he was vulnerable but it wasn't good enough. He loves to be loved and he loves to love and he really wanted it and MAN TEARS. 
EPISODE TOTAL: 39 SEASON TOTAL: 89
We're down to 13 now and we'll get another night of dates tomorrow But first: Team Andrew or Team Josh and J.J.?
Miranda Wicker was a Staff Writer for TV Fanatic. She retired in 2017. Follow her on Twitter.