The Bachelorette Review: Vive la France!
Miranda Wicker at . Updated at .
This week on The Bachelorette Season 10 Episode 5 Andi Dorfman and her eleven remaining men will jet off to France for a week of love and dating in some of the world's most romantic places. 
As Andi's feelings for more than one of her suitors begins to grow, will we see a clear winner emerge?
The Bachelorette spoilers can tell us the answer, or we can just journey along with Andi as she finds the man who's there for all the right reasons. Yeah, that's probably more fun. Because DRAMA! 
Let's get to it with our +/- review!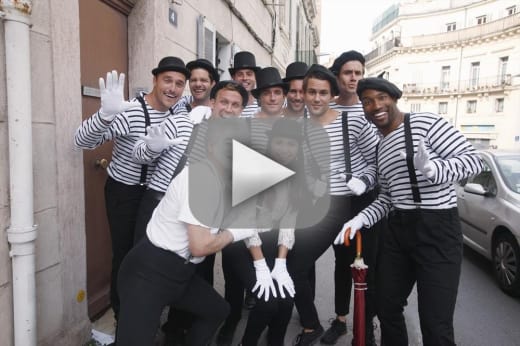 Andi Dorfman and her men are in Marseille. Plus 8 for such a beautiful city. Andrew drops the fact that he's been to Saint Tropez and Monaco and barf. Minus 4.
J.J. announces that Josh is getting a one on one date with Andi. Josh has no idea what they're doing since the card is in French, but that doesn't matter because his name is on it. 
Chris Harrison and Andi sit down outside a cafe' and Chris is rocking the turtleneck sweater. Andi pretends to blush when Chris asks her if she's falling in love. She admits she is, with more than one guy. 
That little sitdown was a total waste of time.
Andrew takes it personally that Josh got the one on one and sees it as a sign that Andi wants to send him home. But if she wanted to send him home wouldn't she have done that already?? Yes, probably. 
Josh and Andi take a walk around Marseille to prepare for a picnic. On a sailboat.
As the stereotypical athlete, Andi needs to make sure that Josh is more than just that. He drops that he went second round in the draft and says that he walked away from baseball because he wants a family. He could totally play again if he wanted, though. 
They kiss. A lot. Plus 10.
This show has something about dates on rocks and cliffs. Andi and Josh end up on the Calonques, which are just "really great rocks." 
Andi worries that what she has with Josh is just physical, and after her stint with Juan Pablo Galavis, she's skiddish.
While they're getting to know one another, Nick and J.J. tell Marquel that Andrew referred to him and Ron as "blackies." J.J. says Andrew could have said "black guys" but he wasn't that drunk. It was something like that. Minus 27.
Marquel is pretty emotional over the revelation that Andrew couldn't see past his color to get to know him and judge him as a person, rightfully so.
For the next part of their date, Andi and Josh are having dinner at Palais Longchamp. Andi hopes to get into a deep discussion with Josh to find out if the the mental and emotional connection is there. 
Andi was cheated on by her previous athlete boyfriend, and Josh, the athlete, was cheated on by his girlfriend. Kindred spirits, these two. The next time Josh says "I love you" he wants to mean it with the intent to marry the person who hears it. Plus 8.
Andi got her answer and she's giving Josh a date rose. And she's giving him a private concert by Ben Fields. Josh is on top of the world right now.
Marquel wants to keep his distance from Andrew on the group date, which is pretty much a sure sign they'll be forced to work together.
Andi's taking the men to MIME SCHOOL. 
J.J. looks completely into this and Marquel's throwing himself into it, too. Then they get the notice that they'll be going out into the street to mime for an audience. An audience which turns out to be a pretty tough crowd.
Andi makes a baby cry and Marquel gets a kid to mime with him. J.J. mimes with Andi and reenacts their first date. Every guy except one has fun with the miming. 
Nick V. doesn't plan to "ever pretend that it's going to be natural" to be on group dates with Andi. He totally doesn't get how this game is played. Minus 10.
Once they're done miming and head off to the cocktail party, J.J. steals Andi away and takes her for a ferris wheel ride. Plus 12.
While the rest of the guys wait for Andi and J.J. to return, Cody tells Nick V. that he's acting a little too cocky and it's frustrating the other guys. Chris tells Nick that arrogance isn't a gentlemanly quality and Cody asks Nick if he thinks he's the front-runner.
"Yeah, probably, you know." Oh, okay then.
Andi asks Chris what's going on with the guys and he hesitates to tell her. He doesn't want to be the tattler in the group. Andi says "well, my husband would tell me anything because that's the bond." He eventually tells her there's a problem with Nick.
Nick and Cody get into it over Nick making fun of Cody for being thankful for being there. He IS thankful for being there, so what's the big deal? 
Andi pulls Cody aside and asks him what's going on with Nick. After hearing negative things from two people, Andi decides she needs to open her eyes to see if there's something she's not seeing. Plus 4
Nick says that group dates aren't fun for him. Andi just wants him to have fun with her on group dates. She asks him what's going down with Cody and he tells her, but seems to downplay the situation. She wonders if he's manipulating her. He makes it up to her by sharing a poem he wrote for her.
There is more kissing and Andi being confused.
Marquel decides that now is the time to confront Andrew about the racist comment he made at the first rose ceremony. But first we have to see Marcus tell Andi he's falling in love with her.
She thinks they're back on track after the night's earlier drama, but since Marquel's about to drop the hammer on Andrew, she's got another thing coming. 
Marquel tells Andrew what he heard and Andrew starts laughing incredulously. Andrew calls it "complete bullsh*t" and says that he's never said that. He looks at each man in the house and judges them all based on who they are as individuals. Marquel says what he needs to say succinctly and without escalation and walks away and gets golf claps from the other guys for handling things in a "100% correct" manner.
During his alone time with Andi, Andrew says he's been "attacked" tonight and when she asks what he said, he says it's not worth talking about and questions whether or not he should even be there at all.
It's finally time for this group date to end and Andi hands the group date rose to J.J., the pantsapreneur. Plus 10. Good pick, Andi. Good pick.
Brian has the second one on one date of the week with Andi, and he thinks they're going cooking. She has a bit of a different plan, though, and takes him to see a movie/advertisement for The Hundred Foot Journey, due in theaters super soon. 
Brian pretends to have loved the movie. Andi takes him to the market and they shop for the ingredients to recreate a recipe from the book before heading back to her apartment to try their hand at cooking the meal, which includes frog legs.
Andi and Brian have hit a roadblock in their budding romance. Brian's not a cook. At all. He isn't comfortable in the kitchen at all. He's so uncomfortable in the kitchen that this entire thing is uncomfortable to watch. Minus 5.
Their dinner is awkward and unspicy and Brian got a bone in his frog legs. As soon as they decide to go to a restaurant, he perks up a little, but knows he botched the cooking thing. He tries to recover by talking about how incredible the date was and about how he wants to kiss her all the time but he's a coach and he strategizes.
He totally just recovered. Andi gave him the rose. Plus 4.
Andi has some serious cuts to make at the next rose ceremony. She knows there are some relationships she's just not feeling and she's ready to cut those guys loose to focus her attentions on the ones she feels something with. 
She's so sure about this, she's ready to skip the cocktail party completely and jump straight to the rose ceremony. 
Chris goes in to tell the very anxious guys that there won't be a cocktail party and that they'll need to head straight into the rose ceremony room. Then he tells them that 3 men will be leaving. 
Josh, J.J. and Brian all have roses. They'll be joined by:
Marcus
Nick
Chris
Dylan
Cody
That means Marquel, Andrew, and Patrick are out. What she sees in Cody is anybody's guess. Andrew wishes her the best as he walks out and then calls himself the victim of bullying and aggression in the house. Patrick is just sorry he didn't get a one on one with Andi. Marquel thanks her and leaves saying that meeting Andi made him a believer in love again.
I could be down for Marquel as the next Bachelor. That could work for me.
EPISODE TOTAL: 10 SEASON TOTAL: 207
What did you think of The Bachelorette? Should Andi have kept Marquel around for another week?
Miranda Wicker was a Staff Writer for TV Fanatic. She retired in 2017. Follow her on Twitter.