Who knew stripping could make you cry?
Meg's taking to the stripper pole was just one of the many reasons tears sprang up during Chasing Life Season 1 Episode 8. It was, by far, the best episode of the series to date.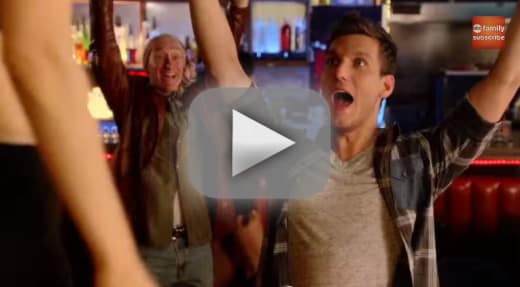 It's safe to say that part of the success of this episode was the absence of Dominic. There's nothing wrong with Dominic, but his presence was only a deterrent to April fully focusing on the realities of her new world.
With chemotherapy just days away, Beth and Leo manage to entice April to take the first sick day of her career. It was not only well deserved, but enlightening.
When Leo said he had some exciting things planned for the day, it was difficult to imagine that he meant conducting his own Make a Wish Foundation by Leo Hendrie. It helps that the cancer ward bears his father's name, but even more that he's such a caring man despite how the media chooses to portray him.
Up first on their Tour de Leo was a strip club. April thought she and Beth should probably walk right back out the door, but Beth is always game for anything. Meg said a while ago in one of their support meetings that she always wished she had given exotic dancing a try. 
Leo's father has some contacts at the club and Leo arranged for Meg to get her wish. At first she faltered a bit on stage until her friends cheered her on, then she loosened up and started to take it off -- wig included. Even typing this right now is making me cry. Meg hadn't felt beautiful or sexy since she started losing her hair and baring it all in front of a crowd was freeing.
Leo's other good deed for the day was giving Jackson a living funeral. Jackson isn't likely to last much longer and sitting alone in the hospital he realized that he would never smell the fresh air again and was giving his friends tips for his funeral. Leo figured -- why not allow him to attend?
Doesn't everyone wonder what their funeral would be like? Jackson got to hear all of the wonderful things his friends felt and heard his a capella group sing his song request, Daniel Powter's "Had a Bad Day." April started to relish living through death rather than running from it.
It was nice that April didn't mince words when she had the opportunity to ask Leo about funding her fertility treatment. His response kept things from getting too intense.
April: Leo? Did you pay for my fertility treatment?
Leo: You? Fertility? Eggs. Ewww.
Dominic's absence also paved the way for Leo to make sure he could leave the world without regrets when he leaned in for a kiss and then took April over to a couch in the funeral parlor to seal the deal. That moment of closeness allowed him to open up another secret to April -- he could chance surgery but has chosen not to fight anymore.
While I wish that his closeness with April would change his mind, the reality is that people do choose to stop fighting cancer, Chasing Life hasn't been renewed for a second season and Scott Michael Foster will be joining Once Upon a Time as Kristoff when it returns in September. He's a busy guy on and of the show!
The other two stories running simultaneously with April's were also informative. 
Brenna and Greer went to Florida with the Eco Club and decided to pay Natalie Ortiz a visit. She's rude, entitled and acts like she's been put out her entire life because she was Thomas' illegitimate child. At least her father didn't lie to her about who she was, but she doesn't see that as a positive, apparently.
Not only did someone likely spike Greer's drink (yes, Natalie, we think it was you), but Natalie and her friends had a bit of a chip on their shoulder about her sexual preference, as well. As Brenna decided meeting her was a mistake, Natalie hurled a final insult -- Sarah not only knows about Natalie, but has met her.
Sarah, meanwhile, is growing closer to George. He thought she blamed him for Thomas' death, but she assures him that's not the case. Exactly what she knows and what she held against George is still unknown, but we keep learning more about what she knows and has hidden from her girls.
I'm so glad that April got to have a good day before she dives into chemotherapy. Let me know what you thought about the episode and catch up when you need when you watch Chasing Life online via TV Fanatic!
Will Leo decide to fight and have surgery?
Carissa Pavlica is the managing editor and a staff writer for TV Fanatic. She's a member of the Broadcast Television Journalists Association (BTJA), enjoys mentoring writers, wine, and passionately discussing the nuances of television. Follow her on Twitter and email her here at TV Fanatic.