Covert Affairs Review: Love What You Do

Carla Day at . Updated at .
Could Annie really leave the CIA?
Not if she has anything to say about it.
Through the course of her mission, she got into a car crash, but that was just the trigger to force her into confiding in Auggie about her heart condition. That and other key moments of Covert Affairs Season 5 Episode 4 felt like they were there in order to propel the story forward. It was as if there was a checklist for the writers to mark off as each event happened.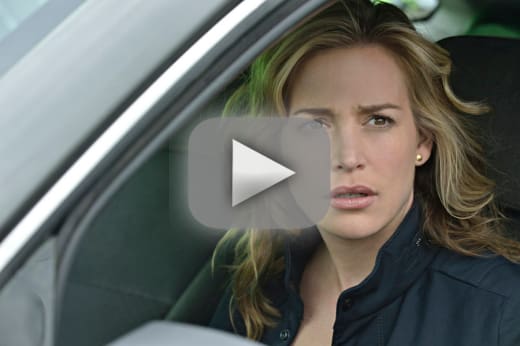 Annie and Auggie received the identity of the Postman from Roger and then it was case on. Annie went after him and messed up multiple times. She was caught tracking him and then got into a convenient car crash. There had to be a better way to force out her secret than a contrived car crash, but that's how it happened.
Annie confided in Auggie about her heart condition not because she wanted him to know and help her, but because she was forced into it. His trust in her and ability to stand by her side after that is a little bewildering, but he's fiercely loyal to her even if it's not reciprocated. It had to hurt that she went to Eyal for help instead of him when the symptoms first presented.
After trailer about Eyal's return, I was disappointed that he showed up in a flashback and his appearance was so limited. He's a rock for Annie, just like Auggie. She wouldn't be the woman she is today without either of the men, in fact, she'd likely be dead. Both Eyal and Auggie would do anything for her and have done so over and over again.
With the addition of McQuaid to her life, I'm intrigued to see if he's able to withstand her control and influence or if he'll also fall under her spell. He keeps trying to get her to let him in, but she's held strong so far. Does she really need another man to help and protect her? That's not at all to imply that Annie needs a man, but she does need a strong support system to succeed in her position.
The awards ceremony was another awkward event in the episode, because the characters decided to attend at the last minute. That made it feel just as contrived as the car crash. It would have worked better if it was an event that everyone already planned on attending. 
The threat to the CIA if intelligence work is outsourced felt authentic and real, it was just the means that the storyline was introduced that felt forced. The party also provided the framework for Calder's secret relationship with a Senator's prostitute to become public, while Auggie moved his relationship with Hayley forward.
Arthur's push for the government contract won't be good for his marriage. He's potentially taking work away from his wife and giving it to McQuaid. Of course, a bonus from the deal would buy a lot of diapers, so maybe she'll forgive him. If the deal goes through, I wouldn't be surprised to see Covert Affairs shift away from the CIA.
Annie's cowboy attitude would be better suited for a job working for McQuaid than with the CIA. She'd be able to get more done, while working for Arthur again. There wouldn't be anything stopping Joan from joining them too. Auggie and Calder could remain at the CIA to provide that perspective. It may not happen, but it's fun to consider.
For now, Annie's job is secure at the CIA and she has new leads to follow in regards to the Chicago bombing. Since Wilson was handled so quickly, I hope the next phase of the investigation requires them to dig deeper. Plus, McQuaid still knows something he's not letting out, at least not yet.
Did Auggie make right decision to alter Annie's medical records?
Carla Day is a staff writer for TV Fanatic. Follow her on Twitter and on Google+.