Dance Moms Review: Two Teams, Twice the Drama

Winston Rice at . Updated at .
Two teams. Twice the moms. Double the drama. That's what was in store tonight on the summer premiere of Dance Moms.
When we last left the ALDC, Abby's newly formed select ensemble team (with Maddie by its side) delivered a crushing defeat to the original elite competition team, comprised of all the girls we have come to know and love over the years.
Since then, a few changes have taken place at the ALDC.
Kalani and Kira are no longer part of the ALDC elite competition team. Mackenzie, also known as artist Mack-Z, has become a pop star sensation, and Maddie's star has risen even further with her starring role in Sia's newest music video for "Chandelier."
If you haven't seen it yet,  you should check it out. It's amazing!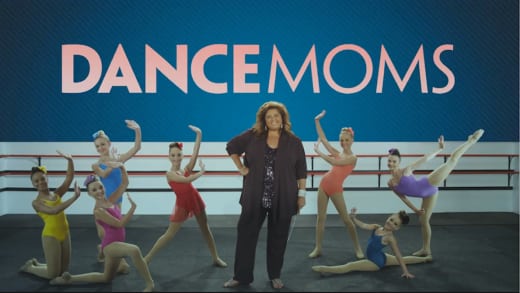 Oh, and Abby's newest team has integrated itself even further into the ALDC, taking Abby's time and attention away from the junior elite team. Abby has no problem applauding herself on the genius of her ability to hand pick talent, but lest she forget these new dancers aren't really ALDC dancers.
They haven't been trained by Abby for years like Nia, Chloe, Mackenize, Kendall and Maddie have.
Looking to quickly remedy that and put her name and brand on the new girls' talent, Abby pits the select ensemble team against the elite competition team right out of the gate. Looks like we're headed for a rematch! Except this time, Abby wants to see if the ensemble can beat the junior elite team without Maddie. Because duh, it's always all about Maddie. That's something that will never change.
The elite competition team (comprised of Maddie, Chloe, Nia, Kendall, and Mackenzie) is assigned a contemporary routine entitled "Light as a Feather, Stiff as a Board." The select ensemble team (Sarah H, Kamryn, Jade, Ava, Tea, and Sarah R.) is assigned a contemporary routine entitled "The Rapture."
As far as solos go, Abby gives Mack-Z a chance to shine on something besides her singing, assigning her an acro-jazz routine entitled "Watch Me Fly." She will compete against Sarah H. from the select team, who will dance a contemporary routine called "Scary Little Monster."
With all the routines given out on Dance Moms Season 4 Episode 19, the fireworks between the moms begin. Christy, Sarah H's mom, flies off the handle repeatedly this episode, but it's Tami who takes the crazy torch this week. Christy lets it be known she will do anything she can to get her daughter onto the elite competition team, even if that means throwing her fellow select team moms under the bus.
This doesn't sit well with Tami, especially when she doesn't think Sarah H. deserves the solo this week after the way Christy treated Abby at the last competition.
And when Tami lets Abby know that, all hell breaks loose. Things get very Jerry Springer up in the ALDC after that, as Tami and Christy pull hair and throw punches.
First of all, last I checked, Abby doesn't allow violence of any sort at the ALDC. Isn't that why Kelly and her daughters were booted out the door? Or wait, nevermind, I almost forgot Abby loves to choose when she follows her own rules.
And secondly, I'm not really sure why Christy complains about being on the select ensemble team. At least her daughter is on a team. If she doesn't watch out, Sarah H. could quickly become the select ensemble's Payton, coming to and fro at Abby's will.
Anywho….onto the dance competition. There, thanks to Jill, we find out why Abby allowed Christy and Tami, along with their daughters, to remain members of the ALDC. She needed Sarah H. and Tea to compete; otherwise, the age limit would've put her select team in a different bracket, leaving them unable to compete against the elite team. Oh, Abby.
Everyone knows your game by now. Even Jill. You decide exactly what you want to see happen each week and then you use your power to control the outcome.
First up, the solos. You can definitely tell Mackenzie's confidence has grown since becoming Mack-Z. Sarah H, on the other hand, needs some more confidence and polish if she wants to be able to compete against the likes of a Mackenzie, who deservedly takes home the first place trophy to match her #1 song and #1 music video. It's a Mack-Z Party!
Then comes the real competition of the hour - the select ensemble vs. the elite. The select ensemble, as Holly noted, donned gorgeous garbs to match their compelling choreography. The elite team, meanwhile, were stuck with plain clothing that didn't really live up to their sharp, powerful performance.
I know the elite girls were supposed to be at a sleepover in their routine, but they totally could've worn silk pajamas over K-Mart ones. Which just goes to show you just how much Abby wanted the select ensemble team to take home the victory this week, which they did. Like I said before, Abby knew what she wanted to happen and did everything in her power to ensure it happened that way.
That being said, the elite girls, and their mothers, did act like sore losers a bit. Don't give Abby the satisfaction!
Hopefully, the elite team can redeem themselves in the coming weeks. Otherwise, I worry there might be any even bigger changes in store by season's end.
Side note:
Why are Kelly, Paige and Brooke still in the beginning? I think it's time for a new opening sequence, Lifetime!