I don't think Erich Blunt killed Cindy Strauss.
That said, I don't think her death was an accident, nor do I think that Erich isn't in someway immediately connected to it.
That comment about "watching each other's backs" with Bill Wilkerson in Murder in the First Season 1 Episode 5 clearly meant something more than just work buddies being pals.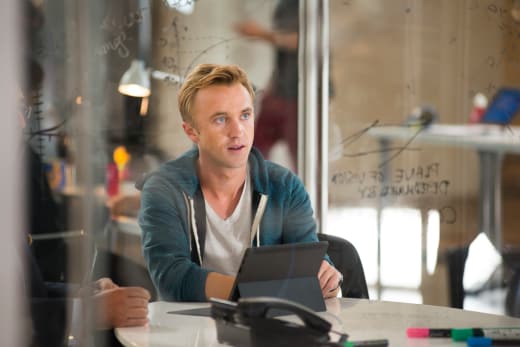 Thankfully, even if Murder in the First follows what feels like a typical murder mystery procedural stretched out over the course of the season - what with its legal drama and twists (and a big one in this hour!) - the fact that there's still multiple possible killers besides the one on trial is a big testament to how the series has worked.
And it helps having enough characters I like that are involved in the story to keep things entertaining.
Certainly, the fact that I'm actively trying to put the pieces together and guess who might be the killer means the show is doing what its supposed to and engaging me.
Murder in the First Season 1 Episode 6 got Erich's trial underway, and his lawyer, Warren Daniels continues to deftly and expertly illustrate why he is the best.
It helps having actor James Cromwell fill those shoes, and he honestly steals the show for me right now. He can be charming and menacing (that scene in the car for example) and he knows how to work the stand. And he looks so tall in the court room, too, which only adds to his presence.
But I was glad that even with him one upping the prosecution, who are trying very hard to get the jury to believe Erich did it, that he wasn't just an obvious victor. The semen expert perhaps surprised him in her ability to not be played around like the police's examiner and provide a much more precise answer.
Plus, there's something fun about watching the legal minds battle it out, even if some of the material recapped many of the events we've seen and known over the course of the season. Now the jury knows much more too.
And while the prosecution was able to get their new witness to counter Bill's decimation of Cindy's husband on the witness stand, the big shocker was that the husband overdosed. Or killed himself, if you believe he wrote the suicide letter that also confessed to killing Cindy.
It's a huge wrench in the overall case that could automatically clear Erich's name.
But does anyone buy that suicide note?
After all, in the quick scene with Bill and his wife, the lawyer revealed that the wife could have as much motive as any to kill Cindy. But I can't help but get the sneaking suspicion that Bill's hands might be much dirtier than just having an affair. He even punched his wife.
And while Hildy's ex making amends was supposed to provide some character moments outside of the courtroom, it really pushed Terry into questioning the guy (who I constantly think of as Skinny Pete from Breaking Bad) for taking the fall for the death of Erich's father.
There's way more foul play involved than just Cindy, but I'm loving that not everything is so spelled out and obvious for viewers. It's easy to hate Erich (after all, he used to be Draco Malfoy), but at this moment in time, there's still plenty of different scenarios as to why and who actually killed Cindy.
This series has me hooked, or maybe I'm a sucker for these law and order type shows, but Murder in the First is not one I'll be calling a recess on anytime soon.
Do you think Erich killed Cindy?
Sean McKenna was a TV Fanatic Staff Writer. He retired in May of 2017. Follow him on Twitter.