I'd heard of Labradoodles. I'd heard of Goldendoodles. But a St. Berdoodle? That's a new one on me.
I'll be doing a Google search right after this review of Rizzoli & Isles Season 5 Episode 7. I've got to see a picture.
Although I generally agree with Jane that talk of dead bodies isn't exactly dating etiquette, if Jack is going to stick around, he needs to not only get used to it, but have an interest in Maura's work as well. Otherwise, I don't foresee this relationship lasting long.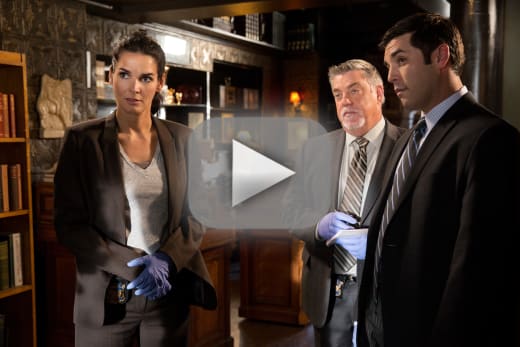 In the end, I was kind of disappointed that we never got to see Jack meeting Jane. That could have been a great dinner. If not dead bodies, perhaps they could have discussed that best Doodle.
But let's move on to the murder of the week…
Don't you just hate it when someone dies from shock in the middle of your torture session? All that time, effort, and planning were for nothing.
One of the best scenes was Jane verbally sparring with the safe cracker. I couldn't believe he implied that Detective Jane Rizzoli couldn't use a crowbar to remove a piece of floor molding. He's lucky she didn't show him what else she could do with it.
Once again, Korsak was a favorite, specifically for how he didn't assume anything about the bookseller's assistant, Ricky as he explained to Frankie in this Rizzoli & Isles quote…
Frankie: He didn't seem too shaken up over his boss' death.
Korsak: Which means he's either guilty or he's a 20-year-old street kid who keeps his emotions to him self. I think we should probably figure out which it is.
I was surprised that the attorney led Jane to Paddy Doyle. It's been quite a while since we'd seen him but I enjoyed his back and forth with Jane. He gave Jane the information that she wanted, but he wanted something in return…and from the look on Jane's face, it was clear that she knew that would be the case.
If this is the last we'll see of Paddy Doyle, I wish we had been able to hear his conversation with Maura. At the very least, I hope that it is referenced to in a future episode. 
Then there was Angela. As Jane told Maura as she attempted to figure out the secret of the fake book…
You'll figure out that book before you figure out my mother.

Jane
Angela read a fortune cookie and took it as a sign to be ready for change. So she decided it was time to change everything. I could understand her breaking up with Cavanaugh because she felt she needed to be on her own. He's a great guy but considering all that Angela has been through, that makes sense. But she also quit her job. Doesn't she have bills to pay? It's one thing to be prepared for change. It's another to sit around Maura's guest room and enjoy the free coffee while you're doing it. 
But you tell me TV Fanatics. What did you think of Angela's plan for change?
C. Orlando is a TV Fanatic Staff Writer. Follow her on Twitter.