What's worse than a broken heart?
It seems Chelsea, the murder victim this week, found out on Rizzoli & Isles Season 5 Episode 5.
As Dr. Maura Isles described it, the poor woman woke up to what felt like her heart exploding in her chest. I had no idea an air embolism could be that painful or last several minutes.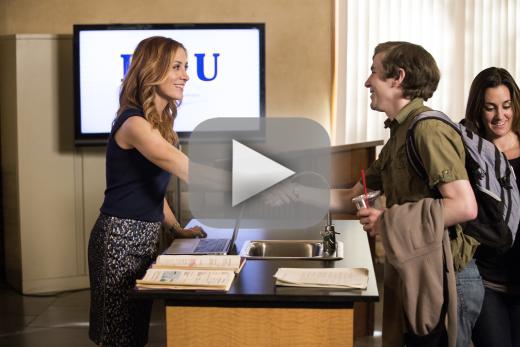 Scratch that off the lists of ways you'd want to go…or add it to the list of ways to kill someone you really hate, which is why Brad used it on Chelsea. 
Brad's anger over Chelsea denying him the ability to know his own father sent him down the dark path of revenge. He decided the cancer ridden woman didn't deserve a peaceful morphine induced death. Instead, his own peace will forever be disturbed as he couldn't get her last moments out of his mind. 
Kudos to guest star Eric Marstoff. By the end of the interrogation scene, he made me believe that Brad was a broken, tortured soul. 
Unfortunately for Brad, some choices you can't take back. 
If Chelsea's heart was exploding, the team's at the precinct was still broken as they continued to mourn Detective Barry Frost. As a matter of fact, everything in the room stopped when a computer tech sat in his chair. 
Frost's desk had remained empty, a shrine to their fallen friend and the scenes were even more poignant knowing that the actors were grieving just as much as the characters. But, eventually, everyone needs to begin to move forward.
Korsak: I know he's in my thoughts, he's in my heart and some people would say he's in this room but detective Barry Frost isn't sitting here.
Jane: It's just a chair.
Even Maura needed to move forward with her love life, but it was easy to understand why she was having issues once you understood her history.
There was the face licker, they guy she met at a conference who ended up murdered and then her last romantic encounter she explained in the this Rizzoli & Isles quote…
The guy who said that he really wanted my body, he meant it literally because he was a serial killer who made sculptures out of dead women's bodies.

Maura
Obviously getting back into the dating scene is a little daunting for Maura. Then along comes Jack Armstrong. A smart, handsome, charming professor who sends her cards in Latin and plants with metaphorical meaning. What's not to like?
Thankfully, Angela's words of wisdom - however scientifically untrue - were able to push Maura to take a leap of faith. Because sometimes in life, you have to kiss a lot of frogs to find your prince.
I'm not an amphibian with unlikely royal ancestry but are you willing to take a chance on me anyway.

Jack
So, what do you think TV Fanatics. Should Maura take a chance on Jack?
C. Orlando is a TV Fanatic Staff Writer. Follow her on Twitter.